©
http://ottersandsciencenews.blogspot.ca/
.
Unauthorized duplication of this blog's material is
prohibited.
Excerpts and links may be used, provided that full credit and link is given to Otters and Science News Blogspot.
Link to this post:
http://ottersandsciencenews.blogspot.ca/2015/01/after-snubbing-anti-terror-march-in.html
- Thank you for visiting my blog.
~~~~~~~~~~~~~~~~~~~~~~~~~~~~~~~~
Tony Parker performs the 'quenelle'
with Dieudonne M'bala M'bala
The quenelle is a form of
Nazi salute
intended to bypass the ban
on the German Nazi salute
President Barack Obama didn't join world leaders in Paris on Sunday for a march honoring terror victims, but he is playing host at the White House on Monday to French basketball player Tony Parker, who was once pictured doing a Nazi salute with a notorious anti-Semite.
The president decided not to attend the "Unity March" in Paris, which drew 1.5 million people and more than 40 world leaders, including Israeli Prime Minister Benjamin Netanyahu, German Chancellor Angela Merkel, and British Prime Minister David Cameron.
Obama remained in Washington, D.C., and on Monday is hosting Tony Parker and the San Antonio Spurs at the White House to honor them for their victory in the NBA championship.
Parker posed with Dieudonne M'bala M'bala, a French man branded as an "anti-Semite and racist" by the French interior minister. They were both performing the "
quenelle
," a Nazi salute popularized by Dieudonne.
The "quenelle" is performed by many anti-Semites in France to avoid the country's ban on the traditional Nazi salute.
Dieudonne is the director of a film called The Anti-Semite which features Holocaust deniers and mocks the Auschwitz concentration camp. It was produced by the Iranian Documentary and Experimental Film Center.
Parker apologized for the photo, and said he did not know the meaning of the Nazi salute when it was taken.
~~~~~~~~~~~~~~~~~~~~~~~~~~~~~~~~~~~~~~~
French President Did Not Want Benjamin Netanyahu to Participate in Paris March
Said Netanyahu's presence would divert attention from theme of national unity
(In other words, they were all united in repudiating Muslim terror

EXCEPT

when it is perpetrated on Jews)
President Hollande accompanied Netanyahu to the Paris Synagogue but did not speak to him. When Netanyahu was about to deliver a speech, President Hollande took off.
JERUSALEM—French President Francois Hollande did not want Israeli Prime Minister Benjamin Netanyahu to come to Paris Sunday to participate in the march against terror so as not to divert attention from the theme of national unity the million-person event was intended to symbolize, according to
Israeli media reports
.
However, Netanyahu came anyway. (Here he is in front, third from the left)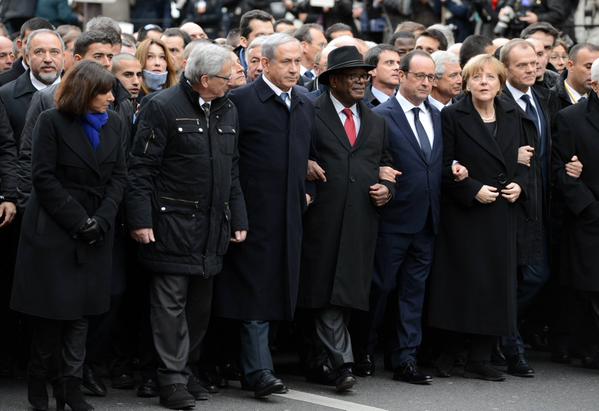 The French official who conveyed Hollande's wish to Jerusalem said that Netanyahu's presence and that of Palestinian President Mahmoud Abbas, would "cause difficulties."
Betraying and demeaning the Jews come easy to the French
- they've had plenty of practice.
They sent French Jews to the death camps during WW II in deference to the Nazis
Now the presence of the Israeli PM, reminding them of Jewish victims and survivors, makes the French "UNCOMFORTABLE"
and in a gesture of deference to their Muslims, they asked him to stay away
The French believed that Netanyahu's presence among the foreign notables leading the march would inevitably introduce dissonant echoes of the Israeli-Palestinian conflict and Jewish-Muslim relations that would jar the somber atmosphere.
France's large Muslim population, it was believed, would find it difficult to identify with the march's message of national solidarity if Netanyahu was present. And if he was not to be invited, protocol demanded that Abbas not be invited either.
Netanyahu initially acquiesced to the French request and Israel Radio announced on Saturday that security considerations would prevent Netanyahu from flying to Paris.
However, when two leaders of right-wing parties running against Netanyahu in the upcoming Israeli elections—Foreign Minister Avigdor Lieberman and Economy Minister Naftali Bennett—announced later on Saturday that they would be participating in the march, Netanyahu said he would be going after all.
Hollande's message was transmitted by his national security adviser, Jacques Audibert, to his Israeli counterpart, Yossi Cohen. When Cohen called Audibert back a few hours later saying that Netanyahu was coming, according to Haaretz, the French official was furious.
He reportedly said that Netanyahu's conduct would have an adverse effect on ties between the two countries as long as Hollande was president of France and Netanyahu was prime minister of Israel.
However, when it became clear that Netanyahu was not backing down, Hollande telephoned him to issue a formal invitation. Abbas was then invited as well.
And here is Abbas smiling happily and inappropriately

at a most solemn moment, amused at how he - a terrorist - had been invited by France to an anti-terror rally: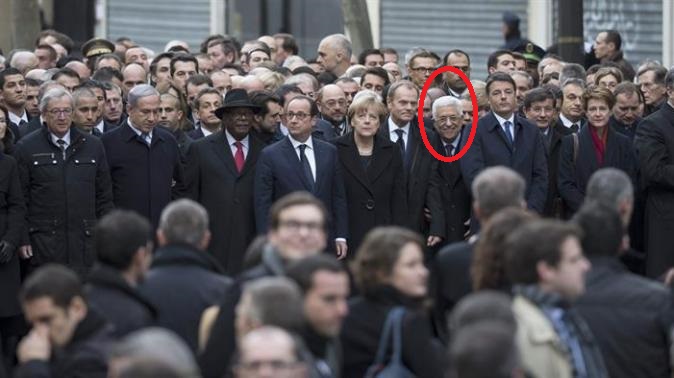 French television showed Netanyahu on a Paris street for an extended period—a stationary target—with other dignitaries waiting for transportation to the march starting line, with Israeli security men around him.
When the march got underway, Netanyahu was in the second row. After a few paces, he was in the first row, waving to the crowd and separated from Hollande himself only by an African leader.
At the subsequent ceremony in Paris' Grand Synagogue to commemorate the four Jews killed by a jihadist Friday in a supermarket, Netanyahu and Hollande sat next to each other on a bench. Television cameras picked up no verbal exchange between the two men, and Hollande focused his gaze away from Netanyahu.
When Netanyahu rose to speak, Hollande and his party left the synagogue.
PM NETANYAHU AT THE PARIS SYNAGOGUE
French officials explained that the president could not deliver a talk in a religious institution because of the strict separation of church and state, nor would protocol permit him to listen to a talk if he himself was not a speaker.
Hamas condemned Palestinian President Abbas for participating in an event with Netanyahu, even though the two men appeared not to have had any contact.
Based on an article by the Free Bacon
Arch-terrorist who killed 37 civilians hailed as 'hero' by the Palestinian Authority one day after Abbas attends anti-terror rally.
Fatah's

official

Facebook page

posted a

photo

of a battered bus (above) Monday, adding:
Here Dalal [Mughrabi] raised the Palestinian flag at the front of the bus used by the heroes of Martyr (Shahid) Kamal Adwan's group. They drove with 90 hostages inside it from Haifa to Tel Aviv, but the Zionist forces refused to negotiate with them. They fought a fierce battle that lasted from afternoon to evening on March 11, 1978.
The photo is accompanied by the Fatah logo - a grenade, and guns crossed with a

map

of Israel as "Palestine."
During the 1978 attack, Mughrabi led a group of terrorists from Lebanon to Israel, where they hijacked a bus and killed 37 Israeli civilians, among them

12 children

. Fatah has honored Mughrabi before on more than one occasion, taking to Facebook to glorify the attack during March of this year.
Source
http://www.israelnationalnews.com/News/News.aspx/189842#.VLQ3NJstCM9
**********************************************************************