©
http://ottersandsciencenews.blogspot.ca/
.
Unauthorized duplication of this blog's material is
prohibited.
Excerpts and links may be used, provided that full credit and link is given to Otters and Science News Blogspot.
Link to this post:
http://ottersandsciencenews.blogspot.ca/2015/01/charlie-hebdo-anti-terror-march-turned.html
- Thank you for visiting my blog.
~~~~~~~~~~~~~~~~~~~~~~~~~~~~~~~~~
What exactly is the message here, President Hollande?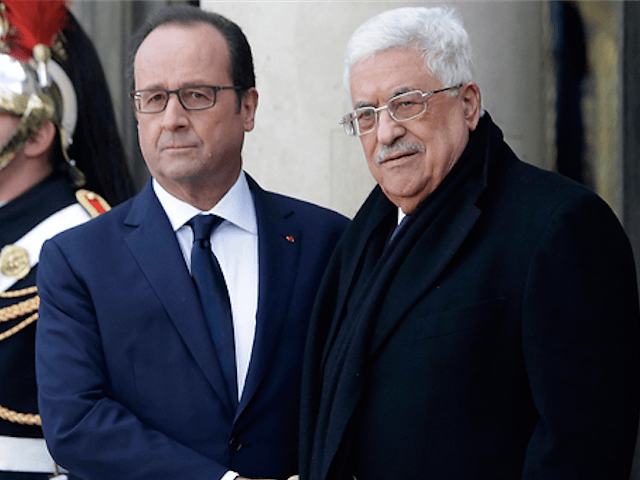 PRES. HOLLANDE &
TERRORIST ABBAS
AT THE RALLY
How do you expect to be taken seriously if this is your response to a Muslim attack on French citizens, several of them Jewish?
Why would the leader of a terror group be invited to march right beside those representing countries victims of Muslim terror?
Because Jewish victims of Muslim terror never count.
Not for Europe, and not for the French.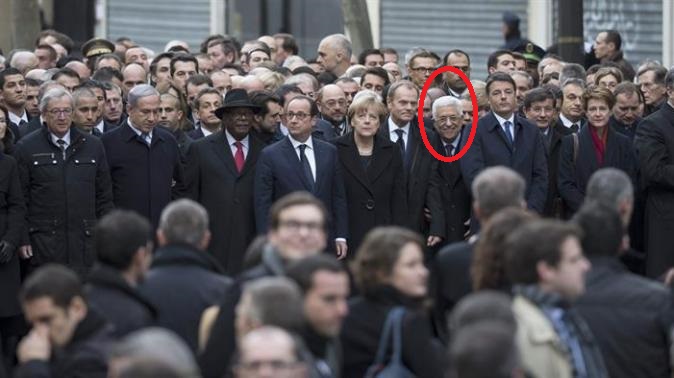 MAHMOUD ABBAS HAD PLENTY TO SMILE ABOUT,
EVEN AT A SOLEMN MOMENT LIKE THIS
Or maybe he's laughing at those who brought him there.
The French government turned a mass expression of grief for the loss of lives to Muslim terrorism, into another moment of diplomatic triumph for Mahmoud Abbas. This only days after the French government voted at the UN Security Council in favor of Israel's partition for the creation of a terror Palestinian state.
~~~~~~~~~~~~~~~~~~~~~~~~~~~~~~
Palestinian terror gets a pass at French rally
By Joel Pollak, Breitbart
Palestinian Authority President Mahmoud Abbas
joined
the front rank of world leaders in Paris at a massive anti-terror rally on Sunday, separated by a few world leaders from Israeli Prime Minister Benjamin Netanyahu, who also led the march through the city streets.
France sanitizes Palestinian terror
The gesture was intended to create a message of unity and peace, but it also had the effect of sanitizing Abbas's ongoing support for terrorism against Israeli civilians.
Abbas sent condolence letter to terrorist's family.
As recently as November, Abbas
sent
a letter of condolence to the family of the terrorist who attempted to murder Jewish religious activist Yehudah Glick, after the terrorist was killed by Israeli security forces.
Calling the Israeli army "terrorists," Abbas assured the family of the actual terrorist that he "will go to heaven as a martyr defending the rights of our people and its holy places."
Throughout his administration, Abbas has honored terrorists in similar fashion, naming public buildings and squares in their honor. The Palestinian Authority also provides financial compensation to terrorists in Israeli prisons and their families.
'Moderate" Palestinian Authority media is full of incitement
The official media outlets of the Palestinian Authority, which are under Abbas's direct control, have also broadcast a steady stream of anti-Semitic propaganda and glamorized terror against Israelis, including civilians. For much of 2014, Abbas also participated in a unity government with the Hamas terror organization.
Abbas has enjoyed a "moderate" label, despite his long association with the Palestine Liberation Organization in its terrorist days, and despite his past as a Holocaust denier, because he is not a terrorist himself. Yet his active rhetorical and ideological support for terror certainly encourages such attacks. (Abbas was also the financial mastermind of the Munich Olympics massacre of Israeli athletes.)
Continue reading. Israeli minister says inviting Abbas turned the rally into a farce
The best that can be said of his appearance in Paris is that it might be taken as a new beginning for the Palestinian leader.
More likely, it is a typical example of the two-faced approach of the Palestinian leadership, which excels at presenting a moderate face to the outside world while it strives to prove its radical credentials to the "Arab street."
Viewed in that light, Abbas's appearance is also the latest example of Western–and particularly French and European–appeasement of Palestinian terrorism.
Source
http://www.breitbart.com/national-security/2015/01/11/palestinian-terror-gets-a-pass-at-france-rally/
RELATED
Israel's Economics Minister Naftali Bennett:
The last person who should have been invited was PA Chief Abbas.
The last person who should have

been invited

to the million-plus rally in

Paris

Sunday, said Economics Minister Naftali Bennett, was Palestinian Authority chief Mahmoud Abbas. "If we want to fight terror, we have to call it by name. Both Abbas and the Emir of Qatar, who was also invited to the rally, have their hands full of the blood of terror. How can the West fight terror if it is willing to live with terror?"
Abbas is a known Holocaust denier, Bennett told Arutz Sheva from Paris, where he took part in the rally, and inviting such a person to an anti-terror event "makes a farce of the whole thing. We have to

wake up and call

this what it is – not generic 'terror,' but Islamic terror that is hitting us with

full force

."
Bennett also said that Israel needed to do whatever it could to encourage French Jews to move to Israel.
In the wake of Friday's terror attack at a kosher market in Paris, hundreds of French Jews have begun making plans to leave the country, many sources in the community say – and hundreds showed up at an Aliyah Fair held by the Jewish Agency Sunday that was held under tight security in central Paris. The fair had been planned in advance of the past week's terror attacks at the Hyper Cacher market and the Charlie Hebdo magazine.
In an

interview

with IDF Radio Sunday, Rabbi Moshe Sabag, spiritual leader of the Great Synagogue of Paris, said that he expected French aliyah – immigration to Israel – double this year. While 2014 set a single-year record for French Jewish immigration to Israel, Rabbi Sabag believes that "14,000 or 15,000 immigrants will come to Israel this year as a result of what has happened. There is a sense of insecurity and that these events are just getting worse."
Source
http://www.israelnationalnews.com/News/News.aspx/189792#.VLPWV5stCM8
France - Leading a rally against terrorism while cowering in fear, absolving Islam of responsibility, and admitting France cannot control either its terrorists or its Muslim population entrenched in separate enclaves throughout the country.
All the while the French government continues to finance and support \Muslim terror against Israelis.
http://ottersandsciencenews.blogspot.ca/2015/01/the-i-am-charlie-circus-in-spite-of-our.html
The French government told the Israeli PM not to attend the rally and stay home.
http://ottersandsciencenews.blogspot.ca/2015/01/france-told-israeli-pm-not-to-attend.html
The No-Go Zones in France. A society divide.
Satire: Try the Two States Solution that France advocates for Israel. For peace between the French and its Muslim population.
http://ottersandsciencenews.blogspot.ca/2015/01/satire-two-states-solution-for-france.html
Abbas' hypocrisy: Abbas participated in the anti-terror march in France, but PA, PLO and Fatah continue to glorify terrorists who murder Israeli civilians
5 terrorists who killed 10 Israelis are elevated as "Martyrs of 2014"
Palestinian Media Watch
Monitoring the "moderate" Palestinian Authority of Mahmoud Abbas inciting to murder Jews and destroy Israel, and turning terrorists into heroes.
http://www.jihadwatch.org/
*******************************************************************