©
http://ottersandsciencenews.blogspot.ca/
.
Unauthorized duplication of this blog's material is
prohibited.
Excerpts and links may be used, provided that full credit and link is given to Otters and Science News Blogspot.
Link to this post:
http://ottersandsciencenews.blogspot.ca/2017/11/ukraine-is-keeping-bones-of-revered.html
- Thank you for visiting my blog.
~~~~~~~~~~~~~~~~~~~~~~~~~~~~~~~~~~~~~~
For 207 years Jewish Hasidim have been embarking on pilgrimages to Rabbi Nachman of Breslov's graveside in Uman, Ukraine.

Israeli diplomats have inquired with the Ukrainian government regarding moving Reb Nachman's remains to Jerusalem, but Ukraine refuses to give up what has become a magnet for religious tourism.

Around 50,000 Jewish pilgrims a year visit a site that otherwise would have no tourism interest whatsoever. No Jews, no profit.

Ukrainians perpetrated recurrent genocidal massacres of Jews over the centuries, and many Jews regard their cruelty as much worse than that of the Germans.

Ukrainians were enthusiastic collaborators of the Nazis, and helped round up and murder thousands of defenseless Jews during the Holocaust.

There remains a strong current of violent anti-Semitism in modern Ukraine, resulting in a steady migration of the remaining Jewish population into Israel.
Continue reading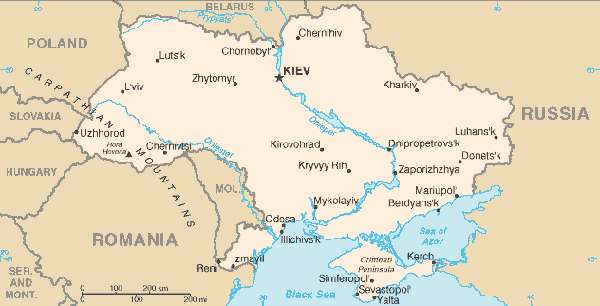 Source
http://www.jewishpress.com/news/global/europe/ukraine/ukraine-objecting-to-moving-bones-of-nachman-of-breslov-to-israel/2017/11/06/
Chmielnicki Massacre (1648-1649)
In the city of Mogila they slaughtered ... 700 Jews, also with wives and children.

Some were cut into pieces

, others were ordered to dig graves into which Jewish women and children were thrown and buried alive.
Jews were given rifles and ordered to kill each other...They surround young women and, as they struggled to escape, cut their clothes from their bodies. Then

they performed abominations on them until they died screaming....
They arrived... (disguised) as if they had come with the Poles... in order that he open the gates of the fortress... and they succeeded... and they massacred about 6,000 souls in the town... and they drowned several hundreds in the water and by all kinds of cruel torments.
In the synagogue, before the Holy Ark, they slaughtered with butchers' knives... after which they destroyed the synagogue and took out all the Torah books... they tore them up... and they laid them out... for men and animals to trample on... they also made sandals of them... and several other garments".
Some were skinned alive and their flesh was thrown to the dogs; some had their hands and limbs chapped off and their bodies thrown on the highway to be trampled by wagons and crushed by horses;

some had wounds inflicted upon them and were then thrown on the street to die a slow death.
They tore open women and then whipped them forcing them to crawl to their deaths.... others were

buried alive

. The enemy

slaughtered infants

in their mothers' laps. They were sliced into pieces like fish.... The infants were hung on the breasts of their mothers. Some children were pierced with spears.
Bohdan Chmielicki is still revered as a national hero in Ukraine.
The Holocaust
Photos by Daily Mail
After World War II
READ MORE
https://www.jewishvirtuallibrary.org/ukraine-virtual-jewish-history-tour
DAILY MAIL:
Jews were humiliated and murdered one by one in Ukraine during WW2

Many of them were forced to stand in front of mass graves and shot dead

Women were stripped naked, beaten in the streets during 'organised riots'

Witnesses today have broken their silence to tell of Ukraine's killing centre
Read more
http://www.dailymail.co.uk/news/article-3205754/Blood-oozed-soil-grave-sites-pits-alive-secrets-Ukraine-s-shameful-Holocaust-Bullets-killing-centre-1-6million-Jews-executed.html
BRITAIN ALLOWED 8,000 NAZIS OF A WAFFEN SS DIVISION ACCUSED OF GRUESOME WAR CRIMES to settle in Britain
- Some are still drawing pensions
- Britain did this after having denied entry to desperate Jews who ended up dying in concentration camps or at the hands of the same genocidal Waffen SS Division that was welcomed into Britain after the war
Officers in Adolf Hitler's notorious Waffen SS are living in the UK and drawing government pensions, it has been revealed.
Two Ukrainian members of the Galizien division, which has long been suspected of war crimes, have admitted their commissions in the unit but denied any illegal activity during the Second World War.
The Waffen SS was formed in 1933 as a militant organisation that was initially only open to people of 'Aryan' ancestry until 1940 when the rules were relaxed during the war and people of other ethnicities were allowed to join or were conscripted.
It was condemned as 'criminal' in the post-war Nuremberg Trials due to a number of wide-scale civilian and prisoner massacres committed in France, Italy, Belgium and Russia between 1940 and 1944.
READ MORE
http://ottersandsciencenews.blogspot.ca/2016/08/britain-allowed-8000-nazis-of-waffen-ss.html