©
http://ottersandsciencenews.blogspot.ca/
.
Unauthorized duplication of this blog's material is
prohibited.
Excerpts and links may be used, provided that full credit and link is given to Otters and Science News Blogspot.
Link to this post:
http://ottersandsciencenews.blogspot.ca/2017/11/halloween-terror-in-manhattan-terror.html
- Thank you for visiting my blog.
~~~~~~~~~~~~~~~~~~~~~~~~~~~~~~~~~~~~~~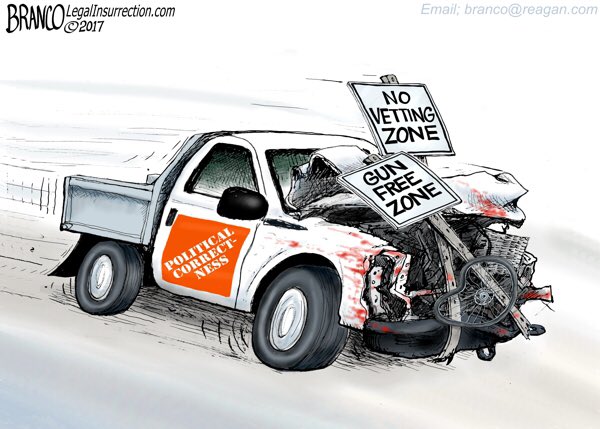 CARRY ON AS USUAL?
When there is a major weather event, such as a hurricane, we are told to either evacuate or take precautions at home.

When there is a pandemic we are told to vaccinate, avoid crowded places, and take other health-related measures.

But when there is a major terror attack we are told to carry on as usual, as if that were the best strategy to either prevent terror attacks or defeat the perpetrators. President Bush famously sent Americans shopping right after the 9/11 attacks to demonstrate that life went on as usual in America.

In the aftermath of yesterday's truck ramming attack that killed eight cyclists and injured many more in Manhattan, Governor Andrew Cuomo stated the often repeated message for these occasions:

"

We go forward together and we go forward stronger than ever, we're not going to let them win, and if we change our lives... then they win and we lose." That was president Obama's formula as well.

Imagine applying the same formula in case of an approaching deadly storm or a pandemic: just carry on as usual. If you change your usual routine, the storm will get stronger, or the microbes more virulent.
WE NEED TO CHANGE OUR MINDSET
There are countless measures that could be applied to stem the growth of terror in the West, most of them involving the law and its enforcement. But there are others that require a big change in our mindset.
While there are terror-minded people already living among us, many young Muslims could be given positive options if only our governments changed their tune. This would require the following:
(1) There should be no media self-censorship in publishing the contents of the Koran and Hadith that promote hate and violence against Jews and other infidels - instead of mindlessly repeating that Islam is a religion of peace. The public deserves to know the truth.

(2)

Authorities should denounce and explicitly outlaw Islam's apostasy law (death penalty for offending or abandoning Islam) that prevents Muslim dissidents from criticizing, reforming, or abandoning their faith. Offer solid protection for those who do.

(3) Establish moral and material support for moderate Muslims. Often moderate Muslims who dare to criticize the most extreme ideas of their faith are denounced by OUR authorities and OUR media as "Islamophobes"!!! So far it is the most orthodox who get rewarded with influence in our institutions, and get OUR recognition of them as leaders of the Muslim community.

The Obama administration endorsed and hired members of the hard-line Muslim Brotherhood as legitimate representatives of the Muslim faith. Some of those individuals are now ensconced in positions of power and influence in US government agencies.

Their aim not to integrate into mainstream society but to gradually change it to fit their religious principles. They plan to do it by growing immigration and natural demographic growth, by political and financial influence (i.e. donations to universities and politicians), and by demanding social accommodation to their customs, thus institutionalizing Sharia law

.

(4) Enforce the law banning female genital mutilation (FMG). There are thousands of cases in the USA that go unpunished.

(5) Authorities should be proactive in protecting girls and women from so-called "honor killings," where family members or others determine that they are violating Islamic law, and so they must be murdered.
(6) Reduce immigration overall and make it based on merit. End chain migration, where one single foreign individual is allowed to bring in dozens of relatives under the family reunification clause

.

(7) Ban Saudi and other foreign funding of madrassas and mosques, where people are indoctrinated into the most extreme versions of Islam.

(8) Past waves of immigrants came into the US penniless, and sometimes barely literate, but their children got educated and eventually fully integrated into society. This is not the case with Muslim migrants whose Islamic faith puts them at odds with western social customs and political principles.

Feeling lost, away from their ancestral countries and unable to integrate into what they regard as an immoral society, they look for identity in fundamentalist Islam.

Which is a set of ideas incompatible with a society based on democracy, separation of religion and state, respect for science, conflict resolution through reason and secular law, and other liberal principles to which we have arrived after many efforts through the centuries.

Those who defend current immigration laws often say that newcomers should not be feared because domestic jihadists are often second generation. But logic says that without a first generation there would NOT be a radicalized second generation.
Continue reading

, see compilation of today's astonishing headlines on this issue, watch

VIDEO

by Hannity on Democrat's facilitating terror in the USA ("Where are your Tears now Chuck Schumer?"),

VIDEO

by John Cardillo, and see more images
He planned the New York attack for WEEKS and had knives along with ISIS flag and notes in truck when he killed eight and injured 12 by mowing them down on bike path.
GOP-Led Congress Ignored Plan to Ax 'Diversity Visa' Program for Months
Headlines from

CITIZEN FREE PRESS:
https://www.citizenfreepress.com/
CLICK AND READ:
SEE ALSO
compilation of daily headlines at
WHATFINGER
http://www.whatfinger.com/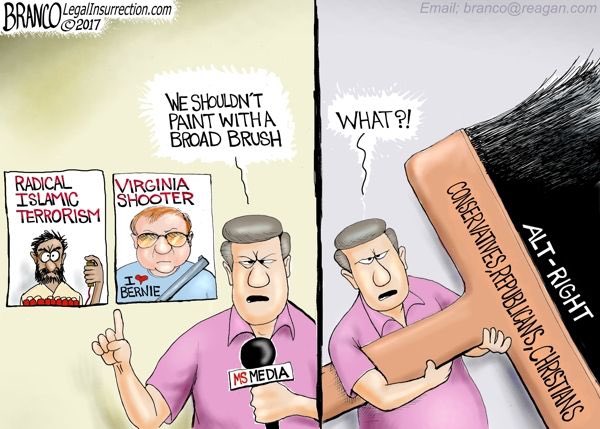 RELATED
"The Islamic State is a byproduct of Al Azhar's programs. So can Al Azhar denounce itself as un-Islamic? Al Azhar says there must be a caliphate and that it is an obligation for the Muslim world. Al Azhar teaches the law of apostasy and killing the apostate. Al Azhar is hostile towards religious minorities, and teaches things like not building churches, etc. Al Azhar upholds the institution of jizya [extracting tribute from non-Muslims]. Al Azhar teaches stoning people. So can Al Azhar denounce itself as un-Islamic?"
"The reality is that the Islamic State is Islamic. Very Islamic. Yes, it has attracted psychopaths and adventure seekers, drawn largely from the disaffected populations of the Middle East and Europe. But the religion preached by its most ardent followers derives from coherent and even learned interpretations of Islam".
https://www.israpundit.org/surprise-study-shows-islamic-terrorism-is-islamic/