©
http://ottersandsciencenews.blogspot.ca/
.
Unauthorized duplication of this blog's material is
prohibited.
Excerpts and links may be used, provided that full credit and link is given to Otters and Science News Blogspot.
Link to this post:
http://ottersandsciencenews.blogspot.ca/2017/06/extreme-sadistic-abuse-of-pets-in.html
- Thank you for visiting my blog.
sweden-four-tunisian-muslim-savages-behead-and-skin-a-cat-and-brag-about-it-on-facebook-and-twitter
ill-tie-you-all-up-and-throw-you-all-in-a-lake-of-fire-if-you-show-up-at-the-salahuddin-mosque-every-dog-will-be-shot-on-the-spot
iran-is-locking-up-peoples-pet-dogs-because-they-were-walking-them-in-public
iranian-doggie-death-camps-walk-your-dog-and-you-will-never-see-him-again-warns-government-gestapo
now-dogs-are-being-poisoned-in-britain-too
spain-muslims-carry-out-jihad-on-dogs
These four mental factors are
no sense of responsibility for oneself
When it comes to anger, Western societies widely agree that it is a sign of weakness. Uncontrolled explosions of this unpleasant feeling are maybe the fastest way of losing face, especially in Northern countries, and though angry people may be feared, they are never respected.
In Muslim culture, anger is much more accepted, and being able to intimidate people is seen as strength and source of social status.
We even see ethnic Muslim groups or countries proudly declare whole days of anger, and use expressions such as "holy anger" — a term that seems contradictory in peaceful cultures.
In Western societies, the ability to handle criticism constructively if it is justified, and with a shrug if it is misguided, is seen as an expression of self-confidence and authenticity.
As everyone has noticed, this is not the case among Muslims. Here

criticism, no matter how true, is seen as an attack on one's honor

, and it is expected that the honor is restored by using whatever means necessary to silence the opponent.
Muslims almost never attempt to counter criticism with logical arguments; instead, they try to silence the criticism by pretending to be offended or by name-calling, or by threatening or even killing the messenger.
The third psychological factor concerns responsibility for oneself, and here the psychological phenomenon "locus of control" plays a major role.
People raised by Western standards generally have an inner locus of control, meaning that they experience their lives as governed by inner factors, such as one's own choices, world view, ways of handling emotions and situations, etc.
Muslims are raised to experience their lives as being controlled from the outside.
Everything happens "insha' Allah" — if Allah wills — and the many religious laws, traditions and powerful male authorities leave little room for individual responsibility.
This is the cause for the embarrassing and world-famous

Muslim victim mentality

, where everybody else is blamed and to be punished for the Muslims' own self-created situation.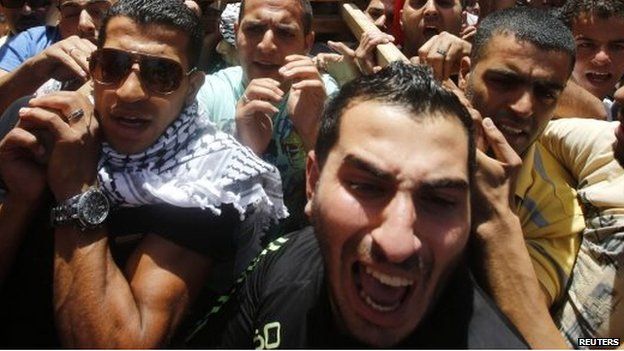 Finally, the fourth psychological factor making Muslims vulnerable to the violent message in the Quran concerns tolerance.
While Western societies in general define a good person as being open and tolerant,

Muslims are told that they are superior to non-Muslims

, destined to dominate non-Muslims, and that they must distance themselves socially and emotionally from non-Muslims

.
The many hateful and dehumanizing verses in the Quran and the Hadiths against non-Muslims closely resemble the psychological propaganda that leaders use against their own people in order to prepare them mentally for fighting and killing the enemy.
Killing another person is easier if you hate him and do not perceive him as fully human.
Why Islam Creates Monsters
The cultural and psychological cocktail of anger, low self-esteem, victim mentality, a willingness to be blindly guided by outer authorities, and an aggressive and discriminatory view toward non-Muslims, forced upon Muslims through pain, intimidation and mind-numbing repetitions of the Quran's almost countless verses promoting hate and violence against non-Muslims, is the reason why Islam creates monsters.
The Psychological Problem within Islam
The problem with Islam and Muslim culture is that there are so many psychological factors pushing its followers towards a violent attitude against non-Muslims that a general violent clash is — at least from a psychological perspective — inevitable.
With such strong pressure and such strong emotions within such a large group of people — all pitched against us — we are facing the perfect storm, and I see no possibilities of turning it around.
For people to change, they have to want it, to be allowed to change, and to be able to change — and only a tiny minority of Muslims have such lucky conditions.
Far too many people underestimate the power of psychology embedded in religion and culture. As we have already seen, no army of social workers, generous welfare states, sweet-talking politicians, politically correct journalists or democracy-promoting soldiers can stop these enormous forces.
Sensible laws on immigration and Islamization in our own countries can limit the amount of suffering, but based on my education and professional experience as a psychologist for Muslims, I estimate that we will not be able to deflect or avoid this many-sided, aggressive movement against our culture.