©
http://ottersandsciencenews.blogspot.ca/
.
Unauthorized duplication of this blog's material is
prohibited.
Excerpts and links may be used, provided that full credit and link is given to Otters and Science News Blogspot.
Link to this post:
http://ottersandsciencenews.blogspot.ca/2017/06/dear-british-people-you-are-in-denial.html
- Thank you for visiting my blog.
~~~~~~~~~~~~~~~~~~~~~~~~~~~~~~~~~~~~~~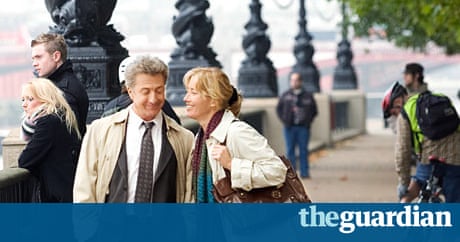 The other day I watched Last Chance Harvey with Dustin Hoffman and Emma Thompson. This love story takes place in London, a London that is beautiful, peaceful, with nothing but English people around (although the city is now more than half non-white), and where they can stroll carefree and fall in love.
This idealized London had no bombs, no burkas, no police, no military everywhere. The progressive people in the entertainment industry are at the forefront in the process of denial of what is actually happening to London, to Europe, and to the rest of the western world.
Like singer Katy Perry said the other day in the wake of the Manchester terror attack: the way to solve the problem of terror is to open our countries' borders even wider to everybody, absolutely everybody, and to just love one another.
DEAR BRITISH PEOPLE, YOU ARE IN DENIAL
By Zbiegniew Zwgstkstwig
You have allowed the entrance into Britain of millions of migrants from the most violent parts of the world. Although not everyone is a bad person, it's a matter of statistics. Even a tiny percentage of bad apples means the British people will continue to be victimized.
Jihad Report (these figures before current Ramadan, when violence has spiked)


May, 2017

Attacks

207

Killed

1479

Injured

1656

Suicide Blasts

42

Countries

26

READ:

The Religion Of Peace

:

List of Attacks
You have elected and re-elected governments that have refused to protect your borders, and who have turned a blind eye to the presence of foreigners with extreme and violent views, and criminal behavior.
You have refused to denounce organized Pakistani gangs that have groomed and gang-raped thousands of British girls, some as young as nine years old, out of fear of appearing to be racist.
You have refused to name the ideology behind recurrent acts of terror in your land, again out of fear of offending sectors of your population.
You have refused to even feel normal emotions such as anger at the repeated carnage against the innocent.
You continue to cling to the notion that flowers, songs, and teddy bears should be the normal reaction in face of so much hate and violence against you.
So many British men gave their lives during World War II in order to save your country from a crazy ideology - only to have your generation give Britain away to millions of foreigners who hate you.
Dear British people, you are in denial when you assert that terror will not change your way of life. This is absurd.
If you go to Syria or Afghanistan or Pakistan, you don't carry on as usual. You are more alert, you protect yourself, you don't send your children to crowded areas, you don't walk carelessly on the streets.
So why is it that after importing the culture from those and similar countries into Britain you think you can continue to live as you did before Tony Blair initiated the process of cultural enrichment?
Why are you still sending your children to concerts? Why are you still enjoying yourself in the streets of your cities?
Get it into your head, dear British people, you are under attack, although unlike WWII, you are not fighting back.
Stunned woman wrapped in a foil blanket. She was later led away from the scene of chaos. Meanwhile the British vow AGAIN that they will not be afraid, no matter what Islamists do to them. If you can't acknowledge reality, how can you fight back?
You've basically surrendered, so act accordingly.
Avoid as much as possible being outdoors. It won't spare you from the next stabbing or bomb, but it will reduce your chances of becoming a victim.
Stop going to public places. Entertain at home.
If you're a woman, dress modestly, so as not to attract the wrong kind of attention.
Keep a close eye on your kids, particularly your daughters.
Instruct your children on the reality of living in a war zone where the enemy can be anywhere.
And if you ever feel sick of such an attitude and lifestyle, make sure you vote for a political party that will implement the necessary changes in what used to be your country.
In the absence of this, simply submit, hide yourself and your family, and stop acting as if nothing wrong is happening.
Continue reading
The girl would be made to feel important; given gifts and drugs. She was being groomed to be a drug addicted prostitute. Then came the gang rapes. They were threatened with death if they tried to flee.
"The thing you have to understand about this rape of children is it's not just sexual abuse. It is unspeakable levels of violence, victims being raped with knives, victims being raped with bottles, victims having their tongues nailed to tables. These are sometimes girls who are picked up from a children's home on a Friday, are being raped during the course of a weekend by hundreds of men and returned with bleeding groins back to the children's' home on a Monday morning and they don't do anything about it at all."