©
http://ottersandsciencenews.blogspot.ca/
.
Unauthorized duplication of this blog's material is
prohibited.
Excerpts and links may be used, provided that full credit and link is given to Otters and Science News Blogspot.
Link to this post:
http://ottersandsciencenews.blogspot.ca/2017/04/hoax-on-huffington-post-exposes-lefts.html
- Thank you for visiting my blog.
~~~~~~~~~~~~~~~~~~~~~~~~~~~~~~~~~~~~~~
Disclaimer: Your blogger is not a 'white male' but a female with an olive complexion, and with family roots in the Mediterranean.
For years there has been an ongoing black-on-white campaign of violent assaults in the USA - fully ignored by the mainstream media because it does not fit their narrative of black victimization.

Now the verbal war on whites is ramping up on mainstream media.

Calls for the murder of whites are found "not to violate ethical standards" at sites such as Facebook and Twitter.

Anti-white incitement and hate are becoming increasingly acceptable.

There is a disturbing political alliance of the left, Islam, black nationalism, and radical feminism - all of which have one goal in common: the undermining and eventual dismantlement of western society and values.

The rationale seems to be that if in spite of all efforts at forced diversity, affirmative action, and other policies that ignore personal merit, non-whites are still trailing, then whites, men, and overachieving groups such as Jews and Chinese must be forcibly removed from the playing field.

Anti-white discrimination is applied from the very top with mandatory affirmative action for non-white admissions to colleges and the workplace.

While mere criticism of Obama is still condemned as "racist," now it is acceptable to call for the murder of president Trump, and even the murder of whites for being white.

While the left characterizes Trump supporters as "Nazis" - it is the leftist rhetoric that increasingly reflects Nazi ideology - with the perpetrators being leftists and non-whites.

Anti-white rhetoric is ramping up on campuses across the nation.

Colleges are now places where whiteness is regarded as an ingrained flaw. W

hite students are asked to apologize for their color and the history of their race.

The war against whites is particularly vicious when it targets white males. Masculinity is now characterized as "toxic" - and another ingrained flaw for which white male college students are expected to apologize.

The following story of a hoax perpetrated on the liberal Huffington Post painfully illustrates the degree to which American society is fragmenting along race and gender lines.

It also exposes the alarming extremes in anti-white racism and anti-straight-male bias which are now becoming acceptable in schools and media.

When a man posing as a South African radical feminist submitted an article demanding an end to white male voting right (or at least a 20 year moratorium) , the Huffington Post deemed such article and its racist premise to be worthy of publication. Not only that, but facing criticism, its editor strongly defended the article.

The column was eventually found to have been a hoax, and its author ended up losing his job. The Huffington Post's editor apparently kept hers.
If whites are to blame for everything, how come African countries have so much racism, inequality, poverty, tribal violence, genocide and corruption, in spite of billions of dollars in aid over many decades now?
VIDEO -
Time to condemn racist "Black Nationalism"
By Jay Fayza, Rebel Media
According to the FBI, 24.3 percent of people who committed hate crimes were Black. Considering that Blacks are just 13 per cent of the US population, that is a wildly disproportionate number. Black nationalism, especially in the form of anti-white propaganda and violence, is a serious problem in America. It's just as much of a problem as white nationalism can be, if not more, since it's widely accepted in our culture to be racist against whites.
The Left's Ultimate Plan Revealed
For a distillation of the contemporary left's worldview, one needn't look any further than a blog
post
that was recently published at the Huffington Post:
"Could it Be Time to Deny White Men the Franchise?"

At least one could have turned to this post—until HuffPo took it down. But we'll get to that shortly.
The author, a person going by the name of "Shelley Garland," a self-declared South African and graduate student in philosophy, argued that it is morally necessary to temporarily deny the franchise to white men.
Moreover, at least some of their resources should be repossessed and "redistributed" to others.
She's quick to underscore that she is proposing nothing more than "the denial of the vote to white men for 20 years (just less than a generation)," for this is all that it would take to "go some way to seeing a decline in the influence of reactionary and neo-liberal ideology in the world."
Continue reading, including

UPDATE

(Huffingon Post editor forced to resign over charges of racism)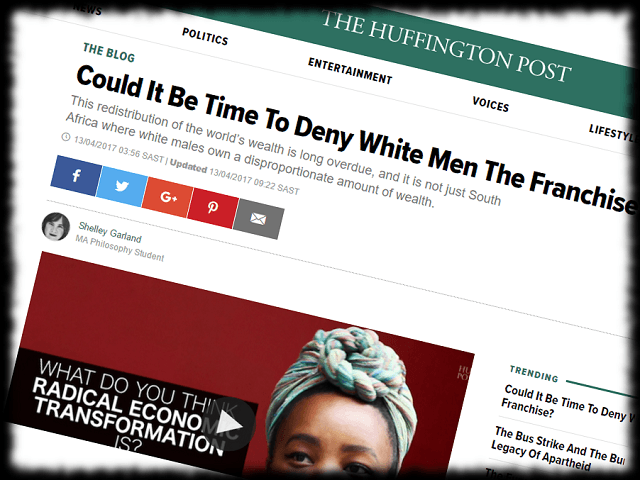 Garland explains that "liberalism—and its ideological offshoots of conservatism and libertarianism—are the most popular ideologies among white males" because, "with their focus on individuals and individual responsibility, rather than group affiliation," they "allow white men to ignore the debt that they owe society, and from acknowledging that most of their assets, wealth, and privilege are the result of theft and violence."
Denying white men the vote, even if temporarily, would "strike a blow against toxic white masculinity, one that is long needed."
Another reason why white men need to be constrained is compensatory in nature. The disenfranchisement of white men, Garland eagerly wishes, "could see a redistribution of global assets to their rightful owners. After all, white men have used the imposition of Western legal systems around the world to reinforce modern capitalism.
A period of twenty years without white men in the world's parliaments and voting booths will allow legislation to be passed which could see the world's wealth far more equitably shared. The violence of white male wealth and income inequality will be a thing of the past."
While admitting that it may indeed be "unfair" to adopt the measures that she urges, Garland insists that "this violent status quo will not change without a struggle, and the only way to do so will be through the expropriation of these various assets and equitably distribute them to those who need them."
Going this route "will not only make the world a more equitable place, but will also go some way to paying the debt that white males owe the world." For "500 years," such evils as "colonialism, slavery, and various aggressive wars and genocides, have been due to the actions of white men."
Source
http://www.frontpagemag.com/fpm/266441/lefts-ultimate-plan-revealed-jack-kerwick
More fascinating articles by Jack Kerwick

on the current identity politics war on campus and elsewhere in American society
http://www.frontpagemag.com/author/jack-kerwick
RELATED
Source
http://www.breitbart.com/tech/2017/04/20/man-who-embarrassed-huffpo-with-hoax-article-loses-job-after-outlet-tracks-him-down-at-work/
UPDATE
In their ruling, the South African press ombudsman called on Huffington Post SA to "apologize unreservedly to the general public" for publishing text that was, according to the ombudsman, "discriminatory and derogatory," "malicious," "contained factual inaccuracies," "was against the public interest," "impaired the dignity and reputation of many people," and "amounted to hate speech."
The ombudsman is also calling on Huffington Post SA to apologize for "blaming its system, instead of probing deeper into the sexist and racist nature of the blog" in their response to the controversy.
Former editor-in-chief Pillay said: "I respect the office of the press ombudsman and have decided to tender my resignation."
The controversy arose as a result of an article, published on the Huffington Post South Africa's website on April 13, entitled "Could It Be Time To Deny White Men The Franchise?"
The article made the case for stripping voting rights from white men, on the basis that white male voters were responsible for "some of the biggest blows to the progressive cause in the past year" including Brexit and the election of President Donald Trump.
After public backlash, Pillay
initially defended the piece.
In a blog post on 14 April, Pillay wrote: "dismantling the patriarchal systems that have brought us to where we are today, a world where power is wielded to dangerous and destructive ends by men, and in particular white men, necessarily means a loss of power to those who hold it."
It later emerged that the author of the piece, supposed feminist activist "Shelley Garland" was in fact the pseudonym of Marius Roodt,
a male employee of a Johannesburg-based think-tank who submitted the piece to the Huffington Post in order to expose their lack of fact-checking and oversight.
Three editors of HuffPo South Africa tracked Roodt down to his workplace, where they publicly shamed him live on camera, with one editor accusing him of letting "his own anger com[e] out" through the piece, and asking him if he was "sorry" for what he did.
After being confronted, Roodt immediately resigned from his position at the think-tank, the Centre for Development and Enterprise.
The South African press ombudsman, however, appears to have upheld Roodt's suspicions about the Huffington Post, specifically condemning their factual inaccuracies, as well as their racism and sexism.
After it emerged that the article was a hoax,
Pillay backtracked on her original decision to defend it.
"I did not make it clear enough in my initial response that I absolutely do not agree with the disenfranchisement of any group of people," wrote Pillay. "I don't hate white men."
The complainant who brought the case to the ombudsman's attention, Dr. Christopher McCreanor, said he did not accept the Huffinton Post's attempt to pin the blame on Roodt. "What is concerning is that [Pillay] has allowed an extremely sexist and racist post to be published in the first place" said McCreanor.
In their ruling, the South African press ombudsman made it clear that Pillay was free to publish and defend anything she wished, but not within the confines of the
South African press code,
which the article violated.
Despite his services to South African journalism, Marius Roodt has yet to be reinstated in his former position at the Centre for Development and Enterprise.
Source
http://www.breitbart.com/tech/2017/04/22/huffpo-south-africa-editor-resgins-ombudsman-condemns-overt-racism-blog-post/
- The media censors news that expose black racist violence against whites, Asians and Jews.
- The media prefers to impose their narrative of blacks as victims instead of perpetrators
- WATCH VIDEOS and read columns by author COLIN FLAHERTY on the epidemic of black racist violence in America
READ MORE
http://ottersandsciencenews.blogspot.ca/2016/08/black-on-white-wave-of-violence-media.html
COLIN FLAHERTY
Colin Flaherty's by-line and work has appeared in thousands of newspapers, magazines and electronic outlets all over the world, including the New York Times, Wall Street Journal, Forbes, Fortune, NPR, Fox News and Bloomberg.

He is the author of the Amazon #1 Best Selling Book, White Girl Bleed a Lot:The return of racial violence and how the media ignore it.
Colin Flaherty - YouTube channel
https://www.youtube.com/user/ColinFlaherty712/videos
Twitter
https://twitter.com/colinflaherty?lang=en
Facebook
https://www.facebook.com/colin.Flaherty
Columns by Colin Flaherty
On American Thinker
http://www.americanthinker.com/author/colin_flaherty/
On World Net Daily
http://www.wnd.com/author/cflaherty/
BOOKS
White Girl Bleed a Lot: The Return of Racial Violence to America and How the Media Ignore It is a 2012 nonfiction book by Colin Flaherty regarding race and crime, particularly the knockout game, violent flash mobs, and the epidemic of black on white crime in the USA
Colin Flaherty's books at Amazon
https://www.amazon.com/Colin-Flaherty/e/B0060QA2OW
- THE "BLACK LIVES MATTER" MOVEMENT IS BASED ON A FALSE NARRATIVE discredited by statistics
- And if whites are to blame for everything, how come African countries have so much racism, inequality, poverty, tribal violence, genocide and corruption?
Some of the greatest genocides since the end of World War II have occurred in Africa. Millions of black lives have been destroyed in gruesome and sadistic violence by fellow black Africans.
READ MORE
http://ottersandsciencenews.blogspot.ca/2016/07/the-disproportionate-rate-of-black-on.html
Read more
http://www.frontpagemag.com/fpm/180781/gruesome-reality-racist-south-africa-arnold-ahlert
Sue Howarth, 64, was killed and her husband Robert Lynn, 66, survived

Couple were asleep at their farm in South Africa when three men broke in

Were attacked with a blowtorch at their remote home, 150 miles from Pretoria
Source
http://www.dailymail.co.uk/news/article-4252150/Woman-killed-husband-left-dead-South-Africa.html
Source
http://www.dailymail.co.uk/news/article-4264496/Three-men-court-accused-murder-British-woman.html
Source
http://www.wnd.com/2017/04/murder-rate-for-these-white-farmers-20-times-international-average/
SOUTH AFRICA - IT ESCALATES
http://www.news.com.au/finance/economy/world-economy/bury-them-alive-white-south-africans-fear-for-their-future-as-horrific-farm-attacks-escalate/news-story/3a63389a1b0066b6b0b77522c06d6476