©
http://ottersandsciencenews.blogspot.ca/
.
Unauthorized duplication of this blog's material is
prohibited.
Excerpts and links may be used, provided that full credit and link is given to Otters and Science News Blogspot.
Link to this post:
http://ottersandsciencenews.blogspot.ca/
- Thank you for visiting my blog.
~~~~~~~~~~~~~~~~~~~~~~~~~~~~~~~~~~~~~~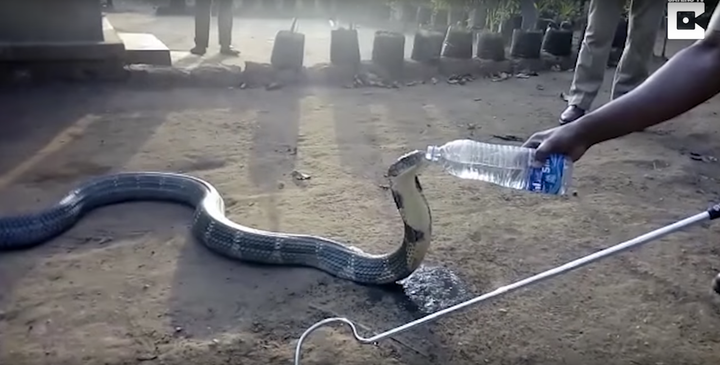 Desperately thirsty, this creature overcomes his fear of men to approach a village in search of water
.
Continue reading

and watch VIDEO
The extremely venomous reptile ―

described by Caters News as 12-feet long

― is seen turning to the higher ups, who cautiously pour the water while holding its tail and a hook near its head, presumably in case it turns on them.

The people in the video are wildlife rescue workers in a village in Kaiga township.

According to Smithsonian's National Zoo, king cobras can grow up to 18 feet in length

.

Though they're considered to be aggressive snakes, they're said to attack people only when cornered or trying to protect their eggs.

"Throughout its entire range from India to Indonesia, the king cobra causes fewer than five human deaths a year, about one-fifth as many as caused by rattlers in North America,"

the zoo's website states.
Source
http://www.huffingtonpost.com/entry/king-cobra-drinks-from-bottle_us_58dbab6ae4b0cb23e65d0213
VIDEO:
******************************