©
http://ottersandsciencenews.blogspot.ca/
.
Unauthorized duplication of this blog's material is
prohibited.
Excerpts and links may be used, provided that full credit and link is given to Otters and Science News Blogspot.
Link to this post:
http://ottersandsciencenews.blogspot.ca/2016/09/another-miracle-cat-rescue-after-16.html
- Thank you for visiting my blog.
~~~~~~~~~~~~~~~~~~~~~~~~~~~~~~~~~~~~~~
This

is the moment a cat was found alive sixteen days after it was trapped under rubble in the devastating Italian earthquake.
The cat, called Pietro, was hauled from the ruins of a collapsed home in the central Italian town of Amatrice by fire fighters after they heard a faint meow.
It is thought the animal had survived on drops of rainwater ever since the quake on August 24 which claimed nearly 300 lives.
Emergency crews took the severely dehydrated animal to a vet in nearby Rieti with one rescuer saying: 'It's really true that cats have nine lives, look at that.'
Continue reading

, see more images of Pietro, and watch

VIDEO

of the rescue. See also other articles of the rescue of

cat Gioia

and

dog Romeo

after many days buried under the earthquake rubble in Italy.
Pietro is dehydrated but reasonably well after so many days without food. He was able to drink a little rain water during his ordeal.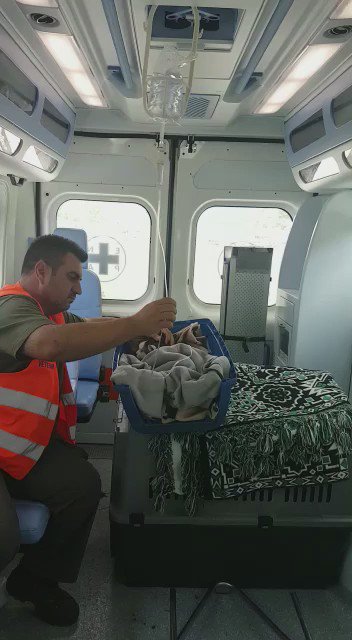 PIETRO THE CAT IS FOUND ALIVE
http://www.dailymail.co.uk/news/article-3781684/Incredible-moment-cat-alive-spending-sixteen-days-trapped-Italian-earthquake-rubble.html
http://www.greenme.it/abitare/cani-gatti-e-co/21337-pietro-gatto-macerie
BRAVE KITTEN "GIOIA" (Joy) RESCUED ALIVE AFTER SIX DAYS BURIED UNDER EARTHQUAKE RUBBLE IN AMATRICE
READ MORE AND WATCH VIDEOS
http://ottersandsciencenews.blogspot.ca/2016/08/brave-kitten-gioia-joy-rescued-alive.html
ROMEO THE DOG RESCUED AFTER NINE DAYS UNDER EARTHQUAKE RUBBLE IN ITALY
The golden retriever appears to be in excellent shape
READ MORE AND WATCH VIDEO
***************************************