©
http://ottersandsciencenews.blogspot.ca/
.
Unauthorized duplication of this blog's material is
prohibited.
Excerpts and links may be used, provided that full credit and link is given to Otters and Science News Blogspot.
Link to this post:
http://ottersandsciencenews.blogspot.ca/2016/04/video-how-feminism-destroyed-europe.html
- Thank you for visiting my blog.
~~~~~~~~~~~~~~~~~~~~~~~~~~~~~~~~~~~~~~
The Vatican covered up institutionalized depravity at seminars, and the systematic rape of thousands of boys by priests.

The Vatican, in particular, has been mired in all kinds of scandals, with crimes of a financial nature being the least of them.

Christian churches have been at the forefront promoting leftist ideologies (Pope Francis is a clear example) denouncing capitalism and endorsing revolution.

Before that the Vatican had tacitly sided with the Nazis because they were fighting two of the Church's most hated groups: the Jews and the communists.

After the war the Vatican issued thousands of fake IDs to Nazi criminals so that they could escape justice, and the infamous "ratlines" - routes out of Europe and into safe exile.

These days all Christian denominations are engaged in the boycott and demonization of Israel - while ignoring countries that are guilty of horrendous crimes, particularly against Christians and other minorities.

Churches have also taken a leadership role in promoting Muslim migration into the West - while remaining silent or mostly silent about the ongoing violent persecution of Christians by Islam.

While Austria builds a fence to stop Muslims from infiltrating into the country, a bishop has deliberately left a space wide open in his home for the transit of illegal migrants.

Churches are getting paid by the government to sponsor and bring in more Muslims into the United States.

Pope Francis recently went all the way to a refugee camp in Greece, and then broke his promise to bring in at least a couple of Christians with him into Europe.

He brought instead twelve more Muslim migrants, who, if they are devoted Muslims, will side with those who attack European Jews and women in Europe, and who believe in an ideology that abuses women, children, and non-Muslims.
The European denial that true evil exists. Giving migrants money, homes and cars cannot change their character and their culture.

Europeans suffer from a battered woman syndrome. They keep defending the abuser and volunteering for more abuse.

Muslim enclaves where the national law does not apply (No-Go Zones) are the equivalent of a foreign occupation.

Democracy will have to be reformed, because it is being used to destroy society.

There is no substance to current European liberal values.

European politicians are too soft and too feminized to defend women and society.

Tyranny moved from the former Soviet Union into Europe.

Europe inflicts the tyranny of liberalism and political correctness.

The left has allied itself with Islam (to destroy the last vestiges of

traditional western society).

Europeans do not realize they are at war.

Islam can be fought by using Christianity as a weapon.

The need for a male revolution
With Iben Thranholm and Stefan Molyneux

- She had been strong advocate of Muslim migration into her country
- SHE WAS LIKE SWEDEN AND THE WEST, welcoming those who will destroy them.
Read more
http://ottersandsciencenews.blogspot.ca/2016/01/elin-krantz-was-brutally-raped-and.html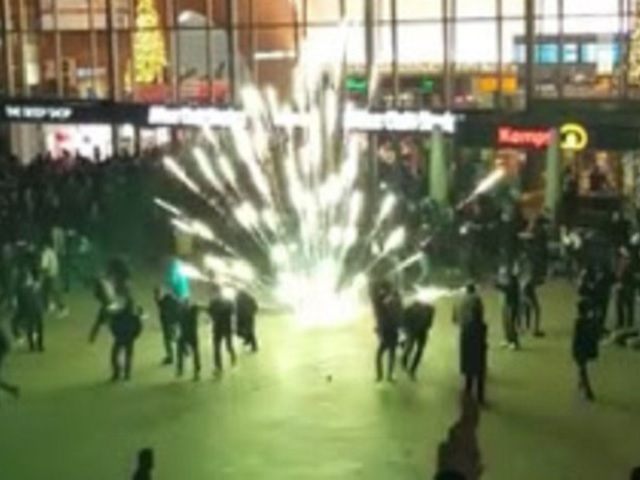 On this page: The New Europe:
MUSLIM MIGRANTS' DEPRAVED BEHAVIOR AT GERMAN SWIMMING POOLS IS OUT OF CONTROL
- They defecate, grope girls and boys, rape, and masturbate in front of children
- AUSTRIAN mother catches middle-aged migrant sexually assaulting her little boy at the pool
VIDEO - IS MERKEL BEING BLACKMAILED?
~~~~~~~~~~~~~~~~~~~~