©
http://ottersandsciencenews.blogspot.ca/
.
Unauthorized duplication of this blog's material is
prohibited.
Excerpts and links may be used, provided that full credit and link is given to Otters and Science News Blogspot.
Link to this post:
http://ottersandsciencenews.blogspot.ca/2016/04/pope-francis-refuses-to-rescue.html
- Thank you for visiting my blog.
~~~~~~~~~~~~~~~~~~~~~~~~~~~~~~~~~~~~~~
Pope Francis, who sometimes (not often enough) decries Muslim persecution of Christians, could have preached by example and brought Christian refugees on his plane back to Italy.

Instead he deliberately chose to rescue 12 Muslims, leaving Christian refugees behind wondering what they had done wrong to deserve such a snub by the pope.

In addition, the Vatican has a tradition going back many decades of supporting Muslim terror if it is directed against Jews.

This pope and previous ones have had a close and warm friendship with Palestinian terror chiefs, receiving them multiple times at the Vatican, not in spite of, but because they had Jewish blood on their hands.

Pope John Paul met TWELVE times with arch-terrorist Yassir Arafat and expressed his affection for him. He warmly eulogized Arafat when he died of AIDS.

The Vatican supports the surrender of the Israeli Biblical heartland - including sacred Christian sites - to Muslims, for the creation of another terror state.

There has been a tacit - or perhaps explicit - agreement between the Vatican and Islam, where the Vatican refrains from criticizing Muslim terror, in exchange for using Muslim Palestinians as a tool for partitioning and eventually dismantling the state of Israel.

The Vatican was one of the last countries to recognize the State of Israel. The Church hatred against the Jews runs deep and no cost is too high (such as the abandonment of persecuted Christians) if it helps destroy Israel.
DISGRACEFUL

- Pope Francis could have chosen Syrian Christian refugees to take into Italy, but he only chose Muslims.
Apparently, there were Christians among the Muslim migrants at the Moria refugee camp on the Greek island of Lesbos, where the pope and Ecumenical Patriarch Bartholomew, leader of the world's Orthodox Christians visited. But this pope decided that only Muslims were worthy of rescuing.
Continue reading

and see links to articles on Muslim persecution of Christians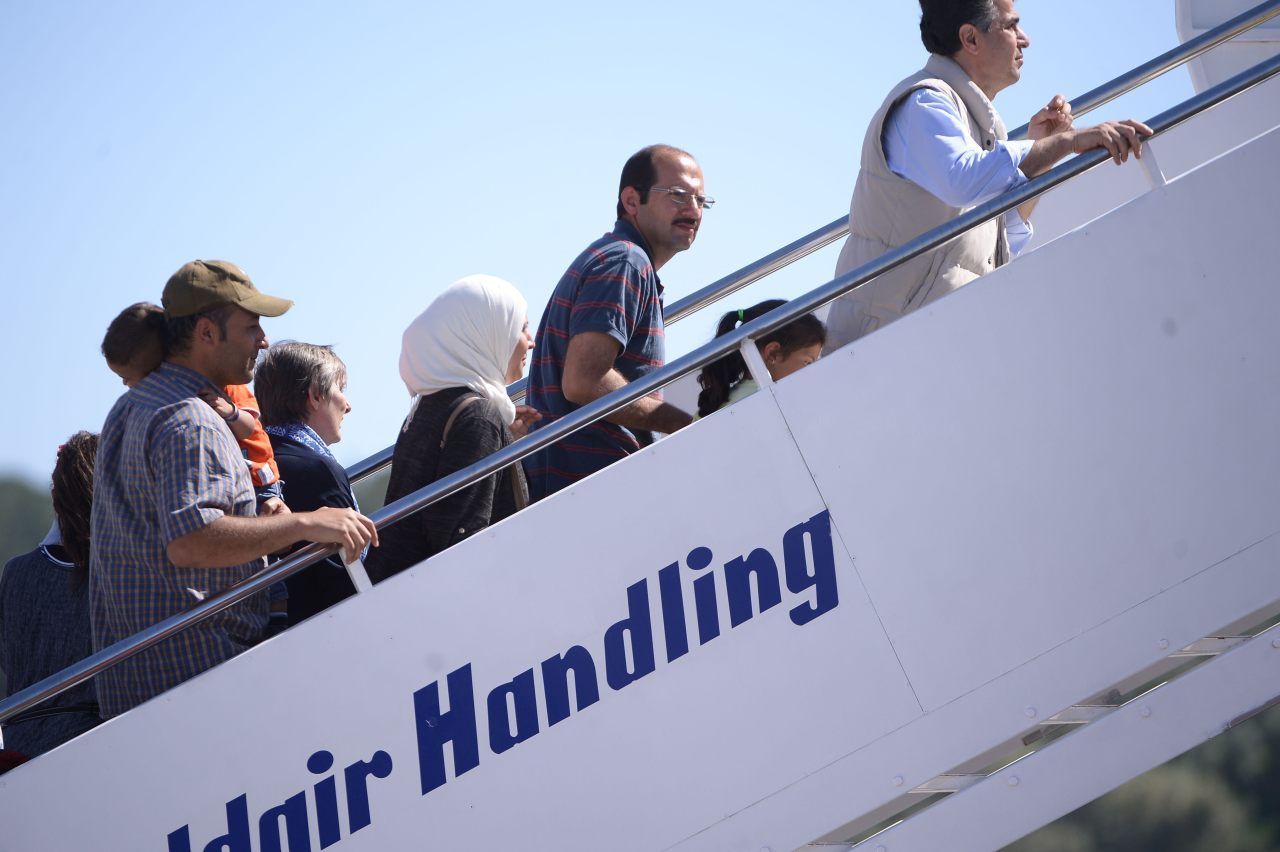 Muslims rewarded by the pope
with a free plane trip to Italy
According to papal spokesman Father Federico Lombardi, by bringing the refugees back on the papal plane, the Pope wished to make a "gesture of welcome regarding refugees," and the Vatican Secretariat of State negotiated the transfer with the competent Greek and Italian authorities.
The Vatican specified that the three Syrian families were already in camps in Lesbos prior to March 20, when the agreement between the European Union and Turkey went into effect.
Earlier in the day, Pope Francis visited the Moria detention center, where some 3,000 people are awaiting decisions concerning their asylum status.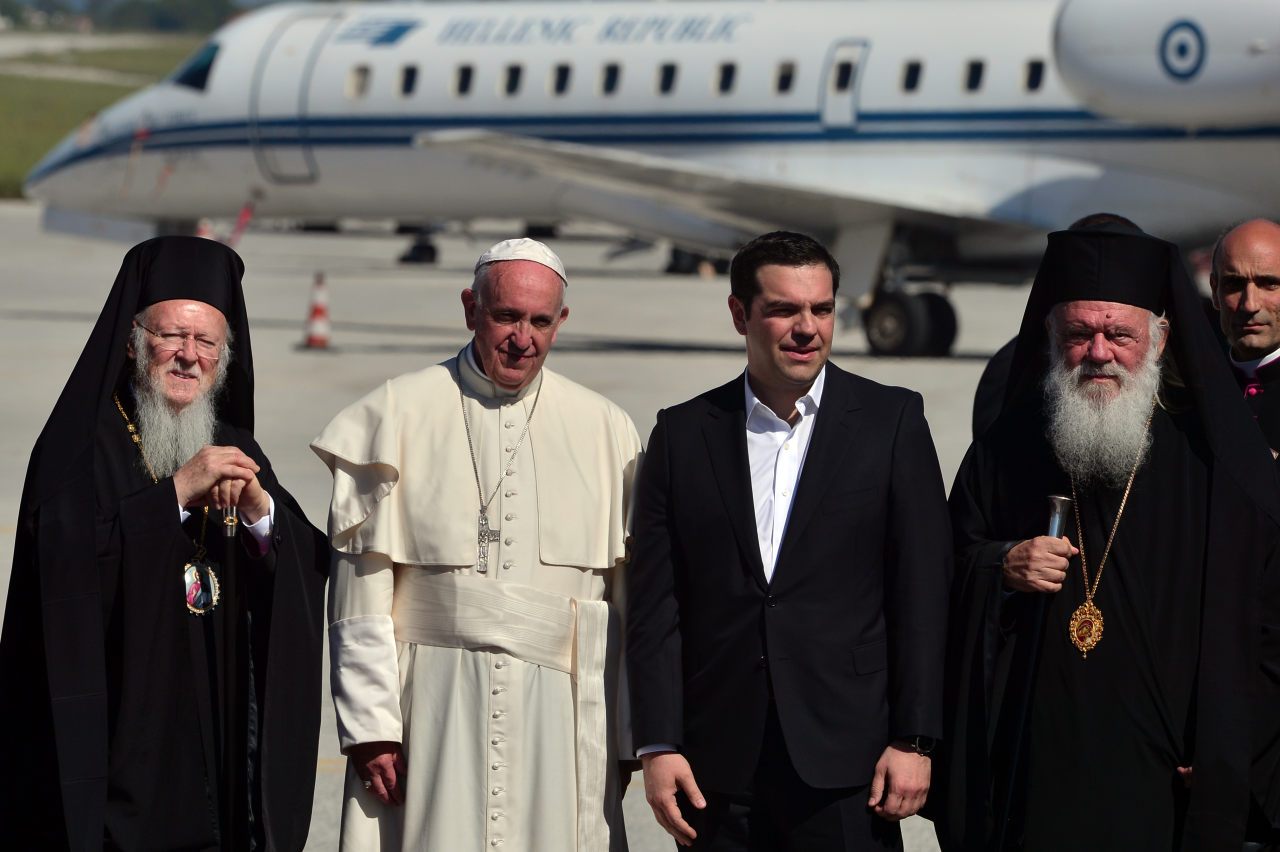 The Pope was accompanied by two other religious leaders, the Orthodox Patriarch Bartholomew and the Greek Archbishop Ieronymos. The three men signed a joint
declaration
expressing their concern for Europe's migrant crisis.
Francis also prayed asked God to "wake us from the slumber of indifference, open our eyes to their suffering, and free us from the insensitivity born of worldly comfort and self-centredness."
"Inspire us," he said, "as nations, communities and individuals, to see that those who come to our shores are our brothers and sisters."
"May we share with them the blessings we have received from Your hand," he said.
Sources
http://www.barenakedislam.com/2016/04/18/disgraceful-pope-francis-could-have-chosen-syrian-christian-refugees-to-take-into-the-vatican-but-he-only-chose-muslims/
http://www.breitbart.com/national-security/2016/04/16/pope-francis-brings-12-muslim-refugees-back-italy-papal-plane/
Christians let down by Pope.
He promised a Christian brother and sister to rescue them and take them to Italy. The pope took more intolerant Muslims on his plane back to Italy instead.
"What father among you, if his son asks for a fish, will instead of a fish give him a serpent; or if he asks for an egg, will give him a scorpion?" (Luke 11:11-12)
The Pope, like all good Leftists, knows that Muslims are the real victims of any conflict anywhere, even as they have victimized Christians by the hundreds of thousands. And so they must always be given preferential treatment.
Roula and Malek Abo say they were two of the lucky 'chosen 12' migrants selected by the Vatican to be taken from the desperate camp and housed in Rome. But what seemed like the chance of a lifetime was cruelly snatched away when they were told the following day they couldn't go. Instead three Muslim families were taken.
READ MORE
https://www.jihadwatch.org/2016/04/christian-refugees-let-down-by-pope-he-promised-to-take-them-to-italy-but-then-took-only-muslims-instead
CHRISTIAN CHURCHES HAVE OPENLY SUPPORTED MUSLIM TERROR AGAINST ISRAEL

,

while silent about Muslim persecution of Christians
- Now they are reaping the results of their wicked tacit alliance with Islam as Christians are increasingly abused and murdered
READ MORE
http://ottersandsciencenews.blogspot.ca/2014/08/christian-churches-have-openly.html
BOOK REVIEW
THE VATICAN AGAINST ISRAEL

BY GIULIO MEOTTI
READ MORE
http://ottersandsciencenews.blogspot.ca/2014/02/book-review-vatican-against-israel-by.html
CHRISTIAN IDENTITY THEFT or 'Replacement Theology' -
By DEJUDEIZING the Bible and denying Jews any claim to Israel, Christians hope to claim full inheritance to the Jewish Bible
Their RELIGIOUS CLEANSING leads to ETHNIC CLEANSING
To anti-Semitic Christians

,
Israel is the usurper

(by Giulio Meotti)
READ MORE
http://ottersandsciencenews.blogspot.ca/2015/01/christian-identity-theft-or-replacement.html
POPE JUSTIFIES MUSLIM RAGE AND TERROR
AGAINST CHARLIE HEBDO CARTOONISTS - Those who insult the faith of others can expect a punch, the Pope said - The Vatican rushes to clarify statement - The Vatican has consistently supported Palestinian terrorists who murder Jews.
READ MORE
http://ottersandsciencenews.blogspot.ca/2015/01/pope-justifies-muslim-rage-and-terror.html
Even suffering Middle East Christians hate Israel and the Jews
SENATOR TED CRUZ BOOED OFF THE STAGE BY CHRISTIANS
for defending Israel at the "In Defense of Christians" event -

Many in the crowd were Middle East Christians.
He called the reaction a shameful display of bigotry and hatred
READ MORE
http://ottersandsciencenews.blogspot.ca/2014/09/senator-ted-cruz-booed-off-stage-by.html
Father Gabriel Nadaf at the UN
PRIEST FROM NAZARETH

TO THE UN: ISRAEL ONLY MIDEAST COUNTRY NOT PERSECUTING CHRISTIANS - Pleads for a stop to the campaign against Israel and to those who want to destroy it
READ MORE
http://ottersandsciencenews.blogspot.ca/2014/10/priest-from-nazareth-to-un-israel-only.html
"ISRAEL IS THE ONLY SAFE PLACE FOR CHRISTIANS

IN THE MIDDLE EAST"

says Father Gabriel Nadaf, leader of Christian Aramaeans in Israel, who recently rejected their "ARAB" designation, in favor of ARAMAEAN
READ MORE
http://ottersandsciencenews.blogspot.ca/2014/09/israel-is-only-safe-place-for.html
CONFIRMED: Palestinian chief Yassir Arafat died of AIDS.
Now, Arafat's private doctor has joined other PLO officials in acknowledging that Arafat had the HIV virus, but is holding on to the claim that Israel was responsible for his ultimate demise, in a French hospital.
Dr. Ashraf al-Kurdi told the Jordanian Amman News Agency that Arafat did, in fact, have AIDS – but insisted that the HIV virus was injected into the chairman's bloodstream, and not the result of illicit sexual activity.
A 1987 book by Lt.-Gen. Ion Pacepa, the deputy chief of Romania's intelligence service under Communist dictator Nicola Ceausescu, may explain how Arafat contracted the sexually transmitted disease.
In his memoirs "Red Horizons," Pacepa relates a 1978 conversation with the general assigned to teach Arafat and the PLO techniques to deceive the West into granting the organization recognition. The general told him about Arafat's nightly relations with his young male bodyguards and multiple partners.
"Beginning with his teacher when he was a teen-ager and ending with his current bodyguards. After reading the report, I felt a compulsion to take a shower whenever I had been kissed by Arafat, or even just shaken his hand," Pacepa wrote.
Senior US intelligence official James J. Welsh, the National Security Agency's former PA analyst, told World Net Daily. "One of the things we looked for when we were intercepting Fatah communications were messages about Ashbal [Lion cub] members who would be called to Beirut from bases outside of Beirut.
"The Ashbal were often orphaned or abandoned boys who were brought into the organization, ostensibly to train for later entry into Fedayeen fighter units. Arafat always had several of these 13-15 year old boys in his entourage.
"We figured out that he would often recall several of these boys to Beirut just before he would leave for a trip outside Lebanon. It proved to be a good indicator of Arafat's travel plans. While Arafat did have a regular security detail, many of those thought to be security personnel - the teenage boys - were actually there for other purposes."
READ MORE
http://www.israelnationalnews.com/News/News.aspx/123347#.VxZlsZvmqM8
Here is a selection of his writings:
SHOCKING IMAGES of what Muslims do to Christians
http://www.catholic.org/news/international/middle_east/story.php?id=56481
News of persecution of Christians
http://www.persecution.org/
********************************