©
http://ottersandsciencenews.blogspot.ca/
.
Unauthorized duplication of this blog's material is
prohibited.
Excerpts and links may be used, provided that full credit and link is given to Otters and Science News Blogspot.
Link to this post:
http://ottersandsciencenews.blogspot.ca/2015/06/the-social-and-economic-disintegration.html
- Thank you for visiting my blog.
Media silent about the disintegration of post-apartheid South Africa.

Ilana Mercer's book "Into the Cannibal's Pot" debunks all the myths about a better SA after the adoption of the 1994 constitution that followed the release of Nelson Mandela.

SA has the highest rate of rape in the world.

Rape is part of the culture. The courts release 24 out of every 25 men brought to trial for rape.

SA has one of the highest rates of murder, surpassing drug cartel-infested Mexico, Rwanda's past genocide, and Sudan's ongoing genocide

.

(Statistics don't reflect reality. Many crimes are not reported by police stations, so their official figures may represent only half of the actual cases. See related articles on SA further on this page.)

Over 4000 of those murdered have been white South African farmers.

The economy is based on enforced affirmative action for blacks, regardless of merit.

This has destroyed the economy and increased poverty.

Farmland confiscated from whites remains barren.

Life expectancy has declined from 64 at the end of apartheid to 56 today.

The national debt has grown by 44 percent.

The nation's rand-based currency lost 20 percent of its value in 2013.

The current unemployment rate stands

at 25 percent.

The city of Durban has fallen off the list of the world's 50 largest container ports.

Political corruption at all levels is also going up, and with no sign of abating.

The justice system is broken down beyond imagination.

Nelson Mandela's record as a Soviet stooge and a terrorist.

The years-long violence against migrants from other African countries.
Nelson Mandela when young
About

Arnold Ahlert

-

He is a former NY Post op-ed columnist currently contributing to JewishWorldReview.com, HumanEvents.com and CanadaFreePress.com. He may be reached at

atahlert@comcast.net

More articles by Arnold Ahlert:

http://www.frontpagemag.com/author/arnold-ahlert/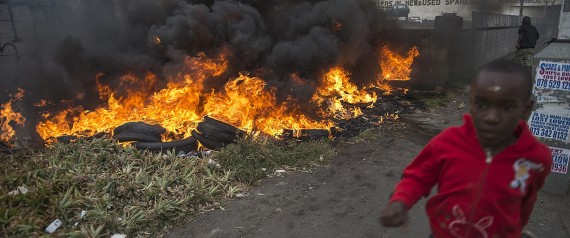 South Africa is one of the most violent and unsafe countries in the world
2015 - Business Tech - The total economic impact of violence containment in South Africa is $66.7 billion – or $1,258 per person
http://businesstech.co.za/news/government/90808/south-africa-is-one-of-the-most-violent-and-unsafe-countries-in-the-world/
VIRULENT ANTI-SEMITIC BLACK SOUTH AFRICA NOW EXPOSED FOR ITS VIOLENCE AGAINST FOREIGN MIGRANTS
- Apartheid against foreigners by blacks thrives in South Africa, as well as the ongoing genocide against white farmers
Read more
http://ottersandsciencenews.blogspot.ca/2015/04/virulent-anti-semitic-black-south.html
Genocide against white farmers in South Africa