©
http://ottersandsciencenews.blogspot.ca/
.
Unauthorized duplication of this blog's material is
prohibited.
Excerpts and links may be used, provided that full credit and link is given to Otters and Science News Blogspot.
Link to this post:
http://ottersandsciencenews.blogspot.ca/2015/06/palestinian-man-asked-for-water-then.html
- Thank you for visiting my blog.
~~~~~~~~~~~~~~~~~~~~~~~~~~~~~~~~~~~~~~
Danny Gonen,
another Jewish victim of Arab terror
According to investigators, the two victims were finishing a trip to a nearby spring and had begun leaving when a Palestinian standing at the side of the road waved them down, apparently asking for help.
As soon as the Israelis' car pulled up he asked them for water, and then shot them at point-blank range and fled the scene running to a nearby Arab settlement.
Continue reading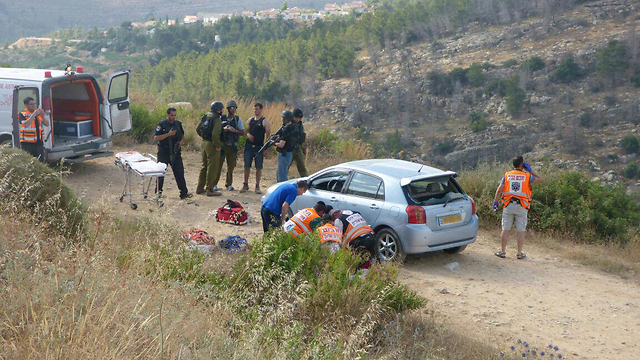 Paramedics trying to save Danny's life
(Tazpit News Agency)
25-year-old Danny Gonen from the city of Lod was murdered at the scene. His friend is in hospital.
Gonen's uncle, speaking to the Walla! news website on Friday, said that Danny and his friend had been shot during a hike in the area, something they had done often.
"Danny was visiting the area with a friend, as he always did. He liked to hike everywhere in Israel," said the uncle.
"Danny was the best boy in the world," he added. "He was an electrical engineering student who loved to hike a lot. He was the eldest son and is survived by his mother and four brothers."
A Hamas spokesman in Qatar praised the "heroic act," according to Israel Radio.
Israel saw a wave of so-called "lone wolf" attacks last year by Palestinians using guns, knives and vehicles in Jerusalem, Tel Aviv and the West Bank.
Over two dozen Israelis were killed in these attacks, including children.
Police say it's difficult to stop such attacks because assailants act on their own, without working through established terror groups.
Three Israeli teenagers were wounded by a Palestinian who hit them with his car near Alon Shvu last month, with the Shin Bet domestic security service saying the perpetrator had confessed to carrying out the attack for nationalistic reasons.
Sources
MODERATE PALESTINIAN AUTHORITY HONORS TERRORISTS
THAT LYNCHED AND DISEMBOWELED TWO YOUNG ISRAELIS

who took a wrong turn on the road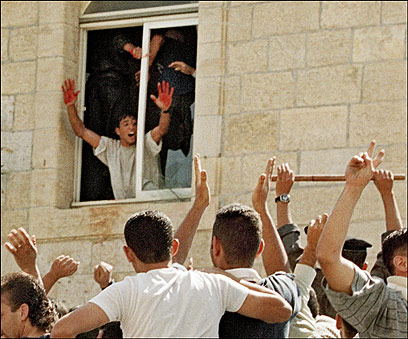 -

The lynching of Vadim Norzhich and Yosef Avrahami in Ramallah.
- Cannibalism of enemies is not an aberration in Islam and has been condoned by clerics
- Mutilation and decapitation is commonplace and accepted by Islamic law.
- Photo:

Orgy of Jewish blood. They even consumed the victims' organs.
See more photos
THE PALESTINIANS' MURDEROUS ROCK-THROWING WAR AGAINST JEWS

Adele Biton
- The case of toddler Adele Biton, who died after long battle to survive a rock throwing attack.
- The cowardly policies of pro-Arab Israeli authorities
Read more
http://ottersandsciencenews.blogspot.ca/2015/02/the-palestinians-murderous-rock.html
US State Department says that Arabs throwing firebombs at Jews
are

NOT

terr

orists
http://ottersandsciencenews.blogspot.ca/2015/01/white-house-struggles-to-define.html
Palestinians' hit song calls for the murder of Jewish babies.
Composed after Palestinian driver deliberately ran over and murdered a Jewish baby.
Run over the two-month-old baby
That is how we get them
http://ottersandsciencenews.blogspot.ca/2014/11/palestinian-new-song-calls-for-running.html
"Moderate" Palestinian faction Fatah brags on Facebook of having murdered eleven thousand Israelis.
http://ottersandsciencenews.blogspot.ca/2014/09/palestinian-arabs-nazis-then-nazis-now.html
ISRAELI BRUTALITY
FREED TERRORIST WHO KILLED TWO JEWISH STUDENTS complains that Israeli jail interfered with his stamp collecting hobby.
Read more
http://ottersandsciencenews.blogspot.ca/2014/04/israeli-brutality-freed-terrorist-who.html
AMERICAN AND EUROPEAN TAXPAYERS FUNDING THE MURDER OF JEWS IN ISRAEL
THE KILLING OF JEWS TO THE ARABS
GERMAN TAXPAYERS CONTINUE FUNDING THE WAR AGAINST THE JEWS,
- Now under the guise of pro-Palestinian activism
- The historic alliance of Muslims and Germans for the destruction of the Jews dates back to the Third Reich
Photo:

The Mufti of Jerusalem reviewing Nazi troops. Both him and the German Nazis collaborated n the design and implementation of the Final Solution. Today Palestinians eulogize Hitler and his genocidal ideology.
Read more
http://ottersandsciencenews.blogspot.ca/2014/09/german-taxpayers-funding-war-against.html
This Ongoing War
A very good blog about the relentless Palestinian terror war against the Jews
http://www.israelnationalnews.com/News/News.aspx/191939#.VPIqW5s5CM8
Palestinian Media Watch
Palestinians in their own words: what they think, what they want, what they do
http://www.palwatch.org/
MODERATE Palestinian Authority pays
salaries to terrorists and their families.
The following is from the website No Taxes No Terror:
U.S. Taxes Reward Palestinian Terrorism!
The Palestinian Authority [PA] pays high salaries and good benefits to convicted terrorists in Israeli prisons. The more horrific the crime and the more Israelis or Americans murdered, the higher the salary and the better the benefits.
Where does the PA get the money to reward terrorists?
Much of it comes from your tax dollars. The PA budget is heavily dependent on foreign aid—and the U.S. is the PA's largest single country donor.
Paying for terror is a long tradition in the PA
From the time it was established in 1994, the PA set up institutions to support terrorists: From the quasi-official Prisoners Club (1994) to the Palestinian Ministry of Prisoners (1998), to the Law of the Prisoners (2004).
The PA uses 5% to 6% of its total budget on payments to prisoners and to the families of suicide bombers.
Terrorist salaries are on a sliding scale:
the more horrific the crime, the higher the wages.
All security prisoners get a base salary of 1400 shekels ($400) per month.
Terrorists sentenced to 3-5 years get 2,000 shekels ($560) per month.
Terrorists sentenced to 5-10 years get 4,000 shekels ($1,100) per month.
Terrorists sentenced to 10-15 years get 6,000 shekels ($1,690) per month.
Terrorists sentenced to 15-20 years get 7,000 shekels ($2,000) per month.
Terrorists sentenced to 20-25 years get 8,000 shekels ($2,250) per month.
Terrorists sentenced to 25-30 years get 10,000 shekels ($2,800) per month.
The worst offenders, those who commit mass murder, get the top wage of 12,000 shekels ($3,400) per month—up to 10 times more than the average pay.
The PA incentivizes Arab citizens of Israel to commit terrorist acts by giving them an added supplement of 500 shekels ($142) per month.
The PA also provides money to families of terrorists.
The most horrific mass murderers receive the highest salaries.
Abdallah Barghouti:

67 life sentences for involvement in terrorist attacks that killed 66 Israeli men, women, and children. These included bombings at Sbarro Pizza Restaurant (Aug. 9, 2001); and Moment Café (March 9, 2002); and the triple attack at the Ben Yehuda pedestrian mall (Dec. 1, 2001). His victims included two Americans killed and nine wounded, including two-year-old Sara Nachenberg.
Hassan Salameh:

38 life sentences. Head of the terror infrastructure responsible for two attacks on the No. 18 buses in Jerusalem (Feb. 5 and March 3 1996) and at the Ashkelon Junction hitchhike point (Feb. 25, 1996). 20 Israelis were killed in the attacks.
Hakim Awad:

5 life sentences. He and a fellow terrorist murdered five members of the Fogel family while they slept, including their 11-year-old and 4-year-old sons, and their two-month-old infant daughter.
Israeli tax dollars are not spent on prisoner needs: the Israeli Prison system provides for all prisoner needs, spending 23,598 shekels ($5,900) per year on each one.
In Israeli prisons, prisoners enjoy family visits, education, television, newspapers and radio and receive top quality dental and medical care. They can take high school matriculation exams, study at the open university, and graduate with accredited college degrees.
Each cell has its own shower, bathroom, kitchenette and a TV that receives 12 channels, including Israeli channels and several Arabic-language channels, among them Palestinian TV. Prisoners also have access to the prison library and when necessary, to treatment in Israeli hospitals. They are regularly visited by the International Red Cross.
The U.S. and the EU are the major donors to the PA and help fund the PA budget.
Donors gave roughly $30 billion in international aid to the PA between 1993 and 2012; $7 billion came from the U.S. alone and $7 billion came from the EU; $10 billion came from individual European countries, Japan, Australia, and Canada.
The U.S. allotted $170 million and the EU allotted $421 million to directly fund the PA budget in 2013.
Read more
http://www.notaxesforterror.com/
Articles on the subject of terrorists' salaries
http://www.palwatch.org/main.aspx?fi=1005
Articles on western funding of Palestinian terror
http://www.palwatch.org/main.aspx?fi=917
Articles on moderate Palestinian Authority glorifying terror
http://palwatch.org/main.aspx?fi=448
PALESTINIAN MEDIA WATCH REPORT
On the salaries paid to Palestinian terrorists
http://palwatch.org/STORAGE/special%20reports/4_reports_PA_salaries_to_terrorists_Feb_13_2013.pdf
~~~~~~~~~~~~~~~~~~~~

THE DISPROPORTIONATE INTERNATIONAL
AID TO PALESTINIANS - PER CAPITA