©
http://ottersandsciencenews.blogspot.ca/
.
Unauthorized duplication of this blog's material is
prohibited.
Excerpts and links may be used, provided that full credit and link is given to Otters and Science News Blogspot.
Link to this post:
http://ottersandsciencenews.blogspot.ca/2017/02/maryland-sports-fishermen-engage-in.html
- Thank you for visiting my blog.
~~~~~~~~~~~~~~~~~~~~~~~~~~~~~~~~~~~~~~
The killing is not even for food. It's for winning a contest and the fun of sadistically killing intelligent and defenseless creatures. All this is LEGAL and it happens in civilized Maryland, United States of America. Please contact Maryland authorities.
It's just an excuse for a blood fest.
They shoot them with harpoons, they pull them up, they beat them with a metal baseball bat, they throw them in a barrel and let them suffocate.

They are dumped on the blood-soaked decks of small boats and stuffed into buckets where they can be seen writhing in agony

.

They die slow and painful deaths.

As they are dying, they sometimes give birth as a last chance to get their babies out, who are also killed.

Mostly the fishermen force the babies into their mothers' bodies to increase the weight of the catch.

After being weighed in, the dead creatures and their babies are thrown into the water. All this is LEGAL in Maryland.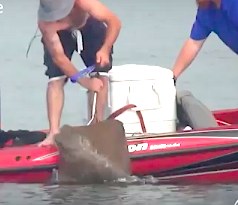 Every year, groups of cownose rays swim up from Florida to the Chesapeake Bay to give birth — and the vision of the animals is truly awe-inspiring.
"Cownose rays glide peacefully below the water's surface like so many kites against the sky, adding to the beauty and mystery that draws people to the ocean," Jeff Pierce, legislative counsel for the
Animal Legal Defense Fund
(ALDF), told The Dodo in a statement. "Researchers have shown that these rays are actually very intelligent, that they have preferences and ideas of their own."
But in recent years, some of these magnificent rays have met the cruelest fate.
Hunters, armed with
bows and arrows
, board boats and shoot the rays in the water — all for a contest called the
Battle of the Rays
. Those who don't die instantly are clubbed in the head.
Because the contest takes place in birthing season, most of the rays killed are pregnant and about to give birth. Cownose rays carry just one baby at a time, so there are concerns about the impacts on the ray population. Not only that, the sheer violence of the contest seems needlessly cruel, according to witnesses.