©
http://ottersandsciencenews.blogspot.ca/
.
Unauthorized duplication of this blog's material is
prohibited.
Excerpts and links may be used, provided that full credit and link is given to Otters and Science News Blogspot.
Link to this post:
http://ottersandsciencenews.blogspot.ca/2017/02/fake-news-16-examples-since-trumps.html
- Thank you for visiting my blog.
~~~~~~~~~~~~~~~~~~~~~~~~~~~~~~~~~~~~~~
Yesterday CNN announced one of its upcoming segments as something like 'how Melania Trump is financially benefiting from being First Lady,' or something like that. Could she be opening a new business? Unlikely.

When it came time for CNN to explain what they meant, it was that Melania had won a lawsuit against media that slandered her with unfounded allegations that while working for a fashion modeling company she had also worked as an escort - a fancy word for whore.

She is doing this not for money, obviously, but to make the media think twice before publishing unfounded allegations against her.

As the media publishes fake news for profit, who is the real whore in this case? No wonder many refer to journalists these days as "presstitutes".

When the media are not reporting fake news about the Trump administration, they slant their reporting in such a way as to create the most biased and damaging impression. This is not true journalism but outright activism and hostile propaganda to benefit the opposition.
THE FEDERALIST:

Journalists, media types, reporters, you have two choices: you can fix these problems, or you can watch your profession go down in flames.
Senior contributor at The Federalist.
Since at least Donald Trump's election, our media have been in the grip of an astonishing, self-inflicted crisis. Despite Trump's constant railing against the American press, there is no greater enemy of the American media than the American media. They did this to themselves.
We are in the midst of an epidemic of fake news. There is no better word to describe it than "epidemic," insofar as it fits the epidemiological model from
the Centers for Disease Control:
this phenomenon occurs when "an agent and susceptible hosts are present in adequate numbers, and the agent can be effectively conveyed from a source to the susceptible hosts."
The "agent" in this case is hysteria over Trump's presidency, and the "susceptible hosts" are a slipshod, reckless, and breathtakingly gullible media class that spread the hysteria around like—well, like a virus.
Since Trump's election, here's just a small sampling of fake news that our media and our journalist class have propagated.
Continue reading

about these 16 cases of anti-Trump fake news
Early November: Spike in Transgender Suicide Rates
After Trump's electoral victory on November 8, rumors began circulating that multiple transgender teenagers had killed themselves in response to the election results. There was no basis to these rumors. Nobody was able to confirm them at the time, and nobody has been able to confirm in the three months since Trump was elected.
Nevertheless, the claim spread far and wide: Guardian writer and editor-at-large of Out Zach Stafford
tweeted the rumor,
which was retweeted more than 13,000 times before he deleted it. He later posted
a tweet
explaining why he deleted his original viral tweet; his explanatory tweet was shared a total of seven times. Meanwhile, PinkNews writer Dominic Preston wrote
a report on the rumors
, which garnered more than 12,000 shares on Facebook.
At Mic, Matthew Rodriguez
wrote about
the unsubstantiated allegations. His article was shared more than 55,000 times on Facebook. Urban legend debunker website Snopes wrote
a report on the rumors
and listed them as "unconfirmed" (rather than "false"). Snopes's sources were two Facebook posts, since deleted, that offered no helpful information regarding the location, identity, or circumstances of any of the suicides. The Snopes report was shared 19,000 times.
At Reason, writer Elizabeth Nolan Brown
searched multiple online databases
to try to determine the identities or even the existence of the allegedly suicidal youth. She found nothing. As she put it: "[T]eenagers in 2016 don't just die without anyone who knew them so much as mentioning their death online for days afterward."
She is right. Just the same, the stories hyping this idea garnered at least nearly 100,000 shares on Facebook alone, contributing to the fear and hysteria surrounding Trump's win.
November 22: The Tri-State Election Hacking Conspiracy Theory
On November 22, Gabriel Sherman posted
a bombshell report at New York Magazine
claiming that "a group of prominent computer scientists and election lawyers" were demanding a recount in three separate states because of "persuasive evidence that [the election] results in Wisconsin, Michigan, and Pennsylvania may have been manipulated or hacked."
The evidence? Apparently, "in Wisconsin, Clinton received 7 percent fewer votes in counties that relied on electronic-voting machines compared with counties that used optical scanners and paper ballots."
The story went stratospherically viral. It was shared more than 145,000 times on Facebook alone. Sherman shared it on his Twitter feed several times, and people retweeted his links to the story nearly 9,000 times. Politico's Eric Geller shared the story on Twitter as well.
His tweet
was retweeted just under 8,000 times.
Dustin Volz from Reuters shared the link; he was retweeted
nearly 2,000 times.
MSNBC's Joy Reid shared the story and was retweeted
more than 4,000 times.
New York Times opinion columnist Paul Krugman also shared the story and was retweeted about 1,600 times.
It wasn't until the next day, November 23, that someone threw a little water on the fire. At FiveThirtyEight,
Nate Silver explained
that it was "demographics, not hacking" that explained the curious voting numbers. "Anyone making allegations of a possible massive electoral hack should provide proof," he wrote, "and we can't find any." Additionally, Silver pointed out that the New York Magazine article had misrepresented the argument of one of the computer scientists in question.
At that point, however, the damage had already been done: Sherman, along with his credulous tweeters and retweeters, had done a great deal to delegitimize the election results. Nobody was even listening to Silver, anyway: his post was shared a mere 380 times on Facebook, or about one-quarter of 1 percent as much as Sherman's. This is how fake news works: the fake story always goes viral, while nobody reads or even hears about the correction.
December 1: The 27-Cent Foreclosure
At Politico on December 1, Lorraine Wellert published a shocking essay claiming that Trump's pick for secretary of the Treasury, Steve Mnuchin, had overseen a company that "foreclosed on a 90-year-old woman after a 27-cent payment error."
January 20: Nancy Sinatra's Complaints about the Inaugural Ball
January 20: The Nonexistent Climate Change Website 'Purge'
January 20: The Great MLK Jr. Bust Controversy
January 20: Betsy DeVos, Grizzly Fighter
January 26: The 'Resignations' At the State Department
January 27: The Photoshopped Hands Affair
January 29: The Reuters Account Hoax
January 31: The White House-SCOTUS Twitter Mistake
January 31: The Big Travel Ban Lie
February 1: POTUS Threatens to Invade Mexico
February 2: Easing the Russian Sanctions
February 2: Renaming Black History Month
February 2: The House of Representatives' Gun Control Measures
Maybe It's Time to Stop Reading Fake News
Source
http://thefederalist.com/2017/02/06/16-fake-news-stories-reporters-have-run-since-trump-won/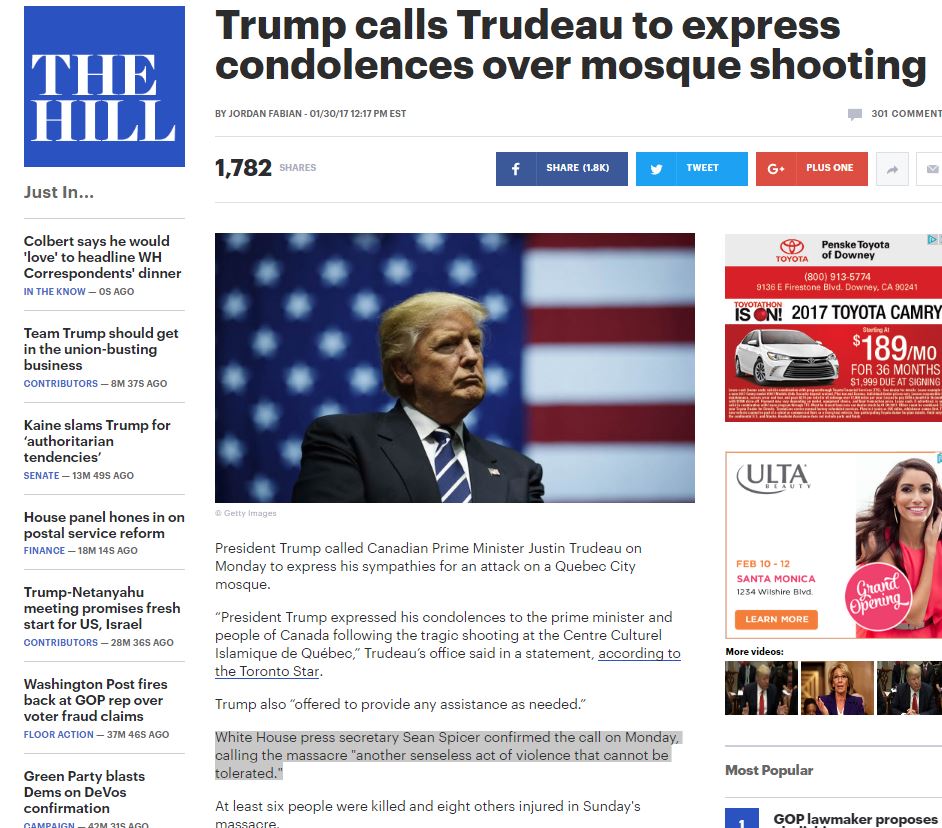 CNN ALLEGED TRUMP NEVER MADE THIS CALL
CNN and other media routinely portray Palestinian terrorists as peaceful victims.
MORE ARTICLES on media malpractice