©
http://ottersandsciencenews.blogspot.ca/
.
Unauthorized duplication of this blog's material is
prohibited.
Excerpts and links may be used, provided that full credit and link is given to Otters and Science News Blogspot.
Link to this post:
http://ottersandsciencenews.blogspot.ca/2016/11/italy-80-year-old-man-has-his-small.html
- Thank you for visiting my blog.
~~~~~~~~~~~~~~~~~~~~~~~~~~~~~~~~~~~~~~
This is happening all over Italy, Germany, and in other EU countries. Renters are being evicted and owners are having their property confiscated in order to house migrants. Whoever objects to this abuse of authority is branded as a racist and may face police threats and even incarceration.
Shock video footage out of Italy shows an 80-year-old hotel owner being forced by police to house numerous African migrants as he desperately tries to resist government confiscation of his property.
The old man seen in the video is Luigi Fogli. He runs Hotel Lory in Ficarolo, in the province of Rovigo.
Fogli briefly looked into providing asylum accommodation services for migrants arriving from North Africa but dropped the issue when he discovered

he would only be paid 7 euros per night for each "refugee

".
"At that point, the local prefecture simply confiscated his hotel and forced the invaders upon him."
Continue reading,
and watch
VIDEO
of the Italian hotel owner as his rights are violated to house a never ending flood of migrants. Read also about the way migrants are trashing their accommodations.
The video shows Fogli attempting to barricade the doors to his hotel while telling police, "This is not yours! No, they won't come inside!"
Police claim they are just doing their "duty" before telling Fogli that if he doesn't hand over the keys to the hotel rooms, they will break in.

Italy and the rest of the EU
under Muslim invasion
No borders, no sovereignty anymore
"Do you want to put them in my apartment too?" Fogli pleads as the migrants enter the lobby of his small hotel.
It was also reported that Fogli later fainted as a result of the stress he endured.
Similar cases are happening across the country, with DMF reporting, "In some places, as in the incident described above, the proprietors resist; in other cases they cooperate and defence is left to the local citizens."
Meanwhile, citizens across Europe are receiving home visits and even being arrested for merely criticizing their government's open door policy on migrants.
In the Dutch town of Leeuwarden, 20 opponents of a plan to establish an asylum center in the area "received police visits at home," with others being warned to watch their "tone" on social media.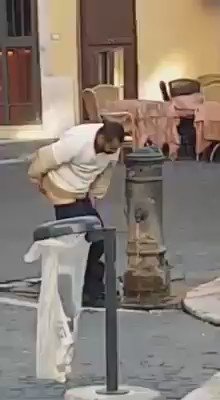 Presumably, these racists are unhappy that migrants are culturally enriching European towns and cities with their charming and exotic behavior, which includes

using public fountains to clean their anuses.
Read more
about how the Italian government collaborates with the organized foreign invasion of the country.
.
The photo on the right was taken in the street of an Italian city. A man performs the Muslim "wudu" ritual demanded by his religion, where he washes his hands, feet, face, mouth and nostrils before praying. In this particular case he also washes his rectum. Devout Muslims don't use toilet paper, only water and their hands.
They routinely defecate in public places
A scene in a German street - quite common.
Holiday homes used by migrants in Denmark
are left completely trashed.
The landlady tells reporters:
The mattresses have been jumped on and urinated on. Bonfires have been made on my carpets, so there are large burn marks and there's pee in the corners. My big dining table is broken into pieces as firewood. Everything is torn completely apart, and only the lamps have survived," she says to the Danish newspaper BT.
When Alice Lauridsen decided to rent out her holiday center, it seemed like a win-win situation, but it ended as a nightmare.
Clean yourself with an odd number of stones
Do not clean yourself with less than three stones
Do not use dung or bones
Do not use your right hand
Wash yourself, once you're done
No need to cleanse your anus when done in a river
Say a prayer when exiting the toilet