©
http://ottersandsciencenews.blogspot.ca/
.
Unauthorized duplication of this blog's material is
prohibited.
Excerpts and links may be used, provided that full credit and link is given to Otters and Science News Blogspot.
Link to this post:
http://ottersandsciencenews.blogspot.ca/2016/10/trump-hillary-what-will-we-tell.html
- Thank you for visiting my blog.
~~~~~~~~~~~~~~~~~~~~~~~~~~~~~~~~~~~~~~
What will we tell little John and little Jane?
America and the West in general are morally adrift. We seem to have lost the capacity to even identify evil.

And what will we tell little John and little Jane? How do the life examples of the Clintons and Donald Trump serve us to teach life lessons to American children?

In Trump's case bad behavior has consequences.

In the case of the Clintons, even worse behavior is ignored and constantly rewarded.
Drawing moral lessons from the ongoing crisis in the Trump campaign is easy.

We could tell little children to lead lives of righteousness and to treat people well - if not out of purely moral reasons, then because even minor acts that violate moral or ethical principles could come back to haunt them when they least expect them.
In the case of Hillary Clinton, the opposite is true.

The Clinton couple are the most salient example of how you can repeatedly commit all kinds of big moral and legal transgressions, get away with them, and still be voted into high office.
Both Trump and the Clintons have some traits in common, such as unbridled ambition and a single-minded pursuit of their goals. They see the end justifying the means. They love power. But that's where the similarities end.
Trump is the quintessentially alpha male with above average talent for self-promotion, romantic conquests, and building wealth.
Along with that talent he has enormous selfishness, self-confidence, arrogance, and disregard for the consequences of his actions on other people.
But Trump's sins are

mere peanuts

compared with those of Hillary Clinton.
While a school teacher could send Donald Trump to the principal's office for a serious talk, the same teacher faced with Hillary's acts would definitely call police, to be followed by charges and prosecution ending in a jail sentence. That is the difference between Donald and Hillary.
Will Americans notice it, so that they can vote for the candidate with lesser faults and a genuine vision to make America great again? Maybe. But most probably not. After all, voters and politicians do not even question Hillary's long trail of abuse and corruption.
From the beginning of her professional career as a lawyer, and as wife of Arkansas Governor Bill Clinton, Hillary distinguished herself for her ruthlessness, corruption, and the use of lies and bullying to achieve her objectives.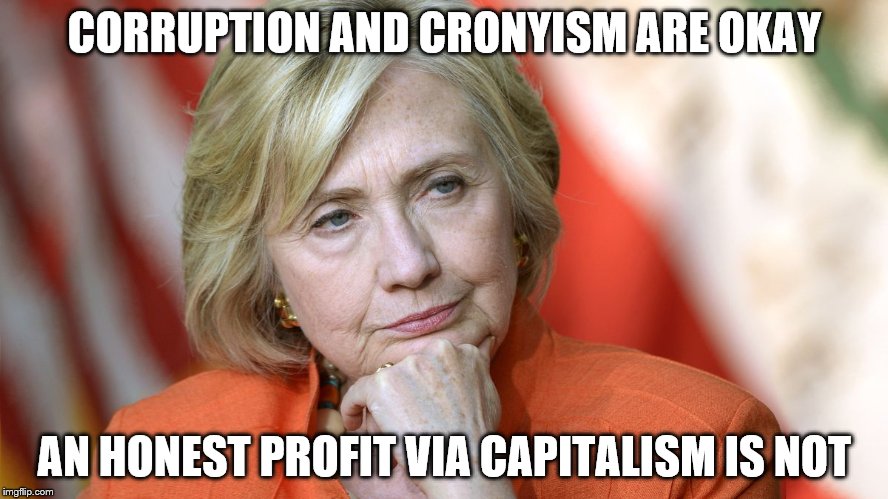 The Clintons have had an uninterrupted chain of serious scandals. And yet, Bill twice made it to the White House, and Hillary became a Senator, and then Secretary of State. And if the polls are right, she will be the next president of the United States of America.
Regarding the Clintons, talk about rewarding corruption and immorality. It would be impossible to find a moral
lesson in Hillary's life story.
But hers is not an isolated case.
Evil gets rewarded - again and again
Take the case of Nazi war criminals. After the Nuremberg Trials that appeared to bring evil men to justice, Germany rewarded thousands of Nazi war criminals with normal lives, jobs in government, and generous pensions.
The United States hired many of them to work in the US government, particularly in the State Department and CIA, because of their knowledge of their common enemy, the Soviets - Operation "Paperclip". And th
ousands of Ukrainian Nazis guilty of gruesome war crimes were brought into Britain after the war to live lives of comfort.
There were many genocides in the 20th century, but it was those perpetrated by the Nazis that are closest to us because so many soldiers and partisans gave their lives to fight the Nazis. Our countries had control over how to treat the criminals after the war. But we let them go.
The Vatican, that assumes to be a 'moral force' (in spite of its historical coverup of the raping of children by priests), provided thousands of false ID papers to Nazi criminals, along with routes of escape - the Rat Lines. They counted on the complicity of the Red Cross.
And then the Vatican spent decades making diplomatic war on the State of Israel. The Vatican can't get over the fact that some Jews survived the war long enough to return to their homeland in Israel. That's the moral leadership of the Vatican - no different from that of other Christian denominations.
So the only lesson for little John and little Jane is that we live in a world with no moral compass

, and where high principles have been hijacked and weaponized for evil purposes - such as that one that purports to be compassion for "refugees" while being used to facilitate the invasion of Western countries by racist, violent and intolerant Muslims (who are already wreaking havoc raping women and children and perpetrating acts of jihad in the West). And where Hillary, with no moral or ethical qualifications whatsoever for the White House, is hailed as a better choice over Trump, who wants to rattle the corrupt Washington establishment.