Daniel Greenfield, a Shillman Journalism Fellow at the Freedom Center, is a New York writer focusing on radical Islam. He is completing a book on the international challenges America faces in the 21st century.
A new song has been released and is gaining popularity in the Middle East. The song is called "Car Intifada."
It encourages Palestinian Arabs to run over "settlers," otherwise known as Jews.
Baby Chaya Zisel Baron was recently murdered by a car terrorist
.
Run over the two-month-old baby
That is how we get them
For Al-Aqsa we will run over settlers
Run over settlers
Make the road become a trap
God will help you
The whole Arab nation calls you
Bless you Akari Ibrahim
Run over
The video of the song is posted on the MoslimMan.Rok Facebook page. It was posted late Friday evening, Nov. 7. By Saturday evening the video already had nearly 350,000 views, and over 25,000 "likes," and it has already been shared more than 17,000 times.
"Run over the two month old baby – that is how we get them", the song by Anas Garadat and Abu Khayad says. "For Al-Aqsa we will run over settlers. Run over settlers. Make the road become a trap, Allah will help you. The whole Arab nation calls you – bless you Akari Ibrahim (The terrorists behind the attack last Wednesday), run over run over!"
The song video has gone viral
Sure you might at least expect them to soft-pedal the running over the two-month old baby part. But that seems to be the whole point of it.
In Amman the song "Ades Ades Halmistotun" had an impact. Hundreds of supporters of the Islamic movement chanted it in their march…
Said Hammam Said Comptroller General of the Muslim Brotherhood, Jordan, that the weapon used against the Jews, indicates the fighting spirit of the Palestinians remains…
In the same context, Said asked the young participants through loudspeakers whether they want to be "martyrs of the project on the land of Palestine," and added: "We live these days in the stage of the Palestinian Islamic Jihad against the Jews."
Read more and see graphics calling for the murder of Jews
He said Said in his speech to the protesters of MDC supporters, that what is happening in Jerusalem is the "war" and the war in Palestine and the Battle of the Muslim Brotherhood is not in Iraq, not Syria.
He added: "This is your war this fight and not fight in Syria nor in Iraq and anywhere else, but in our battle with the Jew criminals."
Graphics have already been created for this glorious new phase in the resistance.
Source
http://www.frontpagemag.com/2014/dgreenfield/new-palestinian-hit-song-run-over-the-two-month-old-baby/
And here

-
http://www.jewishpress.com/news/breaking-news/new-song-car-intifada-urges-arabs-to-run-down-jews/2014/11/09/
RELATED
Palestinians run over pedestrians and kill baby girl. Another victim died in hospital a few days later.
"Moderate Palestinians" eulogized the terrorist. (There have been several other attempts at killing Jewish pedestrians with cars since.)
Read more
http://ottersandsciencenews.blogspot.ca/2014/10/terrorist-murdered-baby-in-israel-today.html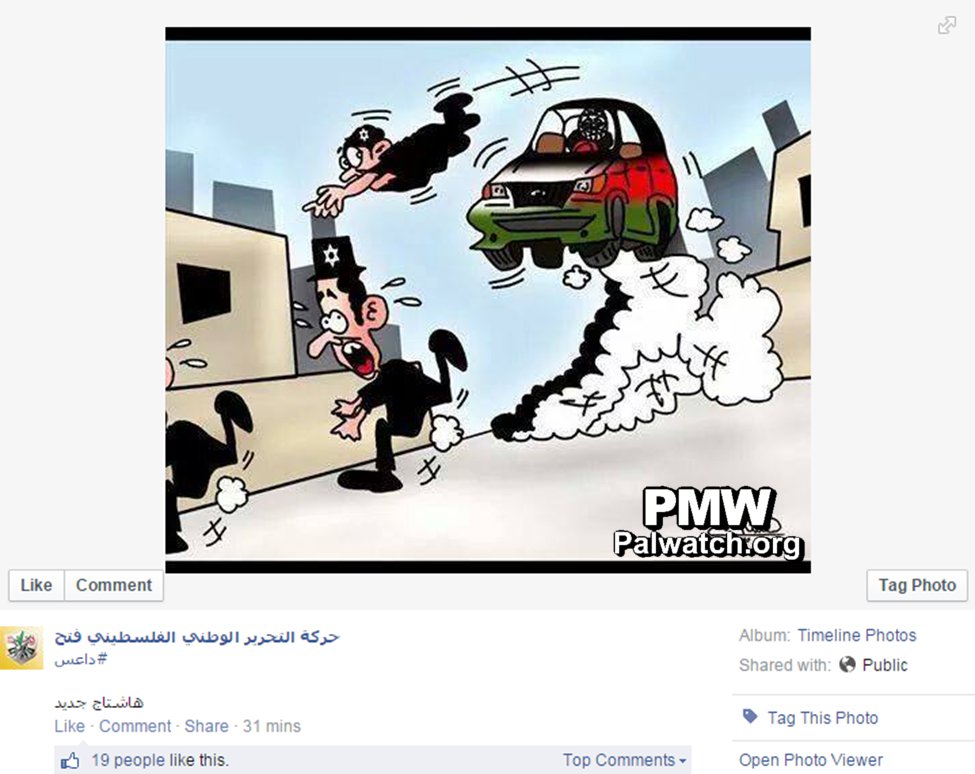 Moderate "Fatah" calls for more murders of Jews
Palestinian Authority Chairman Mahmoud Abbas' Fatah movement continues to heat up the atmosphere in Jerusalem and actively encourages Palestinians to carry out attacks on Israelis by running them over with cars.
Read more
http://www.palwatch.org/main.aspx?fi=157&doc_id=12979
They like to murder babies
Palestinian terrorists have a penchant for targeting Jewish babies and young children because they know how much Jews treasure children.
Arab mothers, however, always make statements of how happy and proud they are when their progeny blow themselves up as suicide bombers.
Palestinian parents celebrate their terrorist children's death
Read more and watch videos -
http://palwatch.org/main.aspx?fi=479
The Fogel family massacre
In 2011 a Palestinian from moderate Palestinian Authority sneaked into the Fogel family home and slaughtered the entire family, including tiny kids and a baby. They slashed the children's throats as if they were animals. The killers later said they were proud of what they did.
Graphic images of violence.
http://www.debbieschlussel.com/34164/photos-of-itamar-jewish-kids-massacred-by-palestinians-this-is-what-peace-w-muslims-looks-like/
****************************************************************************