Iceland's Bárðarbunga volcano
began erupting once again
early Sunday morning — with lava flowing out of a mile-long fissure in the Holuhraun lava field.
The lava fountains themselves have been spectacular,
reportedly reaching
up to 200 feet in the air. Here are
a few photos taken by
Ármann Höskuldsson, a geologist with the University of Iceland who is on the scene:
So far, the eruption itself doesn't seem to be causing much harm. One reason for that? The eruption is occurring in a remote area just north of Iceland's massive Vatnajökull glacier (which lays atop much of the Bárðarbunga volcanic system).
That's a key detail: If a really big volcanic eruption occurs underneath a glacier, the combination of magma and ice can potentially produce
a violent steam explosion
that can send large clouds of ash up into the atmosphere and
disrupt flights
around the region.
Alternatively, a large eruption under a glacier can potentially melt the ice and
lead to heavy flooding
— particularly in the river that extends north toward more populated areas.
Right
:
red indicates area of eruption
.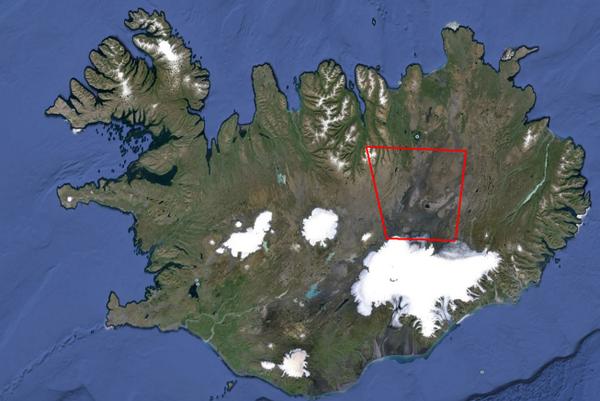 Here's
a longer primer
on why Iceland has so many active volcanoes — and how volcanic ash can disrupt flights.
Note that Iceland isn't the only country with a volcano outburst.
The Rabaul volcano in Papua New Guinea has been erupting lately, leading to evacuations and flight diversions.
You can see
photos and a rundown here
, although note that activity is
starting to subside
.
Volcano fans can also watch the Iceland eruption on
a live webcam
. Gisli Olafsson is posting frequent updates.
Source

-

http://www.vox.com/2014/8/31/6089399/iceland-bardarbunga-volcano-lava-eruption-pictures
LIVE WEB CAM

-
http://www.livefromiceland.is/webcams/bardarbunga-2/
******************************************************************************