©
http://ottersandsciencenews.blogspot.ca/
.
Unauthorized duplication of this blog's material is
prohibited.
Excerpts and links may be used, provided that full credit and link is given to Otters and Science News Blogspot.
Link to this post:
http://ottersandsciencenews.blogspot.ca/2017/08/us-civil-rights-commission-condemns.html
- Thank you for visiting my blog.
~~~~~~~~~~~~~~~~~~~~~~~~~~~~~~~~~~~~~~
Source
https://www.israpundit.org/us-commission-on-civil-rights-refuses-to-condemn-antifa-violence/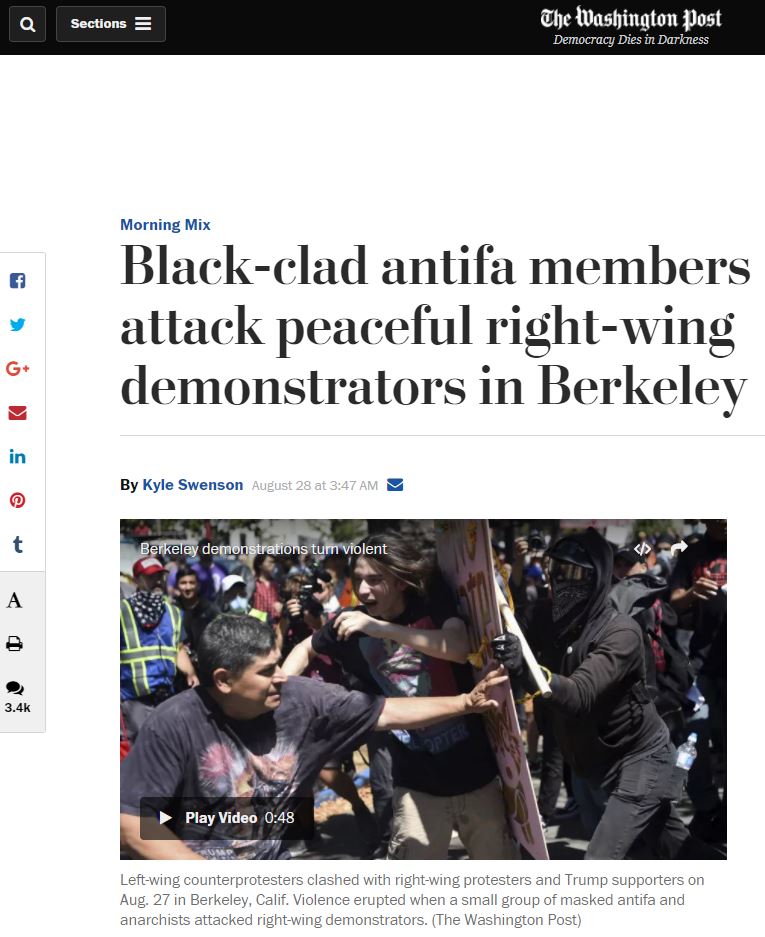 WASHINGTON POST HEADLINE
Berkeley police chief Andrew Greenwood defended how police handled the protest, saying they made a strategic decision to let the anarchists enter to avoid more violence.

Greenwood said "the potential use of force became very problematic" given the thousands of peaceful protesters in the park. Once anarchists arrived, it was clear there would not be dueling protests between left and right so he ordered his officers out of the park and allowed the anarchists to march in.
Source
http://www.breitbart.com/california/2017/08/28/berkeley-police-allowed-anarchists-jump-barricade-assault-demonstrators/
Excerpts, followed by full article:
In a interview with the Financial Times, Gary Cohn, a former Goldman Sachs executive and current White House economic adviser, publicly rebuked his boss Donald Trump's response to the Charlottesville violence that both sides were at fault. He also praised Antifa as a force for good.

Antifa are pretty open about not liking these freedoms, as evidenced by their actions in Berkeley. So it's hard to say they're fighting for liberty — especially when they continually attack average Americans who support the president you work for.

What's even more bizarre is for a Wall Street power player to stand with guys who fantasize about murdering bankers. Cohn is effectively defending people who see him as an evil monster who deserves violence as much as Nazis do.

The leftsts wish to tear down the whole financial system that Cohn has worked his whole life upholding, so why is he praising them?

As long as they don't disrupt any Democratic Party events or Goldman Sachs meetings, they'll still be heroes fighting for equality and freedom in the eyes of the elite.

This enabling will lead to more violence and embolden the black-clad thugs to continue their crusade against anyone they deem a Nazi. It's doubtful that they will rethink their actions in light of receiving praise from Wall Street giants and Mitt Romney.

Legend has Vladimir Lenin stating, "We will hang the capitalists with the rope that they sell us."

Today's Bolshevik wannabes likely see their new, powerful allies in the same light.

The capitalists of our age certainly don't think they are a threat to the establishment, but that might change if the leftists are further emboldened.

When given the blank check to attack all Nazis, things might dramatically change when banks are singled out as havens of fascism.
Continue reading
There were no clear Nazis in Berkeley, just your average Trump supporters. Yet that didn't save them from a beating at the hands of Antifa.
Follow Scott on Twitter
and buy his new book, "
No Campus for White Men
."
Source
http://dailycaller.com/2017/08/27/the-establishment-and-antifa-go-hand-in-hand/
The Democratic Party defended slavery

, started the Civil War, opposed Reconstruction,

funded the Ku Klux Klan

, imposed segregation,

perpetrated lynchings

, and fought against Civil Rights Acts of the 1950s and 1960s. In contrast

the Republican Party was funded as an anti-slavery party.
The violence that the Left refuses to condemn.
http://www.frontpagemag.com/fpm/267605/when-liberals-club-people-its-love-their-hearts-ann-coulter
THE ATLANTIC - THE VIOLENT LEFT
https://www.theatlantic.com/magazine/archive/2017/09/the-rise-of-the-violent-left/534192/