©
http://ottersandsciencenews.blogspot.ca/
.
Unauthorized duplication of this blog's material is
prohibited.
Excerpts and links may be used, provided that full credit and link is given to Otters and Science News Blogspot.
Link to this post:
http://ottersandsciencenews.blogspot.ca/2016/08/apocalyptic-floods-and-fires-in-usa.html
- Thank you for visiting my blog.
~~~~~~~~~~~~~~~~~~~~~~~~~~~~~~~~~~~~~~
White House spokesman says the President hasn't visited the flood zone because he has a busy vacation schedule. Hillary Clinton has also been too busy to pay a visit. Donald Trump already brought a truckload of assistance, and participated in helping the flood victims.
Louisiana picks up the pieces: Devastated home owners survey the damage caused by catastrophic flooding as Trump urges Obama 'to get off the golf course and get down there'
In the aftermath of the devastating floods that hit southern Louisiana this week, residents have started to rebuild their homes, which were left severely damaged following the storms.

At least 13 people died in the flooding that swept through parts of Louisiana after torrential rains lashed the region over the last week. Approximately 40,000 homes were damaged by the floods, while 4,000 people still remain in shelters.
While the waters have slowly receded in many areas, the hard work of rebuilding lives is just ramping up, with people cleaning out their homes while others struggle to find a place to stay.
Continue reading

and see more images of devastation
Driving through neighborhoods where pools of water still stand outside and families are ripping out carpets and carrying water-logged sofas to the curb, the searchers are looking for houses with little activity.
In many areas the water is still so high that people are rowing boats out to their houses to see what the situation is like inside.
'It is devastation, absolute devastation. I mean these homes, there are areas that have not flooded. They never flood and they flooded,' said Stacey Rand of the Louisiana State Fire Marshal's office. 'It caught everyone by surprise.'
Republican presidential nominee Donald Trump and his running mate Mike Pence visited Louisiana on Friday, winning praise from residents who feel overlooked by President Barack Obama. Obama kept to his vacation schedule on Martha's Vineyard, though the White House announced he would visit Baton Rouge on Tuesday.
YES, IT IS A PHOTO OP, LIKE IT IS FOR ALL POLITICIANS
BUT AT LEAST TRUMP SHOWED UP.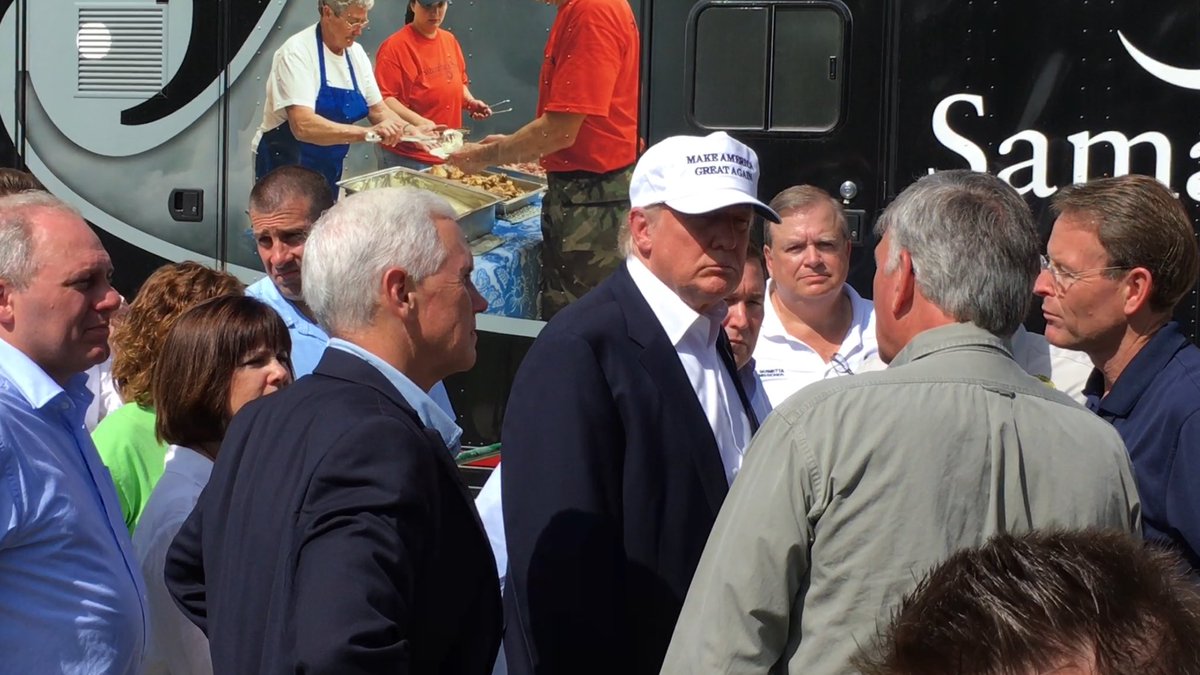 Scorched cars and trailers burned by the Blue Cut fire line a residential street in Phelan, Calif., on Friday, Aug. 19, 2016. Thousands of residents chased from their mountain and desert homes were slowly beginning to take stock of their losses as the preliminary damage assessment was released for the blaze that erupted Tuesday in drought-parched canyons 60 miles east of Los Angeles. (AP Photo/Noah Berger)
A fire truck passes scorched cars and trailers burned by a wildfire in Phelan, Calif., on Friday, Aug. 19, 2016. Thousands of residents chased from their mountain and desert homes were slowly beginning to take stock of their losses as the preliminary damage assessment was released for the blaze that erupted Tuesday in drought-parched canyons 60 miles east of Los Angeles. (AP Photo/Noah Berger)
This photo provided by California Department of Forestry and Fire Protection shows smoke billowing from a wildfire near Lake Nacimiento in San Luis Obispo County, Calif., Saturday, Aug. 20, 2016. (California Department of Forestry and Fire Protection via AP)
Sources
http://www.dailymail.co.uk/wires/ap/article-3750515/Latest-Containment-destructive-California-wildfire-grows.html
http://www.dailymail.co.uk/wires/ap/article-3751774/The-Latest-Firefighters-continue-progress-against-wildfire.html
*********************************************