©
http://ottersandsciencenews.blogspot.ca/
.
Unauthorized duplication of this blog's material is
prohibited.
Excerpts and links may be used, provided that full credit and link is given to Otters and Science News Blogspot.
Link to this post:
http://ottersandsciencenews.blogspot.ca/2015/09/pregnant-dog-saves-toddlers-life-by.html
- Thank you for visiting my blog.
~~~~~~~~~~~~~~~~~~~~~~~~~~~~~~~~~~~~~~
Two-year-old boy in Chile kept alive by pregnant dog who BREASTFED him after his 'dead drunk' mother left him severely neglected.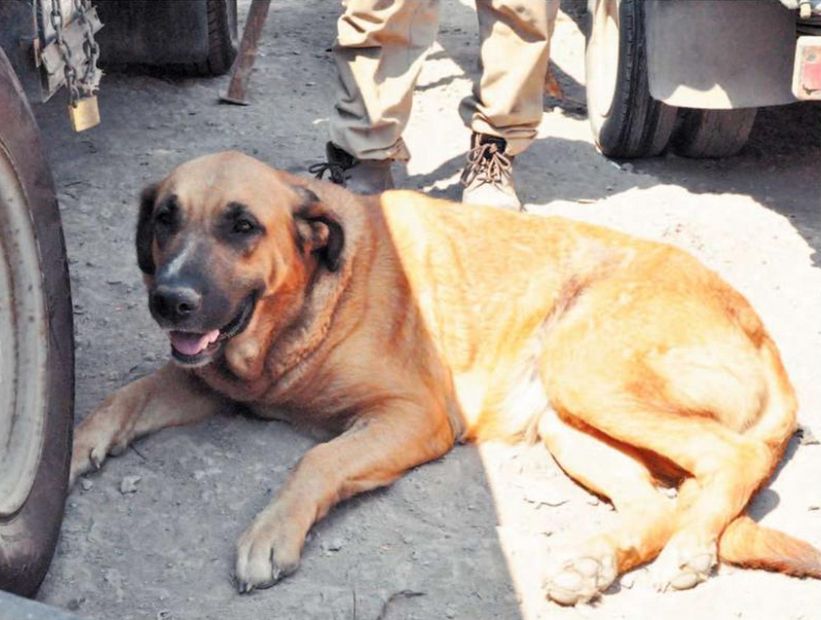 Pregnant Reina, who took compassion of the hungry human baby
Toddler was spotted feeding from Reina (means "Queen") the dog in mechanic's workshop
Passerby alerted police, who rushed the naked infant to an area hospital
Infant found to be malnourished with a lice infestation and skin infection
While the boy was in hospital, his mother turned up in 'dead drunk' state
She has not been arrested; it is unclear where infant's father was at time
Two-year-old has now been placed in care of local child welfare officials
Continue reading,
and see related story of another heroic Chilean mother dog who saved her pups from a fire by picking them up one by one and taking them to a fire truck for safety.
A severely neglected toddler in Chile was kept alive after a pregnant dog started breastfeeding him.
Reina
The two-year-old boy, who has not been identified, was spotted feeding from his neighbor's canine, Reina, after his drunken mother allegedly left him without food or water in the desert port of Arica.
Police were called to the scene and the naked infant was taken to Hospital Regional Dr. Juan Noé, some 1,240 miles north of the country's capital, Santiago, where he was found to be malnourished. He was also suffering from a skin infection and a lice infestation.
Officials believe the boy - who was seen feeding from Reina ('Queen') at a mechanic's workshop in a poor area of the port on Thursday - may have been saved from starvation by the dog's breast milk.
Speaking to the Star of Arica, Police Captain Diego Gajardo said the toddler displayed clear signs of 'abandonment'. He was seen by a passerby hungrily feeding from the pregnant canine, he said.
While the infant was in hospital, his mother showed up 'dead drunk', according to neighbors.
The mechanic's workshop where the little boy was spotted.
The National Service for Minors has now filed a complaint for neglect in relation to the child.
A family court hearing is scheduled for September 22 to determine who will care for the boy.
In Spanish:
http://www.soychile.cl/Arica/Sociedad/2015/09/04/344201/Reina-la-perrita-que-amamanto-al-nino-de-dos-anos-en-Arica-tuvo-vocacion-materna.aspx
http://www.24horas.cl/nacional/nino-abandonado-y-rescatado-en-arica-pasa-al-cuidado-de-conin-1776891
ANOTHER HEROIC MOTHER DOG IN CHILE:
MOVING STORY OF HEROIC MOTHER DOG WHO SAVED HER PUPPIES FROM A FIRE in Chile, and placed them on the fire truck for safety
Touching pictures of a dog rescuing her ten-day-old puppies from a house fire and carrying them to safety.
The blaze broke out at a home in Santa Rosa de Temuco, Chile, after a car bomb went off.
The mother dog - a German Shepherd mix called Amanda - risked her life to pick up the puppies in her mouth and carried them from the burning house to the safety of the fire truck.
She ran between the house and truck over and over again until all puppies were safe. After rescuing all of her pups from the blaze, Amanda sat down next to them, protecting them with her body as the firefighters fought the blaze. A
manda and her puppies were then taken to a vet where one puppy called Amparo, who had suffered severe burns, died. The other four puppies were doing well.
This story was posted on this blog earlier this year
http://ottersandsciencenews.blogspot.ca/2015/03/moving-story-of-heroic-mother-dog-who.html