©
http://ottersandsciencenews.blogspot.ca/
.
Unauthorized duplication of this blog's material is
prohibited.
Excerpts and links may be used, provided that full credit and link is given to Otters and Science News Blogspot.
Link to this post:
http://ottersandsciencenews.blogspot.ca/2015/09/dog-burned-to-death-when-arsonists-set.html
- Thank you for visiting my blog.
~~~~~~~~~~~~~~~~~~~~~~~~~~~~~~~~~~~~~~
Arsonists entered a "Let the animals live" dog shelter in the northern Arab town of Sachnin, in Israel, and set fire to the establishment on Sunday night. Two dogs died, 13 suffered serious burns.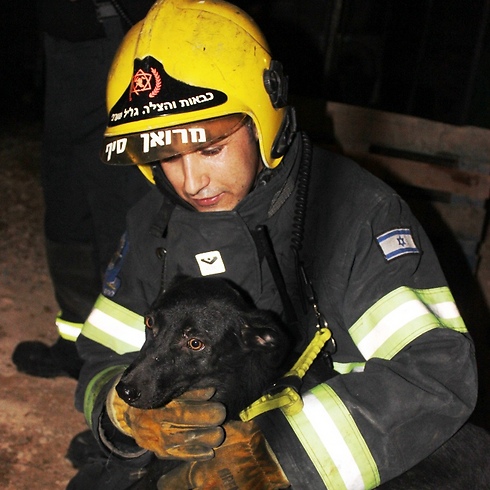 Fireman with a wounded survivor
Three fire crews from the Galilee branch arrived on the scene. Upon arrival the crews spotted a central fire within the area in which the dogs were housed before being adopted.
The fire captain, Lahav Mahudi Shaalan said that four of the dogs were rescued after being exposed to smoke. However, according to him, two dogs died in the flames.
The organization had said that 13 dogs suffered serious burns and injuries as a result of the fire, with one dog having fled the compound, yet to be found.
All the dogs that were found in the compound after the fire have been transferred to "Let the animals live" ambulances, which are now treating them on the scene according to the organization. The majority of the animals will spend the night in a different animal shelter.
A representative from the organization had also said that the site was secured, but that the assailants managed to somehow make their way into the compound and later fled the scene. A police report has been filed, and an investigation into the arson has been opened.
The compound has previously come under attack by vandals who have attempted to break in, or destroy elements of the property.
Source:
http://www.liveleak.com/view?i=2af_1443443476
About the Arab town of Sakhnin (or Sachnin):
Located in the Lower Galilee, its population of 25,100

is Arab, mostly Muslim, with a sizable Christian Arab minority. The town dates back several thousand years to the Jewish Biblical era. (Wikipedia.) Its Muslim population is the result of the Muslim invasion and conquest in the 7th century.
No Jews live in Sakhnin now. Jews are forced to stay clear out of Arab-populated towns and neighborhoods in Israel due to anti-Semitic violence. Even an arranged visit can turn deadly.
Residents of Sakhar stone Jewish students who had been invited to visit a school.

Residents of Sakhar stone Jewish soccer fans after a game

Palestinians shooting dogs and throwing the agonizing animals into garbage cans

Palestinians throw bagged live puppies at IDF over a wall

Bedouin children of Arab town of Rahat mutilate and burn dogs for fun - Police do nothing because it's part of the culture.

Palestinians torture cattle in Gaza. Australia suspends exports.

Islamic dog hatred and cruelty and animal rights activists' silence.
STONING JEWISH STUDENTS WHO HAD BEEN INVITED TO A SCHOOL IN SAKHNIN
View of Sakhnin, with
Teachers College in the foreground
A couple of years ago students from a religious school in the northern town of Yokne'am were

attacked

by Israeli Arabs in the

Arab

village of Sakhnin, after they visited an Arab school in

the village as part of a regular series of inter-school visits

.
The visit had ended pleasantly, and the Jewish students boarded a bus to take them back to Yokne'am.
After they boarded the bus, dozens of Sakhnin residents and students from the local school ran out into the street and began lobbing rocks and bricks at the children. Quick-thinking teachers told the children to duck, and fortunately, no one was hurt by the flying glass.
A report on Army Radio Sunday said that school officials did not report the incident to police or to the Education Ministry. The principal of the Sakhnin school reportedly sent a letter of

apology

to the principal of his Yokne'am counterpart. Two of the Sakhnin students have been suspended, the principal said.
Both Sakhnin and Yokne'am are

located

in the foothills of the lower Galilee. Sakhnin, well within the 1949 Armistice lines, and was the site of major rioting during the second Intifada in 2000.
Stoning Jewish soccer fans in Sakhnin -
Stones were hurled at a bus carrying fans of Maccabi Haifa soccer team, following a match at the Doha Stadium in the northern Arab town of Sakhnin. No injuries were reported but the bus sustained damages.
PALESTINIANS SHOOTING DOGS AND THROWING THEM INTO GARBAGE TRUCKS
The animals may still be alive, for all we know, when they are disposed of in a garbage truck.
Palestinians claim the homeless dogs belong to the Jews.
A video of the incident which I posted on this blog has since been removed by YouTube.
On this article also read:
Palestinians throw live puppies at the IDF over a wall

Arab children in Rahat (a Bedouin town) mutilate and burn dogs alive for fun

Islamic dog hatred and animal rights activists' silence - What sacred texts say about dogs

Palestinians torture cattle. Australia suspends exports of live cattle to Gaza after seeing video.

Palestinians starve exotic animals to death at Gaza Zoo. They blame Israel.

The Eid Festival, where animals are tortured and have their throats slashed fully conscious

Halal slaughter in Britain - Muslims caught cutting animals throats with saws

Palestinians kill Jews the same way. They cut their throats. The case of the Fogel children.

Palestinians weaponize innocent animals to detonate them in Israel.
READ MORE
http://ottersandsciencenews.blogspot.ca/2015/02/palestinians-shooting-dogs-and-throwing.html
Palestinians throw live puppies
March 2014 -
From 0404 News:
A sickening development near the security barrier in Abu Dis, East of Jerusalem. Arabs threw four bags with live puppies from behind the high concrete walls at a border police patrol while on duty.
These are exclusive images of the puppies in the bags from 0404 news.
Source
http://www.israellycool.com/2014/03/18/new-levels-of-cruelty-reached-by-arabs-in-jerusalem/
Arab Bedouin children of Arab town of Rahat in Israel mutilate and burn dogs alive for fun
As reported by Haaretz:
C
hildren in the southern town of Rahat, near Be'er Sheva, have taken up a new and cruel pastime - burning dogs alive.
A resident of the predominantly Bedouin city, Salam al-Huzeil, recently filed a complained with the police over the new phenomenon, but said that they did not heed his complaint due to lack of proof.
Al-Huzeil decided to provide the police with proof, and videotaped some children burning a dog alive on his digital camera.
According to Al-Huzeil, the children habitually pour gasoline or another accelerant on the dog's fur and then set them on fire. He adds that the hobby does not end with burning the dogs' fur, but that

in some cases the children tie the dogs up to a pole and cut off their legs, leaving them crippled

.
"This is a terrible thing, a really ugly phenomenon," said al-Huzeil. "How can you set a dog on fire while it's still alive? These children's behavior is really disgusting. It cannot be that everyone turns a blind eye and no one does anything about it."
Al-Huzeil added that he complained with the Rahat police, but that so far nothing has been done to stop the phenomenon.
Samson Blinded reported:
Arab residents of Rahat settlement in the Negev have demanded that police investigates Bedouin children who thus amuse themselves. The residents recorded burnings and mutilations on video. Police did not react to previous complaints because, naturally, they cannot change Arab culture.
Animal Rights Activists' Silence
There have been many cases, both in Europe and North America, of
Muslim taxi
and
bus drivers refusing to let dogs in
(even guide dogs for the blind); of police not letting dogs near Muslim suspects or prisoners; of
Muslim prison inmates being given new clothes and bedding
after police sniffer dogs search their cells.
Pronouncements about dogs are not in the Quran but are numerous in the various hadiths, collections of traditions containing sayings and deeds of the prophet Muhammad which form the basis of Islamic law.
Dogs for Muslims are "impure," "unclean" and "evil." For example, the Muslim website
Islam Q&A
says:
It is not permissible for a Muslim to keep a dog, unless he needs this dog for hunting, guarding livestock or guarding crops…
With regard to keeping dogs, this is haraam [forbidden by God] and is in fact a major sin, because the one who keeps a dog, except those for which an exception has been made, will have two qiraats [a measure of rewards for good actions] deducted from his reward every day.
It is by the wisdom of Allaah that like calls to like and evil calls to evil. It is said that the kaafirs, Jews, Christians and communists in the east and the west all keep dogs, Allaah forbid. Each one takes his dog with him and cleans it every day with soap and other cleansing agents. But even if he were to clean it with the water of all the seas in the world and all the soap in the world, it would never become pure! Because its impurity is inherent, and inherent impurity cannot be cleansed except by destroying it and erasing it altogether.
Another Islamic site,
Albalagh
, explains:
Jibra'eel (Álayhi Salaam) said that we, the group of Angels do not enter a house wherein there is a dog or pictures. (Sahih Muslim Hadith no.3928)
In the light of these Ahaadith and other narrations it is not permissible to keep dogs as pets. The household is deprived of the Mercy of Allah Taãla.
Religious traditions hold that if a dog – or woman – passes in front of you as you prepare to pray, it pollutes your purity and negates your prayer. Dogs are permissible as watchdogs or for other utilitarian purposes but not simply for companionship. Abou El Fadl says this zealous adherence to doctrine led one religious authority to advise a Muslim that his pet dog was evil and should be driven away by cutting off its food and water.
Hasan Küçük, a city councillor for the Islam Democrats in the Hague, the Netherland's third city, even
proposed that the city ban all dogs
, which was promptly rebuked by Paul ter Linden, the councillor for Geert Wilders' PVV party, who told him: "In this country pet ownership is legal. Whoever disagrees with this should move to another country."
What is interesting is the reaction – or rather lack thereof – of the animal rights movement, too afraid, if it means touching Islamic sensitivities, to speak up even for animals.
I think that we'll see more and more of these cases, in the Netherlands and elsewhere. Then we'll see where the "animal defenders" really stand and whether they consider their Leftist ideology more important than the animals' well-being or not.
That this is the case is obvious from the way groups for animal welfare are – and want to remain – blissfully ignorant of what Islam is, the threat that its growth poses to the West and in particular the danger that Islamization represents for animals.
There's hardly any point in fighting for the advancement in the status of animals in law and public conscience when in a few decades our countries will regress to being dominated by a 7

th

-century cult replete with superstitions about black dogs and whose "religious" festivals are celebrated by
slaughtering millions of fully-conscious animals in front of children
who will quickly learn how to use a butcher's knife.
PALESTINIANS TORTURE CATTLE IN GAZA
VIDEO - HORRIBLE SADISTIC CRUELTY BY PALESTINIANS AGAINST DEFENSELESS ANIMALS - Australia has suspended all cattle exports to Gaza
Australian authorities have effectively banned live cattle exports to Gaza while they investigate shocking images of animal cruelty in the streets of the Palestinian territory.
Scene in Gaza
Stabbing cattle in the eyes
as a way to control them
The Australian Ministry of Agriculture, DAFF, revealed that it had not approved consignments of cattle for Gaza since November when it began investigating allegations raised in the Israeli media.
"The allegations are serious and information obtained during the investigation is considered when assessing any application from any exporter to send livestock to Gaza," a DAFF spokesman said.
"Currently, all exporters to Israel are required to comply with additional conditions to ensure livestock are unloaded in accordance with international animal welfare standards."
LSS said last week that a ship bound for Israel with 10,000 cattle had been stopped at Fremantle because of an alleged breach of the Commonwealth's exporter supply chain assurance system.
The footage from Gaza shows a bull being "knee-capped" by a man armed with an assault rifle, another stabbed in the eye and others having their throats hacked open.

Palestinians in Gaza celebrating the festival of EID by slaughtering animals as ritual "sacrifice".
LSS, owned by Jordanian company Hijazi and Ghosheh Group, self-reported a possible ESCAS breach in November when it became aware of the footage.
Its own investigation found a discrepancy involving nine cattle it sent to Gaza. Two of the cattle shown in the footage could be identified by their ear tags. LSS said then that the release of nine cattle from the supply chain was "unacceptable" and it suspended exports to the Gaza facility.
(The video has since been removed by YouTube)
RELATED STORIES/VIDEOS from BareNakedIslam website:
Muslims consider dogs filth because their prophet Mohammed ordered all black dogs to be killed. He said: "It is your duty to kill the jet-black dog having two spots on the eye for it is a devil.
Apparently, Muslims have expanded this order to include ALL dogs.
The Halal way to slaughter a camel.
The terrorized animal is left to bleed to death.