©
http://ottersandsciencenews.blogspot.ca/
.
Unauthorized duplication of this blog's material is
prohibited.
Excerpts and links may be used, provided that full credit and link is given to Otters and Science News Blogspot.
Link to this post:
http://ottersandsciencenews.blogspot.ca/2016/12/terror-in-berlin-germany-and-europe.html
- Thank you for visiting my blog.
At least 50 injured and twelve dead after truck sped through a crowd of shoppers at busy Christmas market at 40mph

Police indicated the incident is likely to be a terror. A suspect from Pakistan has been released for lack of evidence.

Terrified market-goers have tweeted horrifying images from the scene showing the devastating aftermath
Police in Berlin using Twitter to urge people to stay in their homes as Angela Merkel is said to be 'mourning the dead'

J

ust days a twelve year old Muslim child tried to detonate a nail bomb on November 26, but it malfunctioned (see link to video further on this page)

He tried again at the Ludwigshafen Christmas Market on December 5, but was spotted by police. Due to his age he cannot face any criminal convictions.

Angela Merkel was warned two weeks ago by US intelligence of credible threat during the Christmas season.

A Journalist speaking on CNN said that - unlike France - Germany has not posted extra police or military in sites vulnerable to terror. There were not even barriers against a vehicular attack.

Media headlines on BBC and CNN again blame the truck, not the terrorist

Germany will now be in full spin control, and will certainly try to control the media narrative so as to avoid making any link between this carnage and Islam

According to new censorship regulations being applied in Germany (and other EU countries) those who stray from the official narrative may face prosecution and jail.

GERMANY'S ONGOING JIHAD AGAINST ISRAEL




What is not being mentioned at all is that Germany has been funding terror in Israel, under the guise of "humanitarian aid".

Germany knowingly provides millions of Euros to organizations that promote Arab incitement to terror, anti-Semitism, and the delegitimization of Israel.

Germany and other European countries have contracted out the Arabs to finish the job Hitler left undone.

When Arab Muslims use vehicles to murder Jews, it is blamed on the so-called 'occupation'

They fail to explain how Jews could possibly be the illegal occupiers of their own land, which has been Jewish for thousands of years, while Muslims invaded and occupied Israel in the 7th century.

To Germany and other European governments and activists, Muslims who kill Jews are NOT regarded as TERRORISTS. See photo

of Merkel warmly greeting arch-terrorist Mahmoud Abbas, Palestinian Authority Chief, and the mastermind of the Munich Olympics terror attack in 1972 that resulted in the torture and murder of eleven Israeli athletes. He is also responsible for hundreds of other attacks on Jews ever since. Merkel is shown meeting Abbas at the January 2015 anti-terror march in Paris, to which Abbas was invited because he is not considered to be a terrorist.
Europe generously funds Muslim incitement and terror under the guise of humanitarian aid for the 'Palestinians'.

There are at least THREE HUNDRED non-governmental organizations (NGOs) operating in tiny Israel, most of them financed by Germany, and the rest by other European countries and the US government.

Their operatives collaborate and encourage Arabs in the relentless insurgence against the state, and terror attacks against Jews of all ages.

Their objective is to weaken Israel and to demoralize its population, with the goal of partition and, ultimately, Israel's full dismantlement.

Ironically, when the German state and other European states cease to exist, having become populated and controlled by Islam, Israel will still be there....

The Roman Empire made war on Israel in the first century. Romans razed the Jewish Temple, looted Jewish treasure, and either slaughtered the Jewish population, enslaved it, or dispersed it into the Diaspora.

But the Roman Empire fell and all we have today are its ruins.

The Byzantine Empire, the Ottoman Empire, the British Empire, they all occupied Israel at some time or another - and they all lost their power. Britain gave up its colonies, and now it is losing Britain itself to Muslim colonists.

Sometime in this century Europe's magnificent cathedrals will be turned into mosques, much of its art will be banished or destroyed, and the European people will be a minority under Muslim domination

.

But Israel will still be there, God willing, still a functioning, brave little country facing the hostility of the entire world.
The following VIDEO via
BARE NAKED ISLAM
Continue reading and watch more videos
The German government
provides
millions of Euros annually, through direct and indirect funding processes, to highly politicized NGOs (non-governmental organizations) that operate in Germany, Israel, the West Bank, and Gaza.
Most of the funding to NGOs is transferred through German Stiftungen (foundations) which have become prevalent actors in Israeli society.
German NGO funding is
officially
dedicated to worthwhile causes. But that is only a cover.
The German government continues to fund organizations that contribute to the growing demonization of Israel and BDS (boycott, divestment, and sanctions) campaigns, in direct contradiction to German foreign policy.
These NGOs oppose peace and negotiations, and promote narratives that reject the legitimacy of a Jewish state.
NGO projects are used in place of direct diplomacy, in violation of international norms and accepted relations between states. They also manipulate public perception of Israel in Europe.
VIDEO

-
The Nazis and the Palestinian Movement
The Palestinian active role in the Holocaust.
Sunday, March 27, 2016
This is what Germany and Europe have been funding

with taxpayers' money: Muslim genocidal hatred and anti-Jewish propaganda so vicious that would make old Nazis blush.
THE BBC BLAMES THE TRUCK: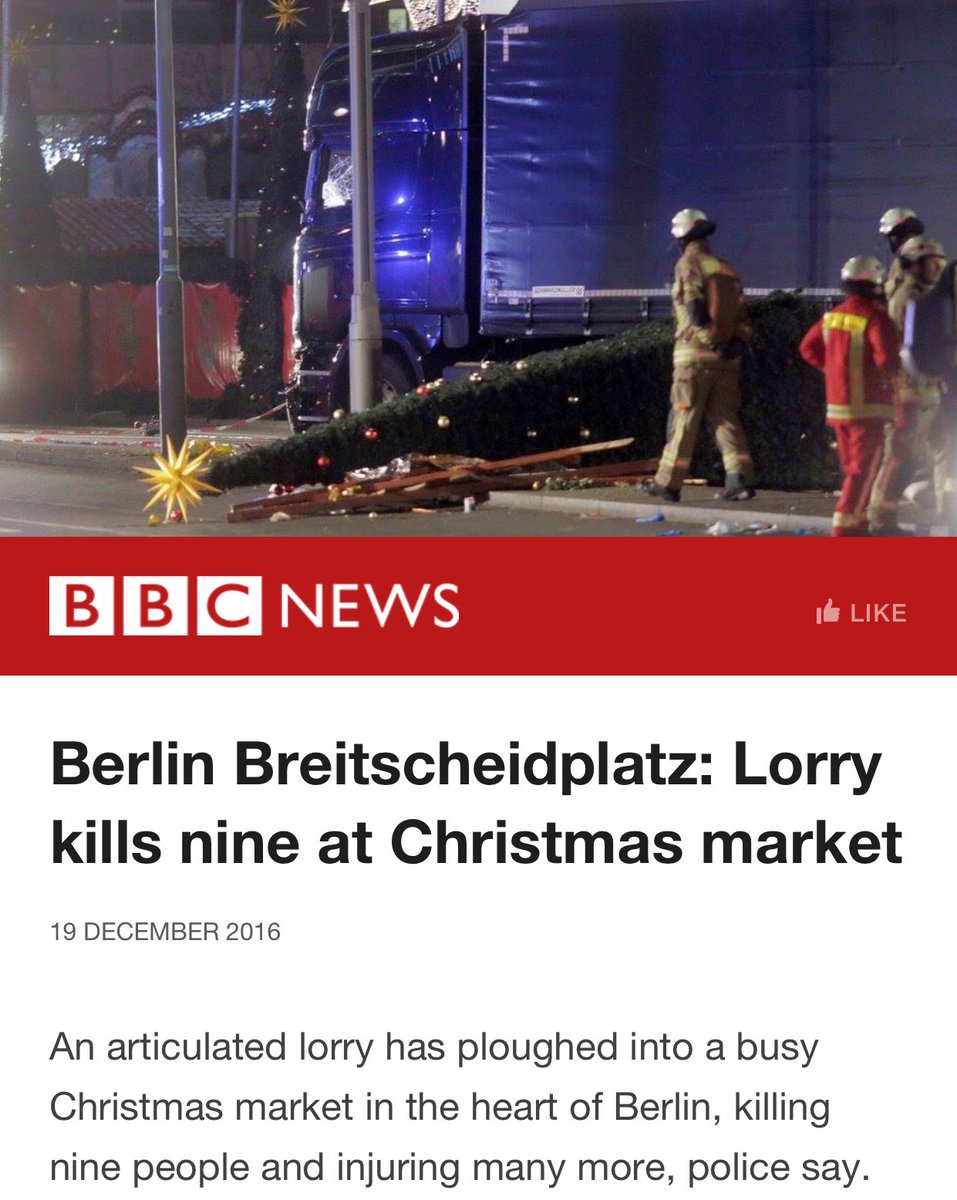 CNN SAYS IT WAS A "CRASH":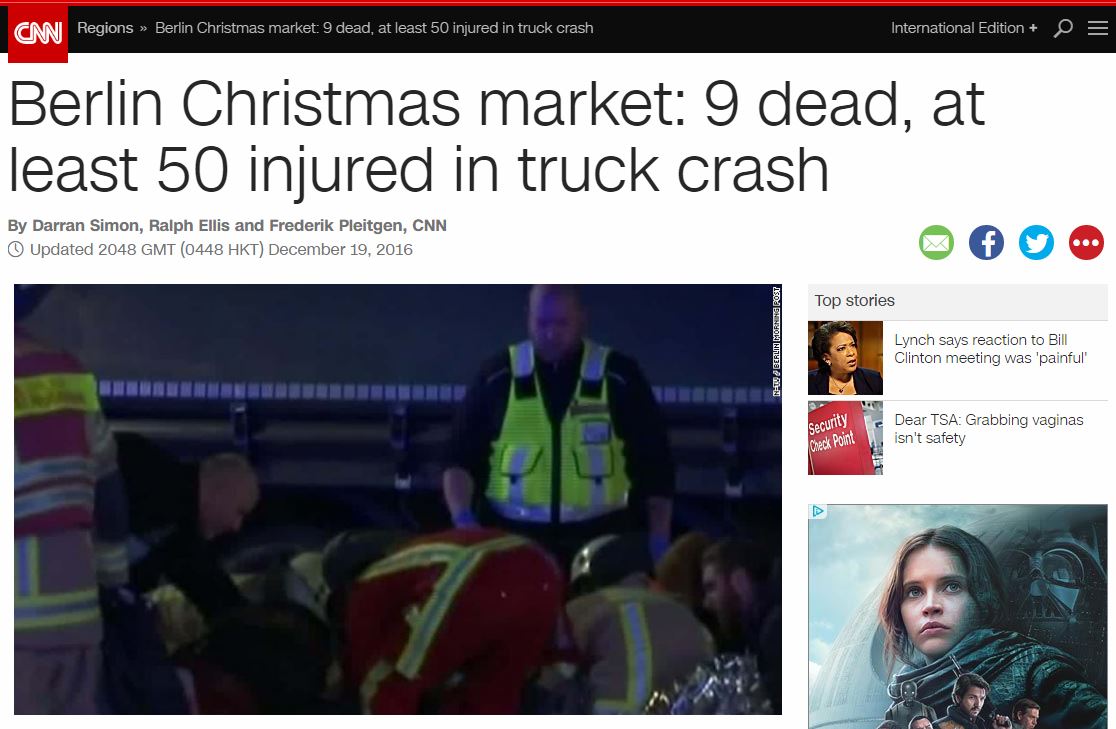 DRUDGE REPORT'S MAIN HEADLINE
DECEMBER 20, 2016: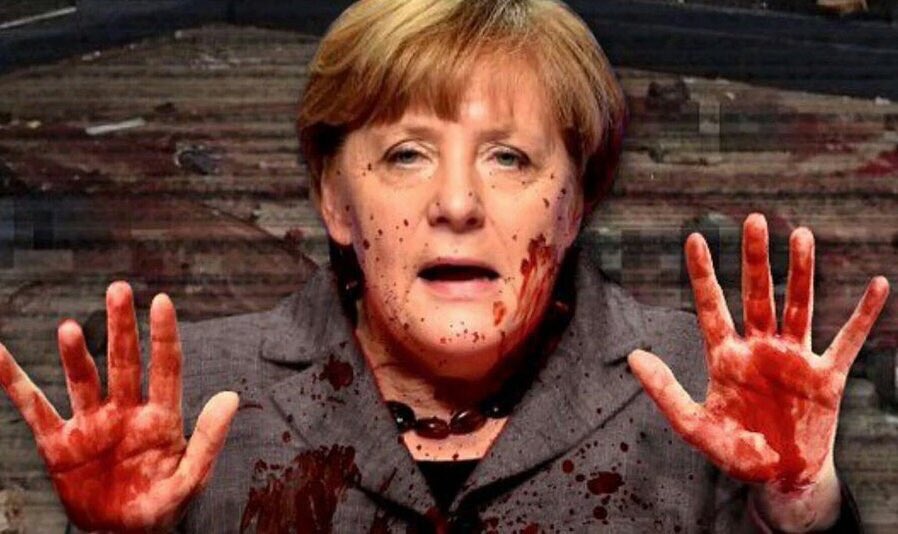 BLOOD ON HER HANDS!
BERLIN MARKET MASSACRE
EX-NAZI AIRPORT BECOMES REFUGEE CAMP
'THIS IS WAR'
Sources on Germany's funding of terror against Israelis
http://www.palwatch.org/main.aspx?fi=520
http://www.ngo-monitor.org/reports/german_funding_for_ngos_that_demonize_israel/
http://www.ngo-monitor.org/funder/germany/
https://www.gatestoneinstitute.org/6266/europe-ngo-Israel
Recommended:
http://ottersandsciencenews.blogspot.ca/2016/04/how-britain-funds-palestinian-terror.html
Sources on terror in Berlin
http://www.barenakedislam.com/2016/12/19/breaking-truck-jihad-truck-slams-into-crowd-of-christmas-shoppers-at-berlin-market-in-what-appears-to-be-another-islamic-terrorist-attack/
http://www.dailymail.co.uk/news/article-4049442/Terror-attack-fears-lorry-ploughs-Christmas-market-Berlin-leaving-two-people-dead.html
https://www.jihadwatch.org/2016/12/berlin-truck-attack-merkel-was-warned-weeks-ago-by-us-state-department
http://www.dailymail.co.uk/news/article-4039992/Boy-aged-TWELVE-youngest-person-Europe-arrested-terror-offences-planning-bomb-Christmas-market-Germany.html
Video in German with English translation on the 12 year old Muslim terrorist.
https://www.youtube.com/watch?v=YMoMFxaYABA
ISLAM IN THE WEST
BREITBART - Migrant crisis latest news
http://www.breitbart.com/tag/europe-migrant-crisis/
Bare Naked Islam
http://www.barenakedislam.com/
The Muslim Issue
https://themuslimissue.wordpress.com/
MUSLIM STATISTICS
https://muslimstatistics.wordpress.com/
Tundra Tabloids
http://tundratabloids.com/
Soeren Kern
http://soerenkern.com/
Gates of Vienna
http://gatesofvienna.net/
Frontpage Magazine
http://www.frontpagemag.com/
Creeping Sharia
https://creepingsharia.wordpress.com/
Refugee Resettlement Watch
https://refugeeresettlementwatch.wordpress.com/
Money Jihad (recommended)
https://moneyjihad.wordpress.com/
Sharia Finance Watch
http://www.shariahfinancewatch.org/blog/
Geert Wilders
http://www.geertwilders.nl/
Vlad Tepes
http://vladtepesblog.com/
The Islamization of Europe and European Anti-Semitism
Columns by Dr Manfred Gerstenfeld
http://www.israelnationalnews.com/Articles/Author.aspx/908
MORE ON ISLAM IN THE WORLD
The Religion of Peace
http://www.thereligionofpeace.com/
The Myths of Islam
http://www.thereligionofpeace.com/Pages/Myths-of-Islam.htm
Islam's history
http://www.thereligionofpeace.com/Pages/History.htm
Islam not a religion of peace - ten reasons
http://www.thereligionofpeace.com/Pages/Top-10-Reasons.htm
Killings for Islam
http://markhumphrys.com/islam.killings.html
WikiIslam
http://wikiislam.net/wiki/Main_Page
Koran as hate speech
http://www.thereligionofpeace.com/Pages/Quran-Hate.htm
Islam

terror and genocide through the centuries
http://www.islam-watch.org/MA_Khan/IncessantTerrorism.htm
Professor Bill Warner: Video - Why we are afraid