©
http://ottersandsciencenews.blogspot.ca/
.
Unauthorized duplication of this blog's material is
prohibited.
Excerpts and links may be used, provided that full credit and link is given to Otters and Science News Blogspot.
Link to this post:
http://ottersandsciencenews.blogspot.ca/2015/12/is-this-what-apocalypse-would-look-like.html
- Thank you for visiting my blog.
~~~~~~~~~~~~~~~~~~~~~~~~~~~~~~~~~~~~~~
What we are really afraid of:

Notice how conditioned we are to not offending Islam. None of these images shows Muslim cities being destroyed by the Apocalypse.
Most disaster movies or illustrators take extra care not to show any Muslim cities or monuments crumbling down from fictional war or apocalypse. You would not want to make Muslims angry. So it's always the West, particularly the Statue of Liberty and NYC, that take the worst beating. Of course, the almost apocalyptic Muslim-on-Muslim destruction goes on in the Middle East, but that's real war, (see what's left of the neighborhood of Jobar, in Damascus, Syria).
How the world might end, according to digital artist Steve McGhee:
See additional images of apocalypse
In this piece of digital artwork by Mr McGhee, water appears to be flooding the streets of London around Bank tube station
A tidal wave appears to be taking out the cars and buildings as it makes its way down the narrow streets of New York City. Reminds us of a scene in the film The Day After Tomorrow.
Mr McGhee, from London, Ontario, believes his work could be influenced by the fact he watches far too many disaster movies. He said: 'I guess it's too many disaster movies. That and the fact that I'm fascinated by things we, as human beings, have little or no control over.
The head of the Statue of Liberty appears submerged under water in a dramatic artist's image of how the world might end
One of Steve McGhee's digital artwork which shows boats being sucked in a black hole opening up in the middle of Sydney Harbour
http://www.dailymail.co.uk/news/article-3372059/Who-says-work-s-disaster-Artist-creates-incredible-images-world-end.html
~~~~~~~~~~~~~~~~~~~~~~~~~~
RELATED
Pictures of post-Apocalyptic Toronto, Canada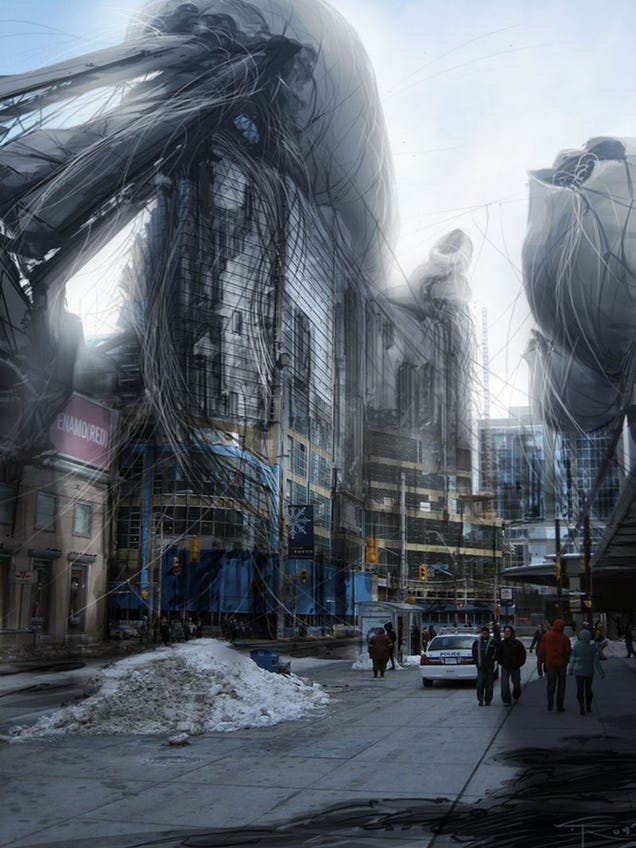 See more images
http://ottersandsciencenews.blogspot.ca/2014/10/pictures-of-post-apocalyptic-toronto.html
~~~~~~~~~~~~~~~~~~~~~~~~~~
THE REAL WORLD
What remains of the neighborhood of Jobar in Damascus, Syria, demolished during fighting between pro-Assad and rebel forces.
Source
http://www.dailymail.co.uk/news/article-3371675/Bombed-houses-rubble-far-eye-apocalyptic-landscape-remains-one-region-Syrian-capital-Damascus.html