©
http://ottersandsciencenews.blogspot.ca/
.
Unauthorized duplication of this blog's material is
prohibited.
Excerpts and links may be used, provided that full credit and link is given to Otters and Science News Blogspot.
Link to this post:
http://ottersandsciencenews.blogspot.ca/
- Thank you for visiting my blog.
~~~~~~~~~~~~~~~~~~~~~~~~~~~~~~~~~~~~~~~~
LATEST:
Dr Palmer was once accused of relentless sexual harassment by an employee, and he had to settle out of court for $127,500

Congresswoman says he could face charges in the US for poaching and bribing.
From this: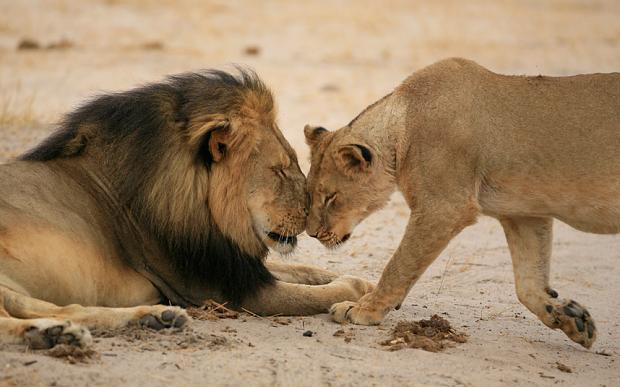 To this:
Dr Walter J Palmer (on the left in picture above),

a dentist from Minneapolis, Minnesota, US, killed the famed lion during the first week of July in Zimbabwe
It's believed Cecil the Lion, 13, was lured out of the national park and wounded by an arrow before he was tracked for FORTY hours, shot dead with a gun, skinned and beheaded as a hunting trophy
Palmer admits he was responsible but said he was unaware it was protected and said he 'regrets' the killing
UPDATES

-

Read more further down this page

:
Dr Palmer was accused of

sexual harassment

by a former employee, and settled out of court for $127,500.
He could face

prosecution in the US

for bribing and poaching.
The agonizing long hours of an exhausted and maimed lion and one man's vanity that led to his torture.
Dr Palmer's helper in Zimbabwe freed on bail
Stuffed animal memorial placed outside Palmer's office and protesters showed up at his house as 'dentist hunters'
The smiling hunter has previously been fined for lying over the location of where he killed a black bear in northern Wisconsin
Social media and Yelp accounts of Dr. Palmer's practice inundated with furious messages about the hunt
Cecil
led two prides containing six lionesses and 12 cubs along with another lion, Jericho. He was being monitored as part of an Oxford University study into lion conservation
Cecil's cubs are now

thought to be at risk of being killed if Jericho can't defend the pride from takeover by another male lion.
Chairman of Zimbabwe Conservation Task Force said anyone convicted of involvement in the illegal hunt could face up to 15 years in prison
Palmer is a member of the

Safari Club International

, which has approximately 55,000 members across the world.
Palmer also is a member of the

bowhunting organization Pope and Young

, whose list includes tough targets like polar bears, leopards, rhinos and lions.
Serial killer of wonderful wildlife
Continue reading and see more images of Dr. Palmer and his victims
In 2008 Mr Palmer pleaded guilty to making a false statement to the US Fish and Wildlife Service regarding the precise location of where he killed a black bear.
Palmer was placed on a one year probation and fined $2939 after it was found that he was not licensed to kill the bear in that particular area.
The passionate hunter describes himself on his dentist website as having 'a unique talent for creating dazzling smiles that complement each individuals tooth structure, skin tone, and facial attributes.'
According to the Zimbabwe Conservation Task Force (ZCTF), the hunt began on July 6. 'They went hunting at night with a spotlight and they spotted Cecil,' said the ZCTF's Johnny Rodrigues.
'They tied a dead animal to their vehicle to lure Cecil out of the park and they scented an area about half a kilometre from the park.'
Rodrigues revealed that Palmer shot his bow and arrow at Cecil, but failed to kill him and that they stalked the wounded and stricken lion for 40 hours before finally shooting him dead and beheading him.
He added according to
The Independent
: 'The head – his trophy – has been impounded and confiscated as evidence for the court in Victoria Falls'.
And to add to the outrage surrounding the death of Cecil, the future of the cubs of his pride are now thought to be at risk. The cubs could be killed if the pride is taken over by another male lion.
'The saddest part of all is that now that Cecil is dead, the next lion in the hierarchy, Jericho, will most likely kill all Cecil's cubs,' Rodrigues said.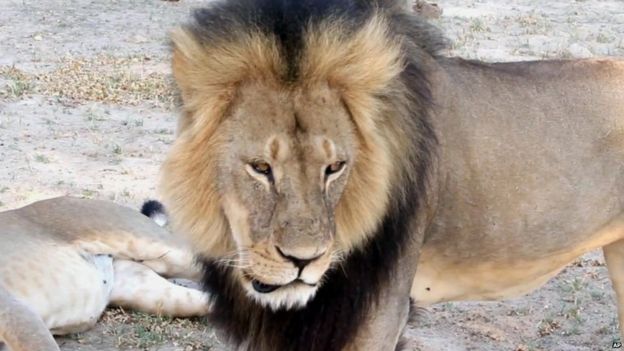 There has been worldwide condemnation of the "sport" killing of Cecil.
However, since his role in Cecil's death has been uncovered, animal lovers have laid siege to Dr Palmer's website, posting incredibly negative and abusive reviews.
One of the strongest denunciations came from the People for the Ethical Treatment of Animals (PETA), which said on its Twitter account that Palmer should hang for killing Cecil.
'If, as reported, this dentist & guides lured

#CeciltheLion

out of the park with food so as to shoot him on private property because shooting #CeciltheLion in the park would have been illegal, he needs to be extradited, charged, &, preferably, hanged.'
Almost immediately after Minnesota dentist, Walter Palmer was named as the killer of Cecil the lion, outraged members of the public decided to flood the Y
elp
review page of his practice with angry messages.
Some members of the public simply scolded the big game hunter, while others outright threatened Palmer, so sickened were they by his hunting trip to Zimbabwe where he paid $55,000 for a permit to shoot dead a lion.
Liesi. C. from Chicago, Illinois called for his dentistry practice to go up in flames in addition to wishing for him to lose all his patients.
'There is absolutely nothing I can say that will fully encapture the utter hatred I feel for Dr Palmer,' wrote Liesi C.
'Dr. Palmer, you're pathetic. You're not even a man. A man wouldn't do what you've done. You're a little boy and I hope you are charged to the full extent of any and all law.'
Others claimed that Dr. Palmer had no regard for life and called him a 'repulsive human being who deserves to be charged with poaching and extradited to Zimbabwe.'
Some reviwers labeled Palmer a monster for 'illegally torturing and murdering Cecil the lion'.
Jen O., also from Chicago, was distressed by the fact that experts now believe that Cecil's six cubs will now die when a new male takes over his pride.
Some people like Alex O. tried to bring the message back to Palmer's status as a erstwhile respected member of the community.
'Do you trust a man like that with your teeth,' wrote Alex O.
'Would you be happy to know that the money you're paying him funds that kind of sick, cowardly and cruel lifestyle?'
Karly O. from Portland, Oregon was concerned about the state of Palmer's ethics.
'If he lies about luring a lion out of a park so he can criticlly wound it and kill it hours later, how can you trust him to tell you the truth about your teeth?'
One individual appeared to pour scorn on the hunting methods employed by Palmer.
'Walter Palmer baited a lion out of a preserve, set up an ambush, wounded it, then found it the next morning to finish him off,' wrote It's M.
'This is not hunting. There is no skill worthy of a trophy here. Especially when you fail to immediately kill the animal, causing it to suffer.'
Sources
http://www.dailymail.co.uk/news/article-3177303/PICTURED-American-dentist-passion-hunting-killed-Cecil-Lion-bow-arrow-Zimbabwe.html
RELATED
The Petition Site - Demand justice for Cecil the Lion
Please sign the petition to demand justice for Cecil!
Tell Zimbabwe to stop issuing hunting permits to kill endangered animals!
The legend of Cecil started about three and a half years ago, when the then-10-year-old lion was kicked out of his pride, beaten by younger, more powerful males. Hunters argue that as loners, prideless male lions aren't as important to sustaining lion populations.
But Cecil wasn't finished. He soon teamed up with another lone male named Jericho, and the lions regained control of the region's two prides, one of which consists of three lionesses and seven cubs under seven months old.
The loss of Cecil most likely spells the end of Jericho's reign, and the possible loss of the pride's cubs. Jericho, as a single male, will be unable
But Cecil wasn't finished. He soon teamed up with another lone male named Jericho, and the lions regained control of the region's two prides, one of which consists of three lionesses and seven cubs under seven months old.
The loss of Cecil most likely spells the end of Jericho's reign, and the possible loss of the pride's cubs. Jericho, as a single male, will be unable to defend the two prides and cubs from new males that invade the territory. This is what we most often see happening in these cases. Infanticide is the most likely outcome.
http://www.thepetitionsite.com/821/738/351/demand-justice-for-cecil-the-lion-in-zimbambwe/
Dr Palmer accused of sexual harassment
Dr. Walter Palmer accused by former employee who worked for Minneapolis dentist from 1999 to 2005
Complaint made claims married father of two was asked to stop behavior
However, the unwanted conduct continued and Dr. Palmer paid out in 2009
He was also required to complete a course in ethics after the settlement
Dr. Palmer has faced an unprecedented barrage of criticism since he killed Cecil the lion in early July
Has gone into hiding and closed his dental practice in Bloomington
The settlement was made to a former employee at his Minneapolis practice who alleged that Dr. Palmer subjected her to 'ongoing and unwelcome sexual harassment by, but not limited to, verbal comments and physical conduct involving her breasts, buttocks and genitalia'.
The woman alleged that Dr. Palmer, who has gone into hiding since he slaughtered Cecil the lion, was asked to stop his behavior, but continued. Her complaint also alleges she also lost her job because she reported his alleged untoward conduct.
According to the claim filed with the Minnesota Board of Dentistry, the employee worked for Dr.Palmer from 1999 to January 2005 and also had dental procedures performed on her by the married father of two.
Dr. Palmer said that he settled financially to 'conclude the matter quickly and efficiently' and it did not amount to any admission of wrongdoing.
The Minnesota Board of Dentistry in reply ruled that the complaint was officially dismissed and Dr. Palmer was required to complete a course in ethics.
This unwelcome revelation about his life follows an unprecedented online and social media backlash against the dentist-hunter for his role in the death of Cecil.
~~~~~~~~~~~~~~~~~~~~~~~~~
Hunter who killed Cecil the lion faces

threat of prosecution in US

: Dentist may have broken bribery and poaching laws, says congresswoman as protests at his practice
According to
The Telegrap
h
, the U.S. Fish and Wildlife Service and the U.S. Attorney's Office are looking at the complaint made by Democrat congresswoman Betty McCollum.
She asked the officials to examine whether the dentist - who has received death threats since he was named as Cecil's killer - broke laws in America relating to conspiracy, bribing of foreign officials, as well as participating in the illegal hunting of a protected species.
Congresswoman McCollum told the paper that Dr Palmer could face prosecution. Zimbabwe police have said they are looking for him.
The Minnesota dentist has advised his patients to seek care elsewhere after becoming a target of outrage from across the world.
Source
http://www.dailymail.co.uk/news/article-3178821/Pictured-court-face-charges-poaching-Two-accomplices-accused-helping-dentist-kill-Cecil-lion-appear-magistrates-Zimbabwe.html
~~~~~~~~~~~~~~~~~~~~~~~~~
Agonising last hours of an exhausted and horrifically maimed lion king and one man's deadly vanity that led to its trophy killing
Death did not come quickly for Cecil, an alpha male lion and leader of his pride in a protected sanctuary inside one of Africa's great national parks.
He was tricked earlier this month into leaving his sanctuary. Pieces of meat had been left just outside the boundary of Cecil's territory, where no hunting is allowed and anti-poaching patrols operate.
Cecil picked up the scent and followed the trail, leaving his pride of two lionesses and six cubs inside the park. It proved a fatal mistake.
For the meat was bait left by hunters intent on luring him from the safety of the park. They were waiting in vehicles with high-powered lamps to illuminate the African bush as soon as Cecil came to investigate this easy meal.
One report suggested that the hunters had even tied meat to the front of their vehicle, hoping Cecil would approach so close it would make killing him easier.
What is certain is that an arrow was fired by a 55-year-old American dentist called Walter Palmer, who had paid £32,000 to Zimbabwean guides in return for the chance to kill the so-called King of the Jungle. The arrow hit Cecil in the flank. Enraged, hurt and terrified, the lion ran off into the bush.
The hunters and their guides, including our dentist friend Walter Palmer, returned to their camp to wait for first light and then followed the trail of blood on foot and in vehicles.
Horrifically maimed, Cecil managed to stay alive for 40 hours. Speeding through the bush, and sometimes stopping to rest in heavy undergrowth, he managed to keep ahead of the men pursuing him for almost two days.
But he could not keep running or hiding for ever. Exhausted and near death, Cecil was finally run to ground by the hunters miles from where he was first wounded.
The men approached the wounded animal and shot him dead. With Cecil cornered and dangerous, it's understood a professional hunter delivered the fatal bullet while Palmer watched.
Guides moved in, skinning the lion and hacking off his head as trophies to be shipped home to hang on the hunter's wall.
The fact is that the killing of such impressive animals happens every day in Africa, where rich trophy hunters — mostly from the U.S. and Russia — pay huge fees to shoot wild creatures, but they don't have Cecil's fame.
'Cecil was beautiful — one of the most beautiful animals you'd ever see,' says Johnny Rodrigues, a former soldier who runs the Zimbabwe Conservation Task Force, a charity dedicated to protecting animals.
'Nine times out of ten, during a safari drive, you'd come across him walking with his family. He was one of the animals it was guaranteed you'd see. Thousands have seen him. Instead of protecting him, they go ahead and kill him.'
Much filmed and photographed by tourists, Cecil was known all over the world. His slaughter, unusually, has prompted a full investigation by Zimbabwean authorities into the circumstances of his death.
We now know that Palmer, from Minnesota — who had killed wild animals on previous hunts in Africa, including lions and leopards — paid a fee of $50,000 (£32,000) to a Zimbabwean hunting company, one of many in southern Africa.
~~~~~~~~~~~~~~~~~~~~~~~~~
helped Dr Palmer free on bail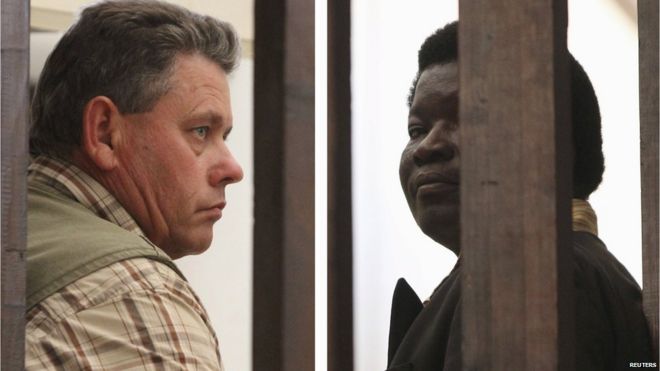 Hunter Theo Bronkhorst (left) and landowner Honest Ndlovu
are facing poaching charges
Theo Bronkhorst pleaded not guilty to a charge of "failing to prevent an unlawful hunt". He was granted bail of $1,000 (£638) and ordered to appear in court again on 5 August.
Dr Palmer's dental practice in Bloomington, Minnesota has been temporarily closed and a note placed on the door referring visitors to a public relations firm. A protest is due to be held outside the building later.
The firm's social media accounts have also been disabled, after they were flooded with messages from angry members of the public.
Lions in Africa

35,000
Max estimated lion population
12,000
Max lion population in southern Africa
665

Approx number of 'trophy' lions killed for export from Africa per year

49

Lion 'trophies' exported from Zimbabwe in 2013

0.29%

Contribution to GDP of Zimbabwe from trophy hunting

17%

Of Zimbabwe's land given to trophy hunting
The animal had a GPS collar fitted for a research project by UK-based Oxford University that allowed authorities to track its movements. The hunters had tried to destroy it but failed, according to the ZCTF.
On Monday, the head of the ZCTF told the BBC that Cecil "never bothered anybody" and was "one of the most beautiful animals to look at".
Sources
BBC
http://www.bbc.com/news/world-us-canada-33699346
Lions Alert
http://lionalert.org/page/about-lions
JUSTICE FOR CECIL THE LION
STOP ALL TROPHY HUNTING