©
http://ottersandsciencenews.blogspot.ca/
.
Unauthorized duplication of this blog's material is
prohibited.
Excerpts and links may be used, provided that full credit and link is given to Otters and Science News Blogspot.
Link to this post:
http://ottersandsciencenews.blogspot.ca/2015/07/michael-masser-composer-of-beautiful.html
- Thank you for visiting my blog.
~~~~~~~~~~~~~~~~~~~~~~~~~~~~~~~~~~~~~~
To Love Again

is the title of this album by Diana Ross, and it's one of my favorite pop albums of all time.
Many of the songs are by Michael Masser, including the beautiful theme from Mahogany, written with lyricist Gerry Goffin, and nominated for an Oscar in 1976. (Listen to it on video at the end of this page.)
This album includes other hits by Michael Masser such as Touch Me in the Morning, It's My Turn, Stay with Me, and To Love Again,
Masser was a stock broker in the 1970s.
He had what he describes as the perfect life, with a luxurious 9-room apartment in Manhattan and a farm in Vermont.
But his real love was to write music. So he switched careers.
He passed away on Thursday at his home in Rancho Mirage, California, of complications from a stroke. He was 74.
Those of us who appreciated his work will certainly miss him, and feel gratitude for all his wonderful music.
Diana Ross tweeted: "So many memories. "He will live on through his beautiful songs."
~~~~~~~~~~~~~~
Michael William Masser was born on March 24, 1941, in Chicago, the son of William Masser, a plumber, and the former Esther Huff.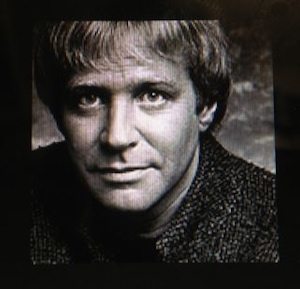 He was raised in a Jewish family where the children's education was a top priority.
He graduated from the University of Illinois and enrolled in its law school, but left to work as a theatrical agent and stockbroker in New York.
"I come from a background that stresses education more than anything," Mr. Masser told The Sun-Times. "You get your hands cut off if you don't get a law degree or become a doctor. I was used to being successful in school, but academics didn't make me happy."
So he visited a therapist and after playing some of his work for him, his doctor saw his talent and gave him a note with "permission" to switch careers.
Continue reading
Other than Diana Ross, t
he other superstar with whom his songs were most closely associated was Whitney Houston, who had huge No. 1s with Masser's 'The Greatest Love of All', 'Saving All My Love For You' and 'Didn't We Almost Have It All.'
Other memorable songs in the catalogue of the Chicago-born composer included 1983's 'Tonight, I Celebrate My Love' by Roberta Flack and Peabo Bryson; 'If Ever You're In My Arms Again,' a solo hit for Bryson in 1984; Glenn Medeiros' UK No. 1 of 1988 'Nothing's Gonna Change My Love For You' and Gladys Knight and the Pips' 1976 release 'So Sad The Song,' from the film 'Pipe Dream'.
As Mr. Masser biked to work as a stock broker in Midtown Manhattan in the 1960s, he would detour to the Juilliard School to putter on a piano.
A self-taught pianist, he could not read music, but an inner muse was urging him to switch careers (he had earlier dropped out of law school) and pursue his true calling.
"I was working as a stockbroker in New York and had the seemingly perfect life," Mr. Masser told The Chicago Sun-Times in 1988.
That life included an office atop the Pan Am Building, a nine-room apartment and a farm in Vermont. "But I was unhappy, and someone I knew convinced me to see a shrink. I walked in and told the doctor I wanted to write music.
He said, 'What's the problem with that?'
I told him that didn't go over well in my family. He listened, took my money and said: 'Here's a note of permission to write music. That's all you need to clear your conscience.'
"And it's funny, because that's all I was looking for: permission," he continued. "I had been the dutiful son and husband for so long, I had forgotten about living for myself."
With the celebrated songwriter Johnny Mercer as a mentor — Mr. Mercer tutored him at his Hollywood guesthouse in the early '70s — Mr. Masser began composing ballads with epic sweep. Many of them reached the top of the charts.
In 1973, he wrote (with the lyricist Ron Miller) and produced "
Touch Me in the Morning
." Released as a single by Motown, it revitalized Diana Ross's career and started his own. It hit No. 1 on the Billboard singles chart and remained on the list for 21 weeks.
Ms. Ross also sang (and had a Top 10 hit with) his "
It's My Turn
," with lyrics by Carole Bayer Sager. The theme from the 1980 film of the same name, it was praised in a New York Times review by Janet Maslin as a "hugely effective theme song."
While producing Teddy Pendergrass's 1984 album "Love Language," Mr. Masser met Whitney Houston, who sang a duet with Mr. Pendergrass on "Hold Me," which Mr. Masser had written with Linda Creed.
Shortly thereafter he began a collaboration with Ms. Houston, as both composer and producer, that catapulted her to stardom. Among the chart-topping singles by Ms. Houston he wrote were "
The Greatest Love of All
" (with Ms. Creed), "Saving All My Love" (with Mr. Goffin) and "
Didn't We Almost Have It All
" (with Will Jennings).
His other hits as a songwriter included "
Tonight, I Celebrate My Love
," with Mr. Goffin, a Top 20 single for Peabo Bryson and Roberta Flack in 1983; "
Nothing's Gonna Change My Love for You
," also with Mr. Goffin, a Top 20 hit for Glenn Medeiros in 1987; and "
Miss You Like Crazy
," with Mr. Goffin and Preston Glass, a Top 10 single for Natalie Cole in 1989. In 2007, Mr. Masser was inducted into the Songwriters Hall of Fame.
His first marriage ended in divorce. He is survived by his wife, the former Ogniana Drandiyska; two daughters, Jennifer Convery and Aleksandra Rouschkolb; a son, Sean Masser; two grandsons; and a sister, Rhoda Lev.
Mr. Masser was a perfectionist, cajoling Ms. Houston into vocalizing one verse at a time over and over again, just as Berry Gordy of Motown had persuaded him to mix 79 versions of "Touch Me in the Morning" until it was flawless.
"The biggest thing I got from Johnny was, 'Don't rush a song,' " Mr. Masser recalled of Mr. Mercer to The Desert Sun of Southern California. "And the thing I ran up against was everybody wanted a song so fast. It took me two years to finish 'Touch Me in the Morning.' "
Mr. Masser would spend months searching for the right sound, just as he had taken years to find a fulfilling career.
"Somehow people get very nervous about leaving the comfortable life of rules behind," he
told The Christian Science Monitor
in 1989, "and never take the chance to develop their own internal voice, to listen to their own consciousness."
Sources:
http://www.nytimes.com/2015/07/14/arts/music/michael-masser-composer-who-wrote-hits-for-whitney-houston-dies-at-74.html?_r=0
Via
http://www.drudgereport.com/
and
http://www.udiscovermusic.com/ms-ross-remembers-michael-masser
http://www.washingtonpost.com/entertainment/michael-masser-top-songwriter-of-1970s-and-80s-dies-at-74/2015/07/11/229459bc-27ed-11e5-aae2-6c4f59b050aa_story.html
Mahogany, sung by Diana Ross