©
http://ottersandsciencenews.blogspot.ca/
.
Unauthorized duplication of this blog's material is
prohibited.
Excerpts and links may be used, provided that full credit and link is given to Otters and Science News Blogspot.
Link to this post:
http://ottersandsciencenews.blogspot.ca/2014/12/president-obama-apologized-to-raul.html - Thank you for visiting my blog.
~~~~~~~~~~~~~~~~~~~~~~~~~~~~~~~~~~~
It is a sign of the times that the West bows to tyrants and lauds imperialistic ideologies such as Islam, with all its racism and oppression of women and minorities.
The European Union General Court says that Hamas should no longer be considered a terrorist organization, on the same day Hamas launched another rocket towards the civilian population in Israel.
The US State Department says that Arabs throwing firebombs at Israelis is NOT terror.
The White House has been considering sanctions on Israel - while it tries to lift them from Iran and Cuba. After Congress demanded clarification on the president's punitive measures against Israel, the White House backtracked. The State Department feared that sanctions at this point might strengthen the right wing in Israel's coming elections.
So considering this administration's foreign policy track record, it's not surprising that the US president has apologized to the representative of one of the bloodiest regimes in the world.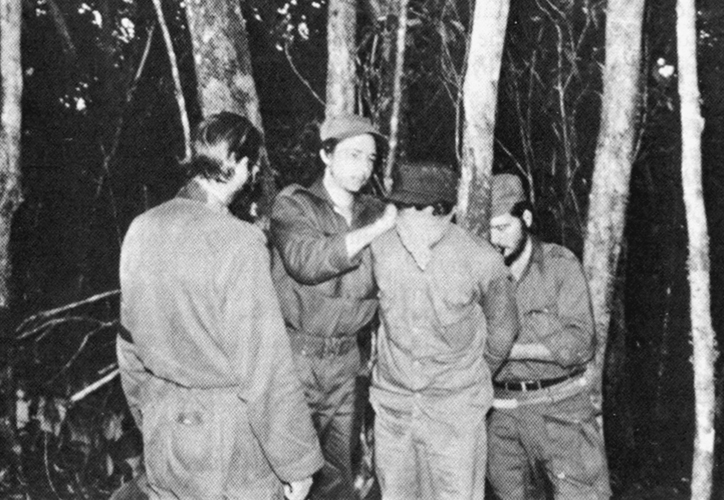 Raul Castro blindfolds prisoner for execution.
On this page:
President Obama apologizes to Raul Castro
Fidel Castro hired Nazi SS members to train troops
Book exposes Fidel Castro's hypocrisy, preaching communism but living like a king.
Forbes has estimated his wealth at least $900 million.
Fidel Castro's crimes and firing squads. Thousands executed. Ongoing oppression.
President Obama apologizes to Raul Castro
The Weekly Standard - Barack Obama apologized to Cuban president Raul Castro during their phone conversation after the American commander in chief's opening remarks. Speaking to reporters at his final White House press briefing of 2014 Friday afternoon, Obama gave more details about his phone call with the communist leader of Cuba earlier this week before the announcement of a change in U.S. policy on the Caribbean island nation.
Obama began the phone call with Castro with what he described as 15 minutes of opening comments. It was the first conversation between the heads of state in both countries since 1961.
"I apologized for taking such a long time," Obama said. Castro responded by reminding Obama that the American president was still young enough to beat Castro's brother, former Cuban president and revolutionary leader Fidel Castro, who once gave a 7-hour-long speech.
According to the president, Raul Castro proceeded to speak to Obama uninterrupted for 30 minutes.
Source
http://www.weeklystandard.com/blogs/obama-apologizes-castro_821908.html
#
~~~~~~~~~~~~~~~~~~~~~~
Fidel Castro 'recruited Nazi SS members
to train troops during Cuban missile crisis'
Fidel Castro

(Reuters)
The Telegraph - October 15, 2012 - Fidel Castro recruited former members of the Nazi Waffen-SS to train his troops at the height of the Cuban missile crisis, declassified German intelligence files show.
The Communist leader also sought to buy weapons from arms dealers connected with
Germany's
extreme Right, showing the extent to which he was prepared to collaborate with his ideological enemies to prevent a US invasion on the Caribbean isle.
Papers released this week by the Bundesnachrichtendienst (BND) – the German foreign intelligence agency – show information gathered by German operatives 50 years ago during the tense days of the
Cuban
missile crisis.
They reveal that Castro personally approved a plan to hire former Nazi officers to instruct the Cuban revolutionary army, offering them wages that were four times the average salary in Germany at the time and the chance to start a new life in Havana.
They papers, dating from October 1962, show that four former officers from the elite Nazi death squads had been invited to the Cuban capital, although subsequent reports could only confirm that two had arrived.
It also showed how the Castro regime negotiated with two traffickers linked with Germany's far Right to purchase Belgian made pistols to arm the Cuban forces.
The conclusion drawn by German secret service officials was that the Cuban regime wanted to free itself from total dependence on Soviet backed training and supplies.
"Evidently, the Cuban revolutionary army did not fear contagion from personal links to Nazism, so long as it served its their own objectives," said Bodo Hechelhammer, historical investigations director at the BND, in an interview with German newspaper Die Welt.
The papers provide insight into Cuban actions during a Cold War period that brought the US and Soviet Union to the brink of war.
The 13-day missile crisis began on Oct 16, 1962, when then-President John F. Kennedy first learned the Soviet Union was installing missiles in Cuba, barely 90 miles off the Florida coast.
After secret negotiations between Kennedy and Soviet Premier Nikita Khrushchev, the

United States agreed not to invade Cuba if the Soviet Union withdrew its missiles from the island

.
Book exposes Fidel Castro as a hypocrite,
preaching communism, but living like a king.
In a new, 338-page memoir, titled The Hidden Life Of Fidel Castro (published in France by Michel Lafon and co-authored by Axel Gyldén), Sanchez, an employee of 20 years' standing, lifts the lid on the luxurious excesses enjoyed by the autocrat and his inner circle.
The book portrays a man obsessed with power and money, who styled himself as a hero of the working classes while living the opulent existence of a medieval potentate.
Fidel Castro's wealth - At least 900 million dollars
Forbes magazine estimated Castro's fortune in at least 900 million dollars. Many of those who are familiar with the dictator's business believe that Forbes is being too conservative.
Forbes - For another controversial dictator, Fidel Castro, we assume he has economic control over a web of state-owned companies, including El Palacio de Convenciones, a convention center near Havana; Cimex, retail conglomerate; and Medicuba, which sells vaccines and other pharmaceuticals produced in Cuba.
Former Cuban officials insist Castro, who travels exclusively in a fleet of black Mercedes, has skimmed profits from these outfits for years. To come up with a net worth figure, we use a discounted cash flow method to value these companies and then assume a portion of that profit stream goes to Castro.
To be conservative, we don't try to estimate any past profits he may have pocketed, though we have heard rumors of large stashes in Swiss bank accounts. Castro, for the record disagrees, insisting his personal net worth is zero.
Fidel Castro's firing squads
There's perhaps no more grizzly atrocity committed by Fidel Castro than the firing squads which he implemented. Beginning as a rebel, before he would eventually take power in Cuba, Fidel Castro used firing squad executions to enforce discipline, punish followers deemed disloyal or intimidate potential opposition.
At the beginning of the Castro regime there was a reign of terror typical of revolutions in which the firing squad was used prominently but the executions continued for decades.
Most of Castro's firing squad victims were afforded only a perfunctory show trial the outcome of which was predetermined, some didn't even get that. Ernesto "Ché" Guevara is a popular culture icon, his face adorns posters and t-shirts around the globe.
In response to questions about Castro's firing squads Guevara
once said
, "To send men to the firing squad, judicial proof is unnecessary. These procedures are an archaic bourgeois detail. This is a revolution. And a revolutionary must become a cold killing machine motivated by pure hate."
Canada urges the European Union to place Hamas back on the terrorists list
"We are deeply concerned by the decision of the EU General Court to annul, on procedural grounds, the measures against Hamas," Canadian Foreign Affairs Minister John Baird said in a statement quoted by AFP.
"We call on the EU to take the immediate remedial steps necessary to keep Hamas listed as a terrorist entity," he added.
Canada lists Hamas as a banned terrorist group.
US State Department: Arabs who throw firebombs at Israelis are NOT terrorists
US President Praises Muslim Cleric Who Backed Fatwa on Killing of U.S. Soldiers
Controversial cleric gets nod in Obama's speech at the United Nations.
September 14, 2014 - President Barack Obama favorably quoted and praised on Wednesday in his speech before the United Nations a controversial Muslim cleric whose organization has reportedly endorsed the terror group Hamas and supported a fatwa condoning the murder of U.S. soldiers in Iraq.
US might impose sanctions on Israel
Although the White House has subsequently denied it (so as not to give ammunition to the right wing in Israel's coming elections) the US president has been considering imposing sanctions on Israel - while he tries to lift sanctions from Iran and Cuba.
http://www.israelnationalnews.com/News/News.aspx/188296
Western leaders defending Islam -
When even "moderate" Muslim regimes are oppressive and brutal
****************************************************************************