The new Paris, France
With cries of "Death to the Jews," a hundred anti-Jewish youths attacked the Synagogue de la Roquette, in Paris on Sunday, trapping almost 200 worshipers inside.
The mob surrounded the Synagogue fighting with police and with unarmed Jewish security. The pro-Palestinian attackers were armed with rocks, axes and knives. Three members of the Paris Jewish community ended up in the hospital, according to a witness.
Police lost control of the situation.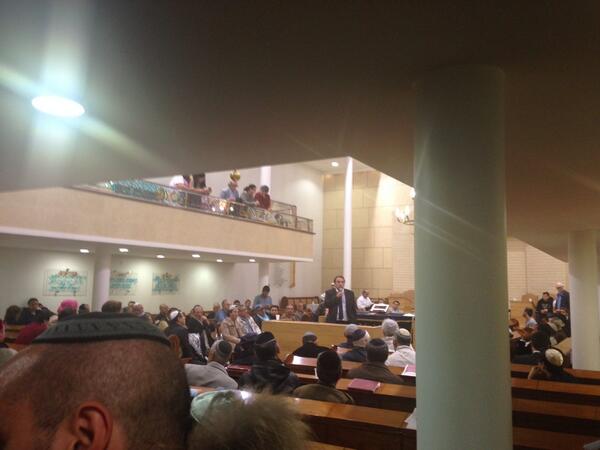 Inside the synagogue trapped Jews wait (Twitter)
Police lost control over the pro-Palestinian riot, a witness said.
The pro-Palestinian event lasted over three hours.

Security

forces accompanied the pro-Palestinian's demonstration; they thought they had things under control, but the groups there dispersed and one of them got away and reached the synagogue.
They started to bring police forces from all

directions

but that did not prevent the initial attack against the synagogue's own security, a few young people.
One eyewitness, Alain Azria, ​a French Jewish journalist, who reported, "The attackers splintered off an anti-Israel demonstration and advanced toward the synagogue when it was full."
Azria said when the demonstrators arrived at the central Paris synagogue, the five police officers on guard blocked the entrance as the protesters chanted anti-Semitic slogans and hurled objects at the synagogue and the guards. He said nearly 200 congregants were inside. "They were determined to enter and the police did not have enough forces," he said.

The Jews had to rely on their own security to save their lives

Azria said the mob was kept away by men from the SPCJ Jewish community protection service, the Jewish Defense League, and Beitar, who engaged the attackers in what turned into a street brawl.
"Thank God they were there because the protesters had murder on their minds and it took awhile before police reinforcements arrived," he added.
"The fact that a synagogue full of worshipers was a chosen target demonstrates that the mob's primary hatred is for Jews, and the Jewish state is an extension of that," Dr. Moshe Kantor said.
France is the country with the largest Muslim population in Europe.
Muslims live in areas that are no-go zone for police. Crime and violence flourish there. They are the parts of France that tourists never see. The average French citizen has to contend with a huge spike in crime against property and people. Every once in a while Muslims riot and set fire to cars and other property. The situation is definitely not under control and it is bound to get much worse in the years to come.
French anti-Semitism has received a boost in recent years from anti-Israeli and anti-Jewish sentiment that is often found among the country's Muslim immigrant population, mostly from North Africa, a growing minority in France. The attack on Jewish targets in the course of a major Israeli counterterrorist operation is thus not entirely surprising.
A wave of anti-Semitic violence has rocked French Jewry in recent weeks. In June, a gang of 20 attackers reportedly assaulted visibly Jewish students wearing kippot (yarmulkes) at a local library in the capital city of Paris. The assailants, described by reports as being of North African descent, approached the Jewish students from two directions in the library, pouncing on them and beating them until they were bloody.
Reports from:
-
http://www.israelnationalnews.com/News/News.aspx/182878#.U8acgJsg-M8
-
http://www.jpost.com/Jewish-World/Jewish-News/Anti-Israel-protesters-attack-Paris-synagogue-362643
-
http://www.truthrevolt.org/israel-revolt/attack-paris-synagogue-death-jews
Cartoon -
http://www.drybonesblog.blogspot.ca/
RELATED
ILAN HALIMI
The torture and murder of Ilan Halimi, a Jew, by a Muslim gang in Paris.
Ilan was abducted and tortured in an apartment for weeks. Police completely bungled the investigation. Neighbors said nothing.
French journalist Guy Millière reported that "the screams must have been loud because the torture was especially atrocious: the thugs cut bits off the flesh of the young man, they cut his fingers and ears, they burned him with acid, and in the end poured flammable liquid on him and set him on fire."
Read more
-
http://www.israelnationalnews.com/Articles/Article.aspx/14443#.U8arTpsg-M8
-
http://www.israelnationalnews.com/Articles/Article.aspx/8802#.U8apdZsg-M8
-
http://archive.frontpagemag.com/readArticle.aspx?ARTID=35018
-
http://en.wikipedia.org/wiki/The_Affair_of_the_Gang_of_Barbarians
~~~~~~~~~~~~~~~~~~~~~~~~~~
Victim Myriam Monsenego
A rabbi, his two young children and another young girl were shot and killed at a Jewish school in the French city of Toulouse.
Rabbi Jonathan Sandler, 30, was on his way to drop off his kids at the Gan Rachi kindergarten, adjacent to the Ozar Hatorah school where he teaches, when he was gunned down along with his two sons Gavriel and Aryeh, 6 and 3 years old. Myriam Monsenego, 8, the daughter of the school director, was shot as well and died of her wounds shortly after.
The Muslim murderer was so proud of his unspeakably evil work that he uploaded sickening video to the Internet showing him executing a helpless, terrified 8-year-old girl, officials said. Mohammed Merah is seen yanking Myriam Monsenego by her hair — then firing a bullet into her head while he holds her.
Read more
-
http://pamelageller.com/2012/03/french-jew-killing-jihadist-posted-video-of-the-cold-blooded-murder-of-little-jewish-girl.html/
-
http://www.telegraph.co.uk/news/worldnews/europe/france/9154350/Toulouse-shooting-little-girl-cornered-in-school-and-shot-in-head.html
~~~~~~~~~~~~~~~~~~
Court rules: France responsible for sending thousnds of Jews to death camps during World War II.
The French sent productive, patriotic French Jews to the gas chambers, and then imported a Muslim population engaged in crime and violence who hate France.
Read more

-
http://www.telegraph.co.uk/news/worldnews/europe/france/4641117/France-responsible-for-holocaust-deportations-court-rules.html
~~~~~~~~~~~~~~~~~~
The 1980 Paris Synagogue bombing
http://en.wikipedia.org/wiki/1980_Paris_synagogue_bombing
***********************************************************************