©
http://ottersandsciencenews.blogspot.ca/
.
Unauthorized duplication of this blog's material is
prohibited.
Excerpts and links may be used, provided that full credit and link is given to Otters and Science News Blogspot.
Link to this post:
http://ottersandsciencenews.blogspot.ca/2017/03/fake-science-how-sting-operation.html
- Thank you for visiting my blog.
~~~~~~~~~~~~~~~~~~~~~~~~~~~~~~~~~~~~~
We know that the scientific establishment's group-think determines what ideas get approved and published.

We also know that there is deliberate fraud in just about all branches of science.

And yet, politicians and activists - usually of the left - routinely try to bolster their theories by invoking science, and will automatically reject any notion that questions their 'science'.

The history of fraud in science is embarrassingly long.

Deliberate deceit by the pharmaceutical industry has caused countless tragedies in patients who trustingly consume approved medication whose research has been tampered with, or whose true side effects are minimized or hidden from the public.

Facts about vaccines are routinely hidden or misrepresented in order to promote the ever growing mandatory number of shots imposed on infants and children.

GMOs have a seal of approval in spite of proven evidence that they have detrimental consequences for the environment and those consuming them.

Wind turbines cause serious health effects on those living nearby, such as farmers, but this industry keeps growing.

Not long ago it was revealed that the sugar industry paid corrupt researchers to blame fat for health problems that were actually caused by sugar.

Remember when authorities told you that even eggs were bad for you, while ice cream was part of the four food groups allegedly good for you?
RT

- The sugar industry paid Harvard researchers in the 1960s to bury research linking sugar intake to heart disease and to instead make fat the culprit, according to a study of archival documents. "These internal documents show that the Sugar Research Foundation initiated coronary heart disease research in 1965 to protect market share and that its first project, a literature review, was published in the New English Journal of Medicine without disclosure of the sugar industry's funding or role," stated the study.
The internal sugar industry documents were found in public archives by a researcher at the University of California, San Francisco.

The documents showed the sugar industry was aware of evidence in the 1960s that linked sugar consumption to high blood cholesterol and triglyceride levels and was thought to be risk factors for coronary heart disease. The sugar industry paid the Harvard scientist the equivalent of $50,000 in 2016 dollars for their fake research.
Even without fraud, scientific knowledge is evolving daily. In five or ten years many of our most sacred scientific theories will make the world laugh.

Science must not be treated as a cult or a religion, with scientists as a clergy often wearing those authoritative white coats, upholding their holy theories as gospel.

The following articles explain how a group of scientists fed up with fake science decided to create an imaginary scientist who managed to publish all sorts of rubbish in several respectable scientific journals.
Imaginary "Dr. Fraud" gets published
The researchers created a fake
web presence
for their "doctor," along with a fake resume listing fake research publications and no editorial experience.
Science's Insane Fake News Problem
If someone applied to a top position at a company, you'd hope a hiring manager would at least Google the applicant to ensure they're qualified. A group of researchers sent phony resumes to 360 scientific journals for an applicant whose Polish name translated to "Dr. Fraud." And 48 journals happily appointed the fake doctor to their editorial board.
This sting operation was the first systematic analysis on editorial roles in science publishing, adding concrete evidence to a problem
past
stings
have shed light on.
There are a whole lot of "predatory" scientific journals out there, journals that take advantage of scientists' need to produce articles by publishing anything for a fee, without checking to make sure the paper is actually new research, worth publishing, and not completely inaccurate.
CONTINUE READING

this article, and one stating that only 1% of all scientific papers adheres to the scientific method.
But the problem is more than a juiced-up email scam (despite some probably-predatory journals looking
essentially the same
),and highlights many issues in today's scientific publishing industry.
Those issues can result in important science not being published in real journals, or worse, bad, un-vetted science being published, scientists bolstering their resumes with crap, and an eroding public trust in science as an institution.
If we cannot trust the academic publishing system,
"What this boils down to is that scholarly papers published in these types of journals are far less likely to have undergone any kind of quality check, including proper peer review," one of the scientists leading the sting from the University of Sussex, Katarzyna Pisanski, told Gizmodo in an email.
"It could result in (and probably already has) thousands of scientific articles that have essentially gone 'un-checked'... If we cannot trust the academic publishing system, who can we trust?"
The standards of academia require scientists to publish papers. It's how many get their Ph.Ds, and how universities judge the quality of their research.
Most journals say they thoroughly vet their research through peer review, by having knowledgable subject matter experts look over the work and make suggestions before publishing.
Some, like Science and Nature, charge a subscription fee to access their articles. Others, like PLoS One and Peerj are open access, meaning that scientists pay a fee to have their work appear in the peer-reviewed journal, but the articles are free to read and access for anyone.
The idea for a sting operation came after the paper's authors began noticing "absurd number" of emails asking them to send papers or be the editors of journals outside their expertise, said Pisanski.
The researchers randomly selected 120 papers each from three sources: Jeffrey Beall's
blacklist
, a since-removed list of predatory journals, the Directory of Open Access Journals (which is exactly what it sounds like), and titles indexed by Journal Citation Reports, which gives "impact factors," a flawed but frequently-used metric that ranks journals and how often their articles are cited.
The researchers created a fake
web presence
for their "doctor," along with a fake resume listing fake research publications and no editorial experience. A third of the journals from Beall's blacklist accepted Dr. Fraud as an editor. Seven percent of the DOAJ's journals did, but none of the JCR's journals did.
This may be the first peer-reviewed analysis of predatory journals, but scientists and others have been aware for the problem for a while. In 2013, journalist John Bohannon sent over three hundred nearly identical bogus papers to open-access
journals
, around 60 percent of which accepted the paper without peer review, and published
his results
in Science.
The problem hasn't gotten better, Bohannon told Gizmodo. "I'm confident there are more predatory journals today than there were a few years ago," he said.
I sent an email to the editor of one of the Society for Science and Nature journals, the fishy looking website below whose journals are probably predatory, given its appearance, buzzwords and content. I will update the post if I hear back.
So what's going on? There are lots of theories, but basically, scientists need to publish, and more journals than ever are open-access. Predatory journals are predominantly open access, pointed out Bohannon.
Their publishers take money from scientists who are either gullible or just looking for a quick way to tie a publication to their name. Bohannon thinks the open access community needs to work to rid itself of these journals.
"Finding bad guys in the world of open access publishing is something you should do if you love open access publishing," he said.
That being said, some folks I spoke to, including Beall and people in the open access community, thought it was a larger problem than open access publishing alone. The community tries to regulate itself after all, Andrew Wesolek, head of digital scholarship at Clemson, pointed out to Gizmodo.
The DOAJ removed 39 of the 120 journals listed in its directory before the analysis came out in Nature today, though six of the eight journals that accepted the fake editor still remain.
When I called Lars Bjørnshauge, their founder and managing director, he immediately asked to be put in touch with Pisanski so he could find out the titles of the six journals. He said the DOAJ removes journals with fake editors immediately.
"We go in and check randomly members of the editorial board and contact them to see if they are real people. On and off we actually discover an academic who says 'oh, am I on the board of that journal? I didn't know that.' This is immediately cause for rejection or removal of that journal."
Wesolek noted that many of the DOAJ's journals don't charge their authors fees, either. "It's not correct to say that Open Access gives rise to a predatory model," he said. Instead, "A business model, authors paying to publish, can potentially give rise to this problem."
"I think efforts to de-emphasize publishing over all other forms of science productivity would go a long way towards cutting the oxygen supply of predatory publishers."
http://gizmodo.com/sting-operation-reveals-sciences-insane-fake-news-probl-1793523135
UPDATE:
Fewer than 1 percent of papers published in scientific journals follow the scientific method, according to research by Wharton School professor and forecasting expert J. Scott Armstrong.
Professor Armstrong, who co-founded the peer-reviewed Journal of Forecasting in 1982 and the International Journal of Forecasting in 1985, made the claim in a presentation about what he considers to be "alarmism" from forecasters over man-made climate change.
"We also go through journals and rate how well they conform to the scientific method. I used to think that maybe 10 percent of papers in my field … were maybe useful. Now it looks like maybe, one tenth of one percent follow the scientific method" said Armstrong in his presentation, which can be watched in full below. "People just don't do it."
Armstrong defined eight criteria for compliance with the scientific method, including full disclosure of methods, data, and other reliable information, conclusions that are consistent with the evidence, valid and simple methods, and valid and reliable data.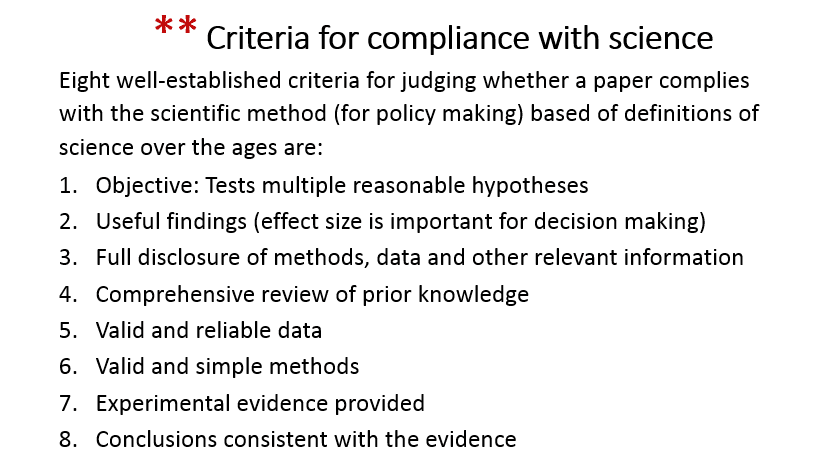 According to Armstrong, very little of the forecasting in climate change debate adheres to these criteria. "For example, for disclosure, we were working on polar bear [population] forecasts, and we were asked to review the government's polar bear forecast. We asked, 'could you send us the data' and they said 'No'… So we had to do it without knowing what the data were."
According to Armstrong, forecasts from the Intergovernmental Panel on Climate Change (IPCC) violate all eight criteria.
"Why is this all happening? Nobody asks them!" said Armstrong, who says that people who submit papers to journals are not required to follow the scientific method. "You send something to a journal and they don't tell you what you have to do. They don't say 'here's what science is, here's how to do it.'"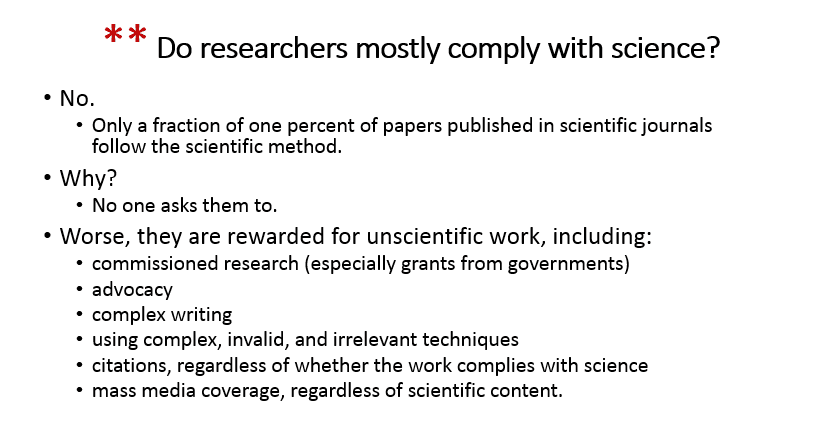 Digging deeper into their motivations, Armstrong pointed to the wealth of incentives for publishing papers with politically convenient rather than scientific conclusions.
"They're rewarded for doing non-scientific research. One of my favourite examples is testing statistical significance – that's invalid. It's been over 100 years we've been fighting the fight against that. Even its inventor thought it wasn't going to amount to anything. You can be rewarded then, for following an invalid [method]."
"They cheat. If you don't get statistically significant results, then you throw out variables, add variables, [and] eventually you get what you want."
"My big thing is advocacy. People are asked to come up with certain answers, and in our whole field that's been a general movement ever since I've been here, and it just gets worse every year. And the reason is funded research."
"I've [gone through] my whole career, with lots of publications, and I've never gotten a research grant. And I'm proud of that now."
Armstrong concluded his talk by arguing that scientific evidence should be required for all climate regulations.
Source
http://www.breitbart.com/tech/2017/03/29/j-scott-armstrong-fraction-1-papers-scientific-journals-follow-scientific-method/
The sting
All too easy
Spot the predator
Excerpts from e-mails from journals accepting and rejecting a fake, unqualified candidate.
Titles that accepted the fake
"... as an editor, you have to publish some of your research articles with the Journal"

"If you want to start a new journal...you will get 30% of the revenue earned thru you"

"It's our pleasure to add your name as our editor in chief for this journal with no responsibilities"
Titles that rejected the fake
"One does not become an editor by sending in the CV; these positions are filled because a person has a high research profile and a solid research record"

"The typical progression ... involves developing a track record of excellent service as an ad hoc reviewer which results in an invitation to join [journal name redacted] Editorial Board"
"... your field of research is not exactly fitting with the goals of [journal name redacted]"
P
redators and prey
A bigger problem
Read more about the authors and their references here:
http://nature.com/articles/doi:10.1038/543481a
Source
http://dailycaller.com/2017/03/02/ideological-group-think-is-killing-science-on-campuses/
READ MORE
http://www.naturalnews.com/045695_global_warming_fabricated_data_scientific_fraud.html