©
http://ottersandsciencenews.blogspot.ca/
.
Unauthorized duplication of this blog's material is
prohibited.
Excerpts and links may be used, provided that full credit and link is given to Otters and Science News Blogspot.
Link to this post:
http://ottersandsciencenews.blogspot.ca/2018/02/the-fbi-disturbing-record-of-ignoring.html
- Thank you for visiting my blog.
~~~~~~~~~~~~~~~~~~~~~~~~~~~~~~~~~~~~~~
The following video by Judge Jeanine Pirro is a scathing indictment of the FBI's repeated failures to protect US citizens from terror and massacres, even in cases when it has plenty of information available to prevent the attack.
VIDEO

- Judge Jeanine Pirro:
The FBI needs a complete overhaul
A few months ago this blog published the astonishing case of how the FBI got involved in a plot to murder activists at a freedom of speech rally in Garland, Texas. An FBI agent even drove to the site where a jihadist attack was to occur - and waited for it to take place. The attack was thwarted by two alert local policemen - while the FBI agent looked on. This is even more bizarre than it sounds, once you learn the details.
Continue reading

and watch Garland related video
DISTURBING - FBI KNEW OF, AND COVERTLY ENCOURAGED, JIHADI TERROR ATTACK

against freedom of speech activists in Garland, Texas - FBI agents knew when and where it would take place, but did nothing to stop it - One of the intended victims draws stunning conclusion as to the Obama administration's possible motivations behind the FBI inaction.
The FBI knew heavily armed
terrorists
were headed to Garland on the day of the event, yet they didn't bother to inform the organizers. The question is Why? --

The undercover FBI agent was in a car directly behind Elton Simpson and Nadir Soofi when they started shooting.
VIDEO

-
Were Garland, Texas, jihadis aided by FBI?
The Daily Beast
wrote in August 2016
about how this undercover FBI agent encouraged the jihadis.
The Beast's Katie Zavadski wrote: "Days before an ISIS sympathizer attacked a cartoon contest in Garland, Texas,
he received a text from an undercover FBI agent.
'Tear up Texas,'
the agent messaged Elton Simpson days before he opened fire at the Draw Muhammad event, according to an affidavit
filed in federal court."
But what was the FBI's game in telling them to do that? Why didn't they have a phalanx of agents in place, ready to stop the attack? Or did they want the attack to succeed, so that Barack Obama's vow that "the future must not belong to those who slander the prophet of Islam" would be vividly illustrated, and intimidate any other Americans who might be contemplating defending the freedom of speech into silence?
READ ENTIRE ARTICLE on the FBI involvement in the GARLAND jihadi attack here:
OTHER TIMES THE FBI FAILED TO ACT
-
One can understand human error here and there, but there seems to be a disturbing pattern that has even been noticed by honest FBI agents themselves, going all the way back to the 9/11 attack.
Read more
https://www.westernjournal.com/list-attackers-fbi-warned-still-failed-stop/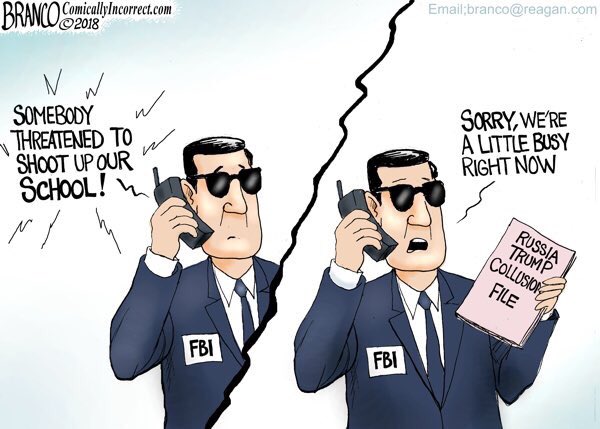 THE FBI-CLINTON-OBAMA CONSPIRACY

AGAINST TRUMP --- MUCH WORSE THAN WATERGATE - clearly explained by HANNITY in 15 minute video
WATCH VIDEO

- THE BIGGEST SCANDAL IN MODERN AMERICAN HISTORY - Hannity: The conspiracy to obstruct justice
http://ottersandsciencenews.blogspot.ca/2018/01/the-fbi-clinton-obama-conspiracy.html
ALSO WATCH

: Judge Jeanine: Outing the FBI crime family
-
How an FBI cabal at the top conspired to influence the 2016 election, and to plot its invalidation ("insurance policy") it if Trump got elected.
************************************************